Update: As of November 12th, 2020, PayPal users across the United States can buy Bitcoin, Ethereum, Bitcoin Cash and Litecoin with weekly purchase limits of $20,000 within the PayPal application.
If you would like to learn what PayPal supporting Bitcoin means for investors, you can read more here: PayPal & Bitcoin
To learn how to buy Bitcoin with PayPal outside of the USA, continue reading.
---
First Things First: Can You Buy Bitcoin with PayPal?
PayPal is one of the most convenient payment methods for people around the world to send and receive payments. Back in 2015, PayPal announced that merchants on their platform could accept Bitcoin.
However, if you want to buy Bitcoin with PayPal, that's another story. Due to how easy it is for buyers on PayPal to file chargebacks (dispute a transaction and get their money back), people usually don't accept PayPal for Bitcoin.
Even if the dispute is fraudulent and the buyer did receive the Bitcoin, PayPal has no way of knowing this (Bitcoin, while traceable, isn't as traceable as PayPal) and will usually side with the buyer in case of a dispute.
On top of the dispute problem, Bitcoin transactions are irreversible, making things that much worse for sellers if a buyer ends up scamming them.
That being said, there are some legitimate ways to buy Bitcoin with PayPal that we'll guide you through, step by step.
---
Best Place to Buy Bitcoin with PayPal: LocalBitcoins
If you want to know where to buy Bitcoin with PayPal, your best bet is LocalBitcoins. LocalBitcoins connects buyers (you) and sellers with its peer-to-peer marketplace. There are tons of ways - let alone with just PayPal - to buy and sell Bitcoin on LocalBitcoins.
While LocalBitcoins has many sellers on its platform, which might also lead to competition among sellers to offer better prices, there are some things to look out for.
For one, Bitcoin prices can be high since sellers usually charge a premium for PayPal purchases to mitigate the risk of chargebacks. Though this is the case with most PayPal:BTC transactions, LocalBitcoins or not. Moreover, not all sellers are honest, so be sure to only deal with reputable sellers.
---
How to Buy Bitcoin with PayPal on LocalBitcoins Step by Step
Select the amount of Bitcoin you want to buy in your local currency, such as USD, your country (or another since PayPal is online and you can use it with people from other countries that have PayPal), and PayPal as the Payment method.

2. After you hit Search, look at the list of sellers and choose one to deal with after reviewing their profile information.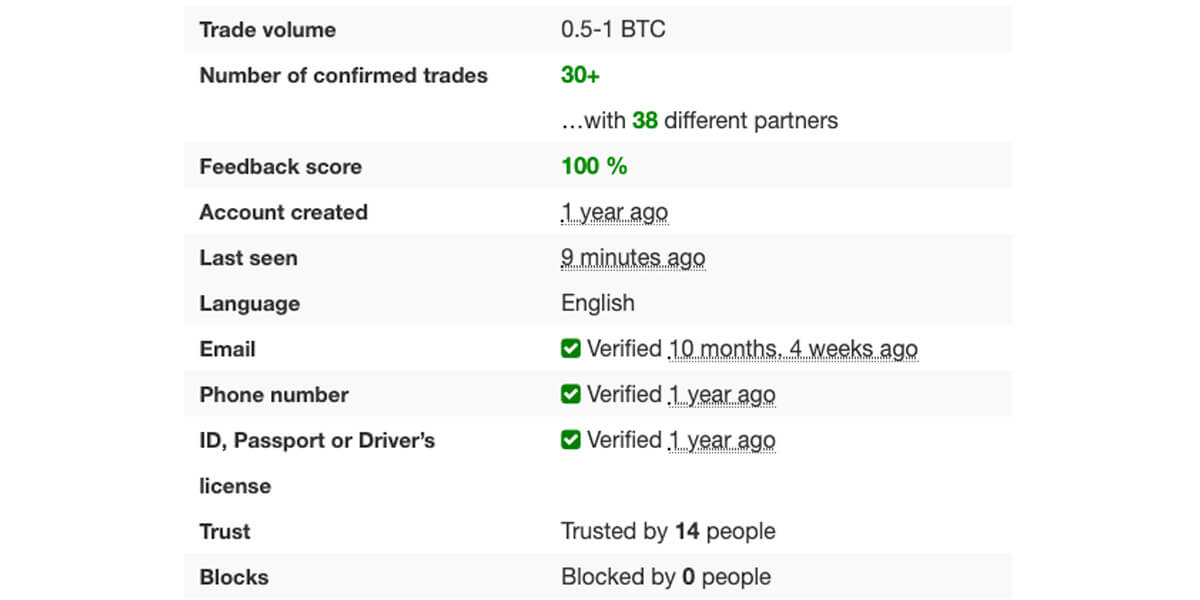 3. After choosing a seller, hit Buy to enter your desired amount of BTC and initiate the trade. Take note of the buyer's trade limits, payment window (how long you have to complete the purchase and mark your payment done), and terms of trade. Note: some sellers won't deal with you until you've established a bit of a reputation on the site with some small transactions.

4. Once you're ready click Send trade request. After the seller accepts your request, send your Bitcoin and click the I have paid button. Then the seller's Bitcoin will be released from LocalBitcoins' escrow to your LocalBitcoins wallet.
5. Be sure to store your Bitcoin off LocalBitcoins and preferably in a wallet that you control, as LocalBitcoins has been hacked before due to it and other centralized platforms being a honeypot for hackers who want to steal many Bitcoins at once.
Another thing you could do is post your own advertisement for a trade but it's possible that sellers might not want to deal with new accounts (if you're new to the platform).
---
Buy Bitcoin with PayPal No ID
Want to buy Bitcoin with PayPal no verification? You'll find that many sellers that accept PayPal for BTC will ask for ID verification to lessen the chance of scams. However, not everyone wants to hand over their ID to get their hands on Bitcoin.
One place where you can buy Bitcoin with PayPal without verifying your identity is Paxful.
Paxful is very similar to LocalBitcoins and connects buyers and sellers of cryptocurrency around the world. As with LocalBitcoins, the upside of this platform is that there are many sellers to choose from (though not as many as LocalBitcoins). The downside is similar - the exchange rate can be high for PayPal purchases of Bitcoin, and you have to deal with reputable sellers to make sure you don't get scammed.
The process of buying on Paxful, too, is similar to that of LocalBitcoins:
---
How to Buy Bitcoin with PayPal No Verification on Paxful
To get started, select PayPal as your payment method, enter the amount you want to buy in your local currency or BTC and click SEARCH FOR OFFERS.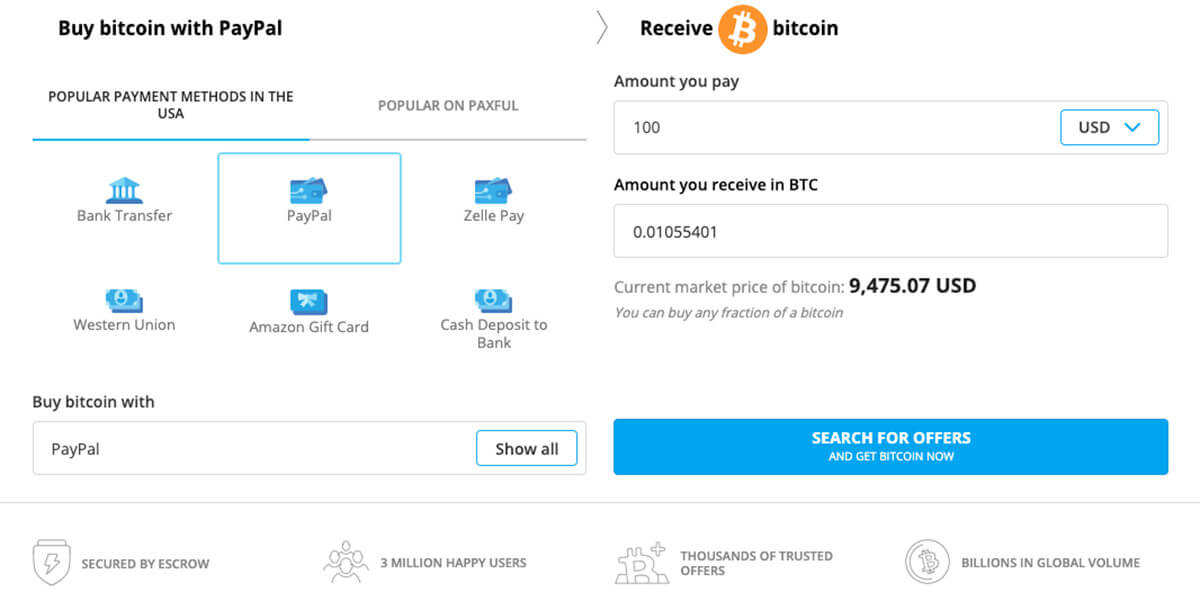 2. You'll then be presented with some offers. Select one that says no verification needed:
3. As with LocalBitcoins, review the seller's profile to make sure they're trustworthy and then initiate the trade. Once the trade starts, you'll be sent to a chat with the seller where you can discuss payment details before the seller's Bitcoin is put into escrow and released once you send your PayPal payment and mark it complete.
4. After receiving your Bitcoin, withdraw to a Bitcoin wallet where no one controls the Bitcoin except for you (as opposed to a centralized entity like LocalBitcoins or Paxful).
---
Buying Bitcoin with PayPal Coinbase
Coinbase is one of the more popular centralized exchange platforms for buying and selling crypto. While you can withdraw or sell from Coinbase to a PayPal account, you cannot buy crypto on Coinbase with your PayPal account.
---
The VirWoX PayPal Method No Longer Works
A popular way to buy Bitcoin with PayPal before was to use the site Virtual World Exchange (VirWoX). Using PayPal, you would first purchase an in-game currency called Second Life Lindens (SLL), which is used in the game Second Life. After purchasing SLLs on VirWoX with PayPal, you would use those SLLs on VirWoX to buy Bitcoin.
Unfortunately though, VirWoX closed in January of 2020 and this method of using PayPal to buy Bitcoin no longer works:

---
Conclusion
So there you have it! While buying Bitcoin with PayPal isn't as convenient as something like exchanging other cryptos for Bitcoin from your wallet due to things like high prices and having to deal with potentially shady sellers, PayPal is still a preferred payment method for many. Hopefully, this guide on how to buy Bitcoin with PayPal was useful!

Updated with new information on October 27, 2020.
This content is for informational purposes only and is not investment advice. You should consult a qualified licensed advisor before engaging in any transaction.