Tether (USDT) has held its dollar peg for years and is by far the most popular and liquid stablecoin (crypto that tracks the value of a relatively more stable asset like the US dollar) in the cryptocurrency marketplace.
If you're wondering, "Where can I buy USDT?", we'll look at how to buy USDT with dollars, a credit card or PayPal. We'll also cover the best wallet to use to safely store your USDT after you've purchased it.
---
Best Place to Buy USDT in USA
If you already own some cryptocurrency like Bitcoin or Ethereum, you can use this to swap for USDT with one click, with the Exodus in-app exchange.

---
How to Buy USDT with USD
If you don't already own crypto, the best place to buy Tether USDT with USD is Exodus, where you can now buy crypto using Ramp, meaning that you can easily and instantly purchase USDT and 23 other popular cryptocurrencies using your debit card, credit card, or Apple Pay.

The benefit of this is that Exodus is a non-custodial wallet, meaning that it's designed in a way that nobody, not even Exodus developers, have any control over or access to your crypto.

Simply download Exodus to get started and buy crypto using USD.
---
How to Buy USDT with Credit Card
There are a couple of exchanges that will let you buy USDT with a credit card. Aside from Exodus, you can buy Tether with a credit card on the Binance centralized exchange.

But common crypto wisdom says "not your keys, not your wallet", so after buying crypto on platforms like Binance, you might need to then move it out of the exchange to ensure that you have full custody of your own assets.  
---
How to Buy USDT with PayPal
There isn't a great way to buy USDT with PayPal. Many crypto exchanges have decided not to support PayPal because PayPal commonly freezes accounts and can reverse transactions days or weeks later.
Probably the best way to buy USDT with PayPal is to buy Bitcoin with PayPal using a broker service like Paxful, or a P2P marketplace like LocalBitcoins. But these intermediaries often involve additional fees and have only a limited selection of currencies.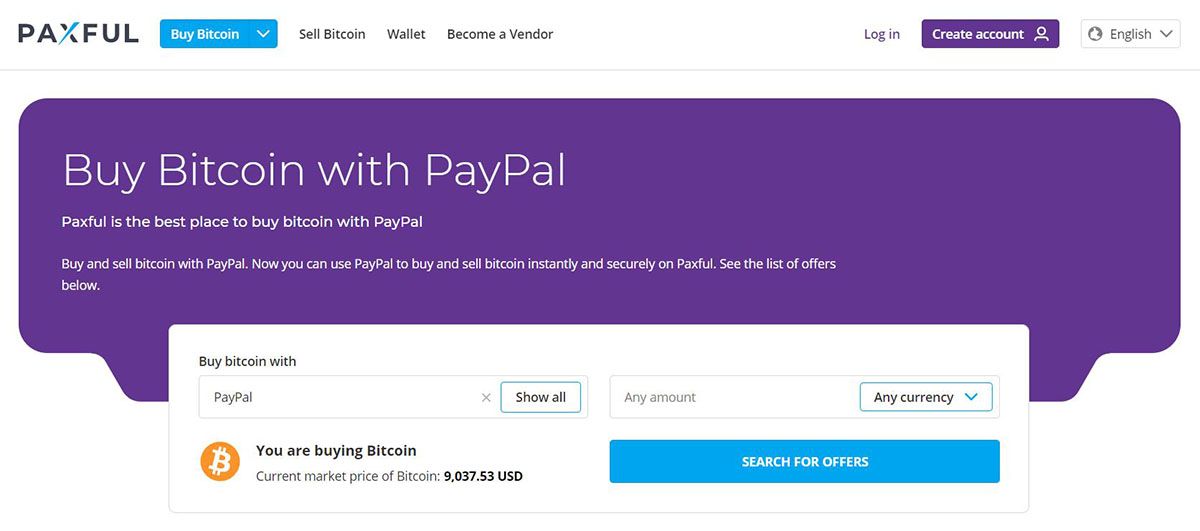 ---
How to Buy USDT with BTC and Other Cryptos
As we mentioned above, if you already have some crypto and want to trade it for USDT you can do so with Exodus. Here's how.

(The below instructions are for Exodus Desktop. Click here for instructions for Exodus Mobile).
Download and install Exodus. Open your Exodus wallet and then select the coin you'd like to trade for USDT. In this example we'll use Bitcoin.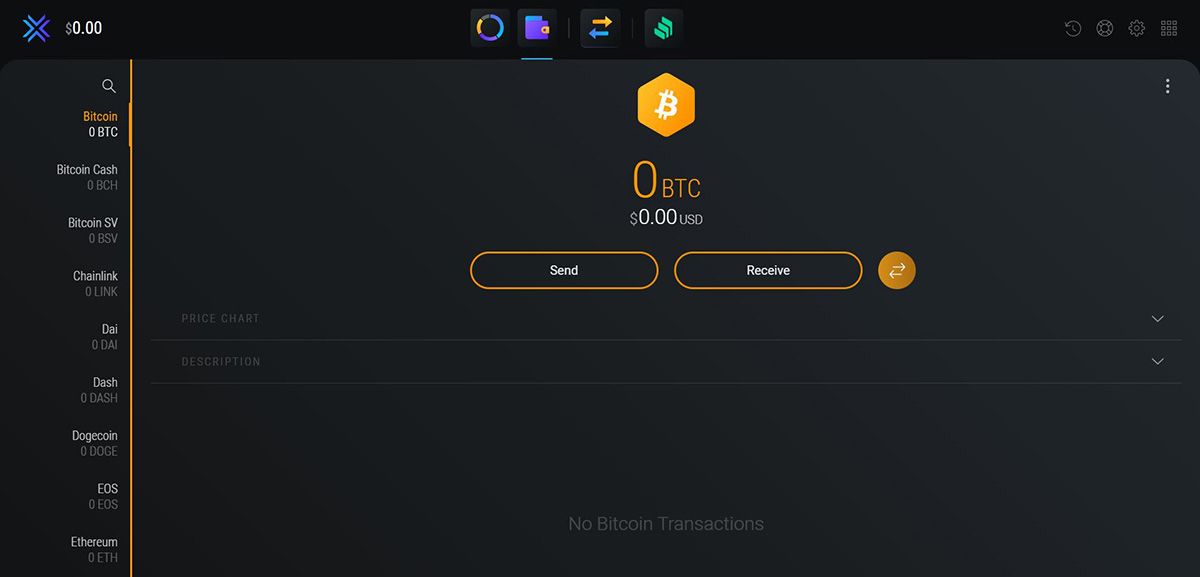 2. Click on the Receive button. Exodus will display an address where you can send your Bitcoin. Once you've sent the BTC and the transaction has confirmed, you can click on the two arrows to the right of the Receive button. This will take you to the exchange page.
3. On the exchange page you can select USDT and enter how much you would like to buy. Once the information is correct you can click on Exchange at the bottom of the page.
4. The exchange will begin and the USDT should show up in your Exodus USDT wallet shortly!
---
How to Buy USDT Instantly
To answer this question we have to look at two different scenarios.
You're already registered on an exchange that sells USDT. If this is the case, and you've entered your banking information, you can buy USDT instantly at any time.
If you're not registered on a USDT exchange you can buy USDT and many other cryptocurrencies such as Bitcoin, Ethereum and USDC instantly with a credit card, debit card, or Apple Pay on Exodus. MoonPay is another on-ramp that has partnered with Exodus to support instant crypto purchases in over 160 countries, including the option to buy USDT using a bank transfer.
---
Buy USDT Coinbase
It's now possible to buy USDT on Coinbase, although the Circle company behind the centralized exchange has their own stablecoin, USDC, and this is the stablecoin with the largest trading volume on their platform.
As with Binance, it's not recommended to keep your funds on centralized exchanges like Coinbase, especially considering the exchange's warning that Coinbase customers may lose their funds if the company goes Bankrupt.

If you don't know how to withdraw your crypto from Coinbase to Exodus, see our guide on how to do that.
---
How to Buy USDT in China
The way Tether works is that investors deposit US dollars with the Tether company. Tether then mints new USDT which the investor can withdraw. The same works in reverse, where an investor can send Tether some USDT and receive US dollars in return. This is one of the easiest ways to buy Tether in China.
Unfortunately, in order to open an account with Tether there is a $150 verification fee and the obligatory KYC information that must be entered.
---
Buy USDT UK
The Kraken centralized exchange used to be one of the easiest places to buy Tether for residents of the UK, but now GBP is one of the currencies that customers can use to easily buy crypto in Exodus.

Euro crypto purchases are also supported in Exodus.
Get more insider crypto knowledge
from the world's leading crypto wallet.
---
USDT Wallet (Where to Store USDT)
Since Tether exists on three different blockchains there is not an official USDT wallet. That's why the Exodus USDT wallet is one of the best crypto wallets that you can use (if you use the Ethereum-based USDT, which is the most popular USDT version).

The Exodus multichain application also supports Tether on many alternative USDT blockchains, including Matic, Solana, Algorand, Avalanche and Binance Smart Chain.
Exodus is a reliable, secure, non-custodial (you control your crypto) cryptocurrency wallet with the advantage that it supports more than 200 crypto assets! So instead of having to download a Bitcoin wallet, Tether wallet, etc., you can use Exodus for all your crypto needs.
A few other advantages include:
Focus on premium design and ease of use
Is the only wallet to support desktop, mobile, and hardware wallet (Trezor) integration
Allows you to stake some of the hottest cryptos for crypto passive income
and has 24/7, fast human support if you ever need help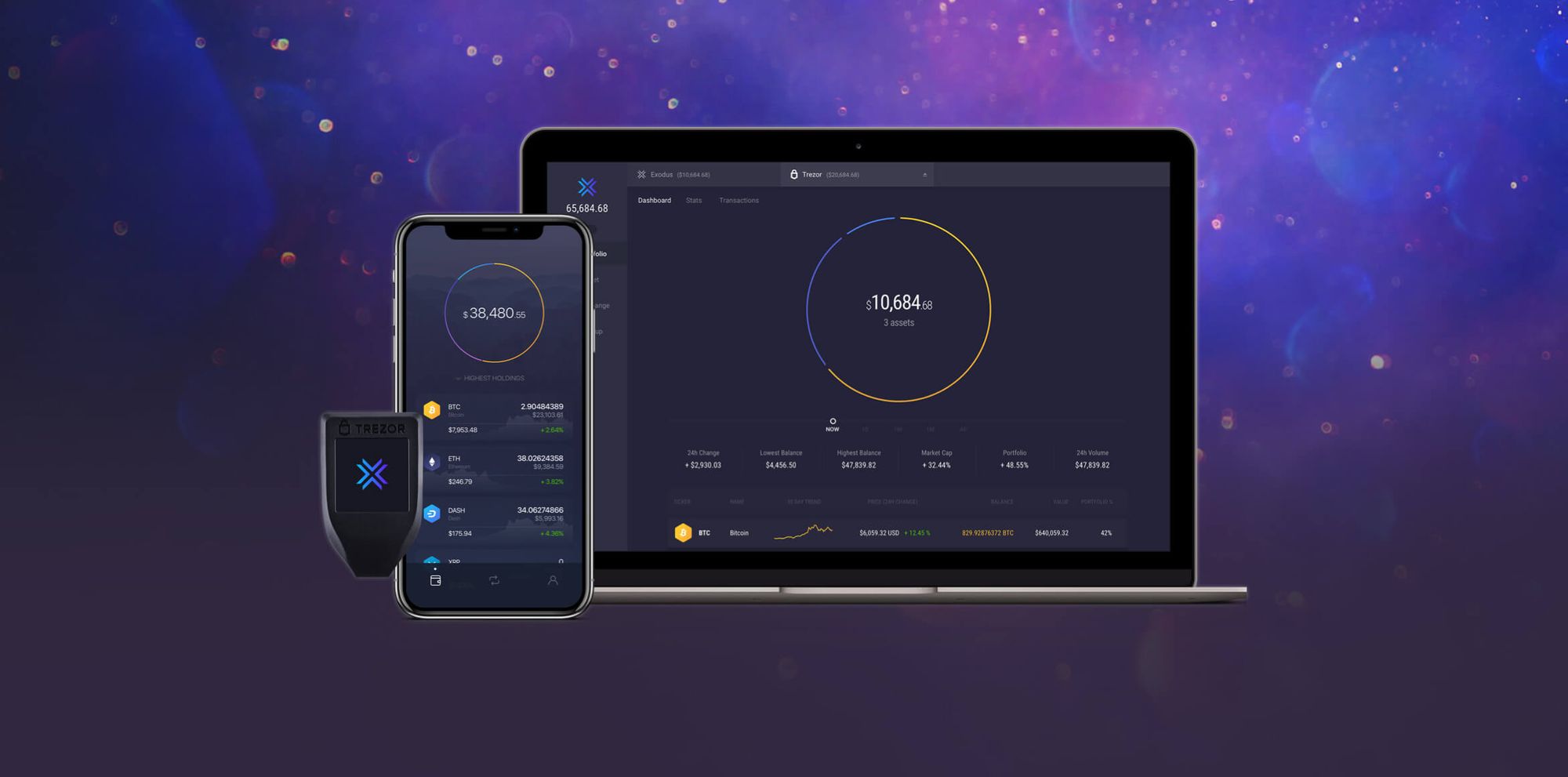 ---
USDT Price
One of the reasons that investors continue to use USDT is that Tether has historically held its $1 peg quite well. If you'd like to track that peg and the price of USDT you can use the Exodus charts, which have a great layout and easy to use interface.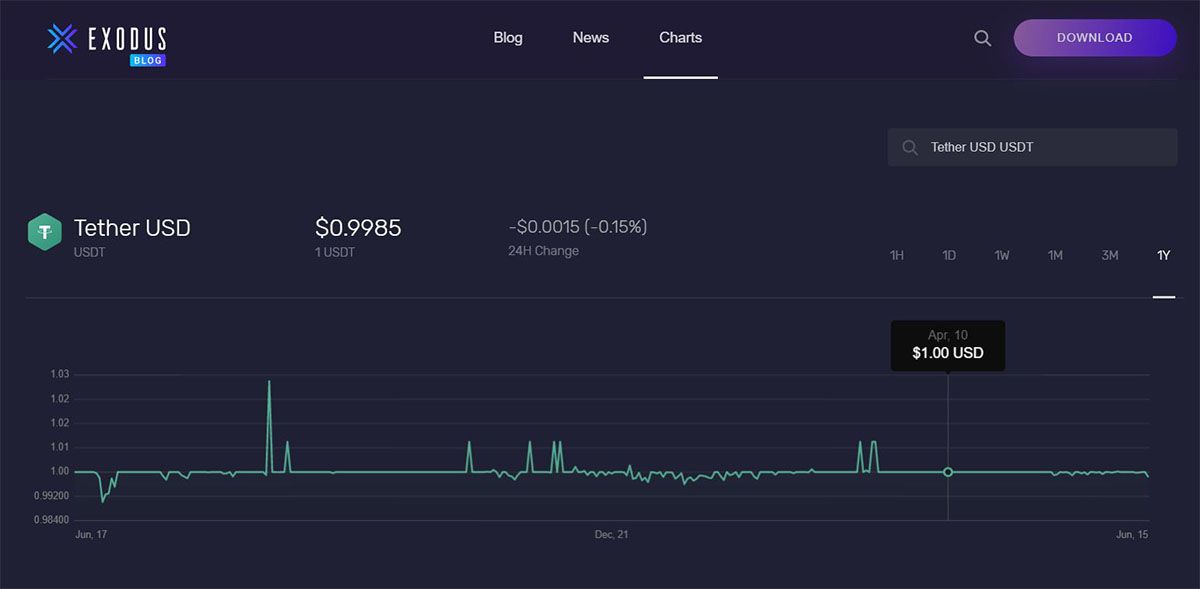 We hope this buy USDT guide was helpful! If so, you might want to check out our Exodus News & Insights article on How to buy Solana.
This content is for informational purposes only and is not investment advice. You should consult a qualified licensed advisor before engaging in any transaction.