---
Introduction
Emerging from the depths of the 2018 bear market, Chainlink (LINK) burst onto the scene out of nowhere. LINK outperformed all other crypto assets in 2019, including Bitcoin.
With investors still trying to understand what Chainlink is about, this Chainlink review will tell you everything you need to know about this potentially revolutionary blockchain project.
---
What is Chainlink?
Before going into what Chainlink is, you have to understand the concept of an oracle. Oracles are basically data feeds that connect blockchains to off-blockchain data, which could include anything from asset prices to the weather.
Connecting smart contracts to "real world" data presents a huge opportunity. Without access to real world data, smart contracts are limited to use cases that only use on-chain data (data that is stored on the blockchain). This limitation resulted in many of the early decentralized applications (Dapps) being gambling-related.
Chainlink, then, is a decentralized oracle network that allows blockchain smart contracts to connect to off-blockchain data in a decentralized way. While there are oracles that already allow blockchains to access data from the outside world, they are usually centralized.
The problem with that is - without decentralized oracles, the decentralized nature of public blockchains becomes useless. This is because a blockchain can't be decentralized if its data comes from a centralized source.
The danger of centralized oracles demonstrated itself when Synthetix, one of the top decentralized finance (DeFi) projects, experienced a bug caused by an oracle data outage. A trading bot quickly exploited the bug to make $1 billion in less than 1 hour.
The Synthetix team and trading bot owner agreed on a deal to restore the lost funds, but the incident showed the dangers of relying on a centralized oracle, which brings back the problems of centralization that decentralized blockchains are working to fix.
(Funny enough, Synthetix has since entered into a partnership with Chainlink. As of January 31st, 2020, Chainlink powers more than $100 million of DeFi, or about 10% of DeFi at the time).
A decentralized oracle solution, such as Chainlink, opens up blockchain to the world:
Weather data to help calculate insurance premiums
Political events to resolve prediction markets
Sporting events to resolve decentralized sports betting
Location data to use in supply chain tracking
Damage verification to uphold insurance contracts
...and basically anything else that would benefit from the transparency, efficiency, security, and traceability of blockchain-based smart contracts
Although there's no guarantee that Chainlink will be the one to solve the "oracle problem", or figuring out how to connect blockchains to off-chain data in a decentralized way, the importance of oracles to blockchains can't be underemphasized. Many believe that integrating blockchains with external data - whether that is with Chainlink or not - is necessary for mainstream adoption of blockchain.
Chainlink Whitepaper
For a more technical overview of Chainlink, see the Chainlink whitepaper.
---
Chainlink Staking (How to Mine Chainlink)
With the rise of staking and other forms of crypto dividends, users are looking for crypto assets to invest in not just for capital gains but yield or investment income, too. Chainlink staking involves running a Chainlink node or joining a Chainlink staking pool in order to connect blockchains to offchain data and being paid in LINK for doing so.
Of course, if blockchain oracles see broader adoption and LINK is at the center of that, earning LINK for providing off-chain data to smart contracts will pay off handsomely for stakers.
However, LINK staking is not live yet. That being said, you can see Chainlink's documentation on running a Chainlink node to get ready. If you don't want to run your own node or are less technically inclined, check this guide on staking with the LinkPool staking pool.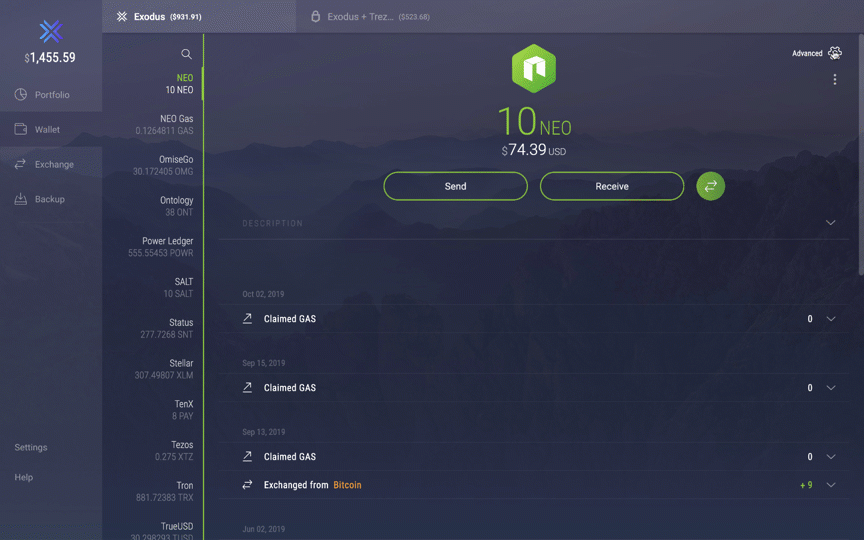 ---
Chainlink Team
Chainlink's team includes veterans from both blockchain and non-blockchain.
Chainlink's Co-Founder and CEO Sergey Nazarov, is a smart contract pioneer. His early work includes smart contracts projects involving NXT (a smart contract platform that came before Ethereum). He has also owned Smartcontracts.com before Ethereum came out or most people even knew what smart contracts were.

Advisor Ari Juels is a computer science professor at Cornell University and co-director of IC3 (Initiative for Cryptocurrencies and Contracts - partners include IBM, Intel, JP Morgan, Microsoft, and Tezos).
Advisor Evan Cheng is Director of Engineering, Blockchain at Facebook.
---
Chainlink Partnerships
Chainlink's partnerships are also quite impressive, with many coming in rapid succession since the launch of Chainlink's mainnet (discussed in more detail later).
Chainlink SWIFT
One of the biggest misconceptions about Chainlink is that it has a committed, long-term business partnership with SWIFT, an international communications network that allows banks to send and receive information about transactions securely. SWIFT powers half of all high value cross-border payments, so any partnership with them would be huge indeed.
Nevertheless, Chainlink never entered into a partnership with SWIFT. Instead, SWIFT has used Chainlink (and other blockchain solutions) for blockchain proof-of-concept projects. However, the fact that SWIFT even considered Chainlink is a testament in itself to the potential value of Chainlink's technology.
Chainlink Google
Another misconception is that Chainlink has a committed business partnership with Google. In June 2019, Google published a blog post detailing how Chainlink could be used to connect Google's enterprise cloud data warehouse (BigQuery) with Ethereum.
While this post, like the SWIFT news, only showed that Google was demonstrating potential uses of Chainlink's technology, as opposed to actively implementing Chainlink across Google's products, the effect on Chainlink and LINK's price was profound.
In a little over two weeks, LINK's price more than doubled from $1.73 on June 13th to $4.12 on June 29th.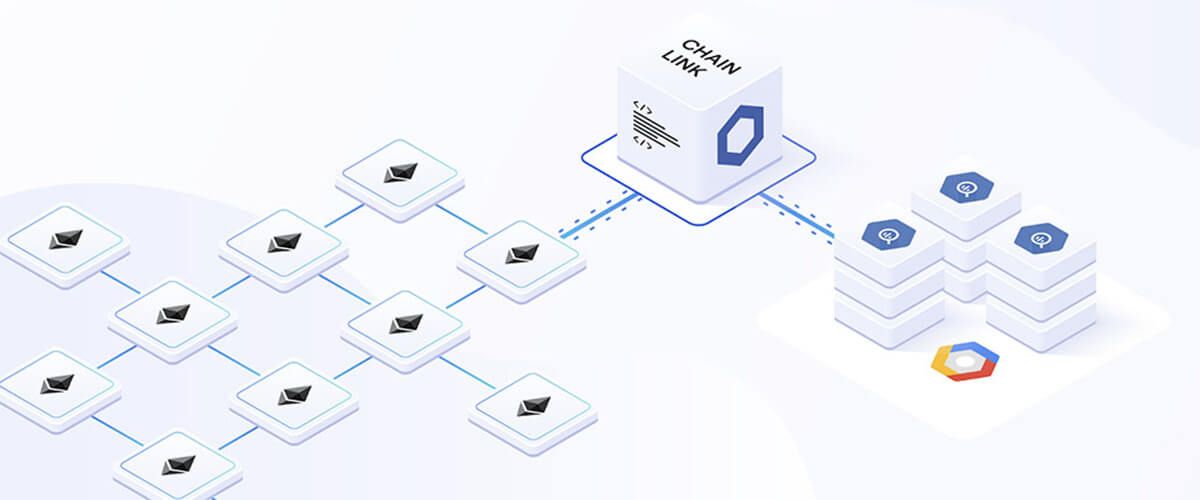 However, significant real partnerships do exist, such as with Oracle (one of the world's biggest software companies) and Binance (the biggest centralized crypto exchange). The Twitter account @TheLinkMarine regularly posts updates about the latest LINK partnerships.
---
Chainlink Mainnet
After more than a year of development, three security audits, the completion of various stress tests, and a rise in demand for reliable, decentralized oracles, LINK's mainnet launched at the end of May 2019.
---
Chainlink ICO
Like many other blockchain projects, Chainlink funded its early development through an ICO. Chainlink's ICO took place in September 2017 with the Chainlink ICO Price being $0.11 (0.00038462 ETH).
---
Chainlink Chart, Market Cap, and Price
For the latest Chainlink chart, market capitalization (circulating LINK multiplied by LINK price), and LINK price, see the Exodus crypto charts.
---
Chainlink Supply
Chainlink's total token supply is 1 billion LINK, with 350 million being sold to ICO investors. Another 350 million LINK are set aside to incentivize Chainlink node operators, while 300 million are for the Chainlink team.
A concern some have about Chainlink is that there is no transparency about how the 650 million LINK for node operators and the Chainlink team are/will be spent. They also don't have any sort of vesting schedule (e.g. after year 1, team gets 20% of tokens, after year 2, team gets another 20%).
This means that the team could sell large amounts of LINK at any time, which would apply strong downward pressure to LINK's price. Indeed, this happened in July 2019, when the Chainlink team sold 3.5 million LINK (~$10.8 million at the time).

Teams of course need to fund their development, but more transparency on treasury management would definitely calm investors' concerns that Chainlink could dump large amounts of LINK on the market without any warning whatsoever.
---
Chainlink Roadmap
Chainlink is interesting in the sense that they have no formal roadmap. Instead, it appears the team prefers to work at whatever pace is necessary to achieve the best results. To get an idea of what the team is working on, check their Pivotal Tracker, a tool for managing software projects.
---
Chainlink Review Conclusion and Chainlink Future
Clearly, Chainlink is aiming to achieve big things. In its early days, Chainlink was known for its close association with 4chan, a site known for its controversial content. 4chan users posted (and still post) about LINK endlessly, leading many to think Chainlink was a joke or meme.
However, LINK's promise is starting to show with its real world application through various high-profile partnerships and growing usage of Chainlink oracles.
Of course, achieving Chainlink's ultimate goals won't be easy since the success of Chainlink depends on the following:
Global adoption of smart contracts.
Demand for decentralized oracles for smart contracts.
Chainlink's ability to grow into a reliable and secure decentralized oracle solution.
Roadblocks will definitely emerge on the way to Chainlink's goal of solving the elusive oracle problem. But for now, Chainlink seems to be leading the way in "LINKing" the world to blockchain technology.
---
Where to Buy Chainlink
If You Already Have Crypto
Looking to buy some LINK? If you already have crypto, you can download the Exodus Chainlink wallet to exchange crypto assets like Bitcoin and Ethereum for LINK without creating an account or ever leaving your wallet.
For a guide on how to do that, see our article on how to exchange assets in Exodus.
If You Don't Have Crypto
If you don't have crypto, you can use centralized exchanges like Coinbase, Kraken, and Bitstamp to purchase cryptocurrency with your local government currency, such as the US dollar or Euro.
On some exchanges, you can buy LINK directly with government currencies. Otherwise, you might have to buy more popular cryptocurrencies like Bitcoin and Ethereum first before exchanging for LINK in Exodus or on centralized exchanges.
---
Wallet for Chainlink
While Chainlink does not have an official wallet for storing LINK, LINK is an ERC-677 token. This means you can store your LINK on any wallet that supports Ethereum-based ERC20 tokens (a popular type of Ethereum token).
If you hold other crypto assets, Exodus supports 100+ crypto assets and has other useful features:
Gives you full control of your LINK and private keys
Emphasizes design and ease of use, as our team has done work for the likes of Apple, BMW, and Louis Vuitton
Supports desktop, mobile, and hardware wallet integration
Allows you to exchange cryptos in-app without creating an account
Offers 24/7, fast human support for all your crypto-related questions :)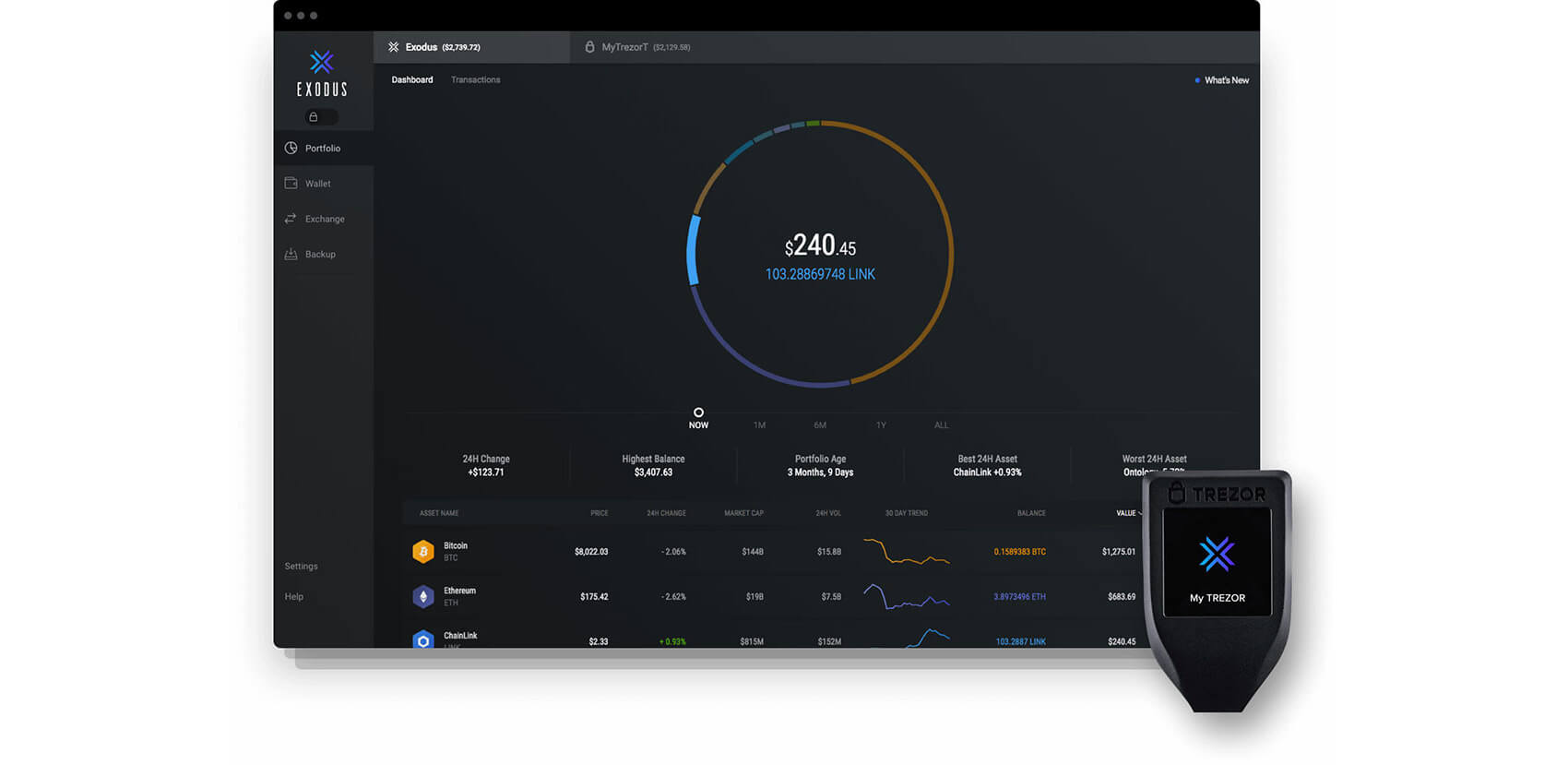 ---
Connect with Chainlink
Want to connect with Chainlink and the rest of the LINK community? Find them on the platforms below:
Chainlink Reddit
Chainlink Twitter
Chainlink Telegram
Chainlink Medium
Chainlink Blog
Chainlink Github
github.com/smartcontractkit/chainlink
Pivotal Tracker Chainlink
This content is for informational purposes only and is not investment advice. You should consult a qualified licensed advisor before engaging in any transaction.