Even though Dogecoin (DOGE) was created as a joke, it's shown how smart it is by outmaneuvering countless other crypto assets to maintain its position as a mainstay of the crypto world.
But while that feat was impressive in itself, DOGE might be getting even smarter, thanks to Dogethereum, also known as the Dogethereum bridge.
In fact, it's so smart that researchers from the elite Stanford University wrote a research paper on it: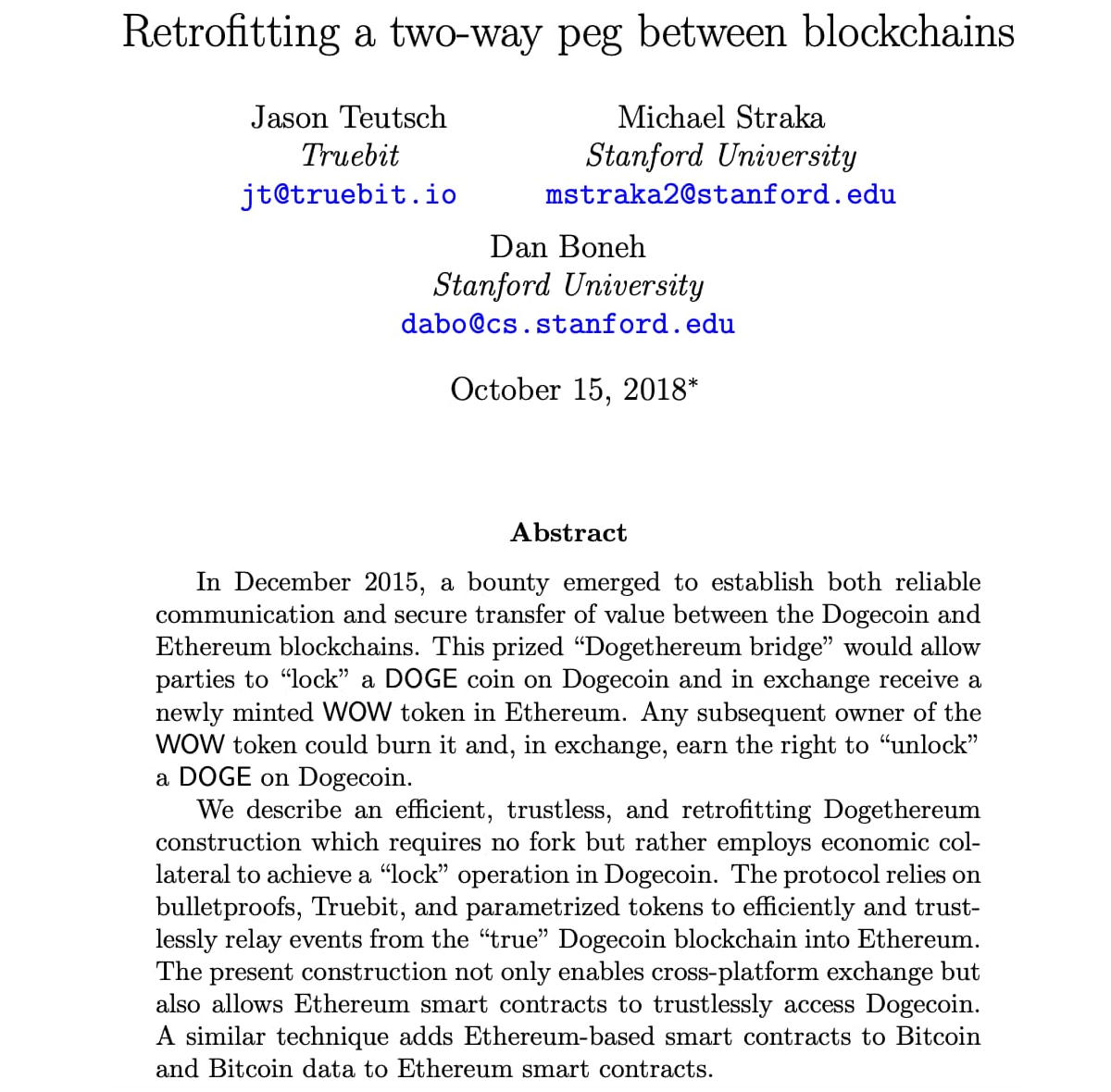 Note: this article discusses the Dogethereum BRIDGE not the Dogethereum (DOGX) token, which is a dead crypto token that has nothing to do with the project discussed in this article.
---
What is Dogethereum?
Dogethereum links the power of DOGE with the power of Ethereum (ETH), the most popular smart contracts platform that allows developers to build decentralized applications (Dapps) using self-executing contracts made of computer code.
As an example of Ethereum's power, decentralized finance (DeFi), or the re-creation of traditional financial services like borrowing and lending using blockchain, has skyrocketed in recent years.
DeFi protocols like Compound.Finance allow users to lend and earn high interest on stablecoins that mirror the value of the US dollar. In other words, anyone from anywhere in the world can have a high-yield USD savings account, but without the banks.
But what does this all mean for Dogecoin?
---
How Does Dogethereum Bridge Help Dogecoin?
As for what Dogethereum bridge could mean for Dogecoin, let's put it this way. The idea of using blockchain not just for payments (e.g. Bitcoin) but also for all kinds of Dapps, catapulted ETH to the #2 spot in the crypto industry in just a few short years.
Dogecoin is already one of the most popular crypto assets. If smart contracts can take Ethereum from obscurity to #2 in just a few short years, imagine what a Dogethereum bridge that links DOGE to Ethereum's smart contract capabilities could do for DOGE.
---
Dogethereum Demo
Dogethereum is exciting and could potentially bring a slew of new capabilities to Dogecoin. But does it actually work?
While Dogethereum isn't live yet, the demo was a success:
---
Dogethereum Bridge Release Date
While the Dogethereum demo was a success, when is the Dogethereum bridge's release date?
Unfortunately, work on Dogethereum was postponed indefinitely during the great cryptocurrency crash of 2018-early 2019. According to the Dogethereum development team, if the price of ETH, which the project is funded in, reaches $400, the team will be able to continue working on Dogethereum.
The current ETH price isn't too far off from $400, so don't discount this legendary upgrade to DOGE just yet 😉
---
Dogethereum Bridge News
Though there doesn't seem to be an official channel for Dogethereum bridge news, your best bet would probably be to follow the Dogecoin Developers Twitter account. You can also follow Dogethereum's development progress on Github.
---
Conclusion
In sum, while the Dogethereum bridge isn't fully live yet, it's clear that real progress has been made. If and when the ETH price surpasses $400 again, Dogethereum developers will resume work on this groundbreaking project that could see DOGE use Ethereum's smart contracts to become that much smarter.
And if things don't work out, at least 1 DOGE will equal 1 DOGE, right?

Last but not least, if you need a place to HODL your DOGE in anticipation of the Dogethereum upgrade, use the official Dogecoin wallet (supports Windows, macOS, Linux, Android).
For a wallet with a bit more functionality, the Exodus Dogecoin wallet is a good choice thanks to:
A custom DOGE skin that you can show off to your fellow DOGEs
Supporting DOGE as well as 100+ other crypto assets
Focusing on premium design and ease of use
Supporting desktop and mobile (iOS and Android), including syncing your DOGE between both platforms!
Allowing you to exchange your DOGE profits for other cryptos right from the app
Having 24/7, fast human support if you ever need help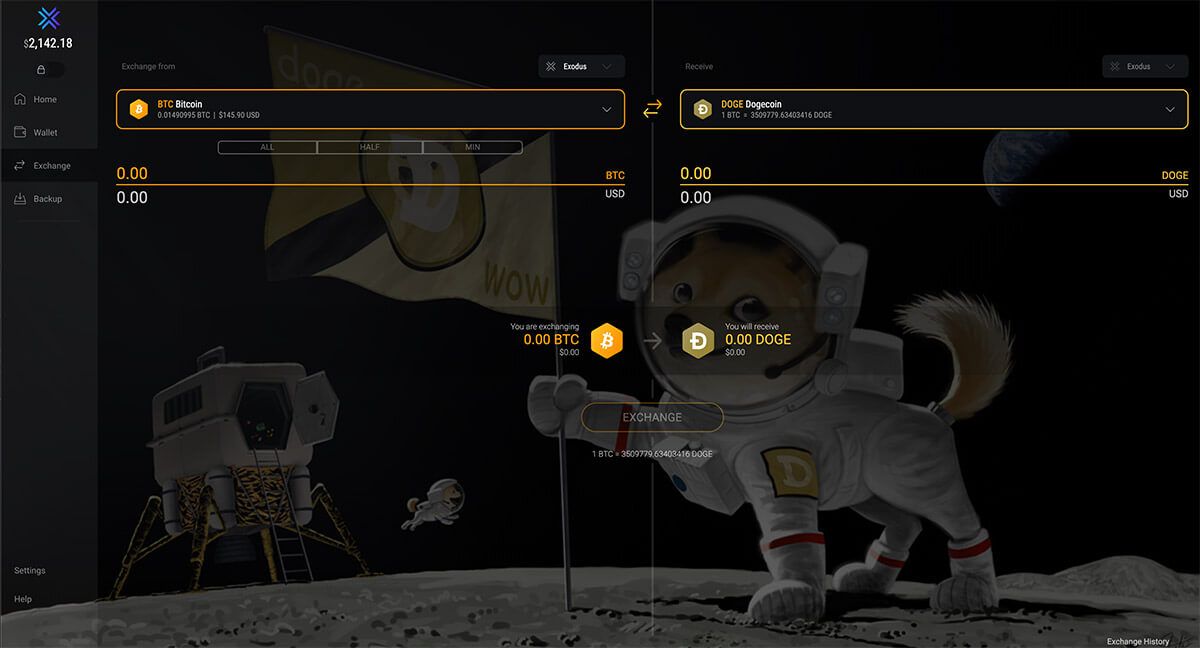 Want more Dogecoin information? Check our articles on dogecoin future and how to mine dogecoin if you are trying to learn more about DOGE's potential and become a "big DOGE".
This content is for informational purposes only and is not investment advice. You should consult a qualified licensed advisor before engaging in any transaction.