Trust me, you really need cryptocurrency portfolio tracking software right now, even if you're just beginning your investment odyssey. Don't repeat my mistake and wait until you've made hundreds of transactions.
But which app is best? Below, I'll explain how I chose my personal favorite, and mention several others that I considered.
---
My Big Mistake
I first dipped my toe in the crypto waters four years ago, buying a bit of bitcoin with local currency from an exchange on-ramp and checking the price every day. Before long, I opened a couple of accounts on centralized exchanges and traded some of my shiny BTC for a few altcoins. Suddenly, I had a portfolio!
I kept track of my stash with a simple Excel file. Gradually, it grew larger, and by the time I had 30 crypto assets in a dozen wallets and exchanges, it comprised multiple spreadsheets that I had to update by hand each day.
Obviously, I needed something better. How much had I made or lost on each coin? Would I owe taxes this year?
As I read multiple "Top Portfolio Tracking App" articles, I realized that every review selected a small sample among dozens of apps, describing each one in a couple of neutral paragraphs. I wondered if the authors actually took any of them for a test drive.
In fact, they're not all designed for the same purpose. Many focus on in-app trading, with a portfolio manager added on. Some track other investments, like Tesla shares or truckloads of soybeans.
Anyway, here's my personal list of feature priorities, in somewhat descending order of importance; your mileage may vary:
Platform: I want a Windows desktop or web app. Entering complex financial data without a keyboard, mouse and large monitor is a headache I don't want. But a mobile version for checking balances is a bonus.

Exodus support: It has to work with my primary crypto ecosystem. Exodus exports comprehensive Safe Reports and CSV (comma-separated values) files that provide all transaction data.

Connectivity: It should accept API keys or CSV files from every other wallet and exchange I use. Ideally, it can search blockchains directly.

Reports/Graphs: I want lots of them, displaying my assets in interesting and unusual ways.

Support: An online database, and occasionally a live agent who responds quickly, should be readily available when I can't figure out how something works.

Price: The basic version should be free until I'm comfortable with the interface and decide to upgrade. When that time comes, I want to pay with crypto and not a credit card.
I installed nearly all the portfolio tracking applications I could find. A few that wouldn't run without advance payment were deleted immediately. Here are the ones that made my first cut; apologies if I overlooked one of your favorites.
---
Thanks, But No
CoinTracker is a pretty decent web app if you don't use Exodus. You can import wallets and connect to some exchanges with API. I liked that the Portfolio menu has separate windows for DeFi apps and NFTs. The Dashboard page is okay, if basic.
However, it failed trying to import Exodus CSV files. Also, I'd have to upgrade after a 7-day trial. The $14/month version connects up to 30 wallets and exchanges. And it sent me daily emails with all my account balances, which I found creepy.
Altrady connects directly to various exchanges for trading. Personally, I'd rather open separate windows. The free version accepts only 25 transactions, so I couldn't import all my Exodus data. To get the bandwidth I need, I'd have to go for the Premium version at $149/year.
The main reason I rejected it is the cluttered interface. I thought the portfolio page was especially confusing.
Atani is a crypto trading platform with a portfolio page and a tax report generator. It's a desktop or mobile app, not a website. All three "experiences"—Simple, Advanced and Pro—are free; Atani earns its revenue from deals with the 22 exchanges it supports.
Oddly, the portfolio shows only centralized exchange activity! Did the designers expect us to keep all our digital assets there? There's no way to connect Exodus or other wallets, or to report DEX activity or deposits from other accounts.
Finally, CoinMarketCap and CoinGecko both offer simple, free portfolio tracking. It's up to you to keep the total of each asset up to date (as when you earn staking rewards), to see their values in real time. They're better than nothing.
---
Close But No Cigar
The CoinStats interface is well-designed and easy on the eyes, though it's not very deep. The free version doesn't support many exchanges or wallets. I don't like that the main portfolio window shows the total fiat value of each coin I hold but not the amount. Clicking on a coin's name opens a window that shows more details.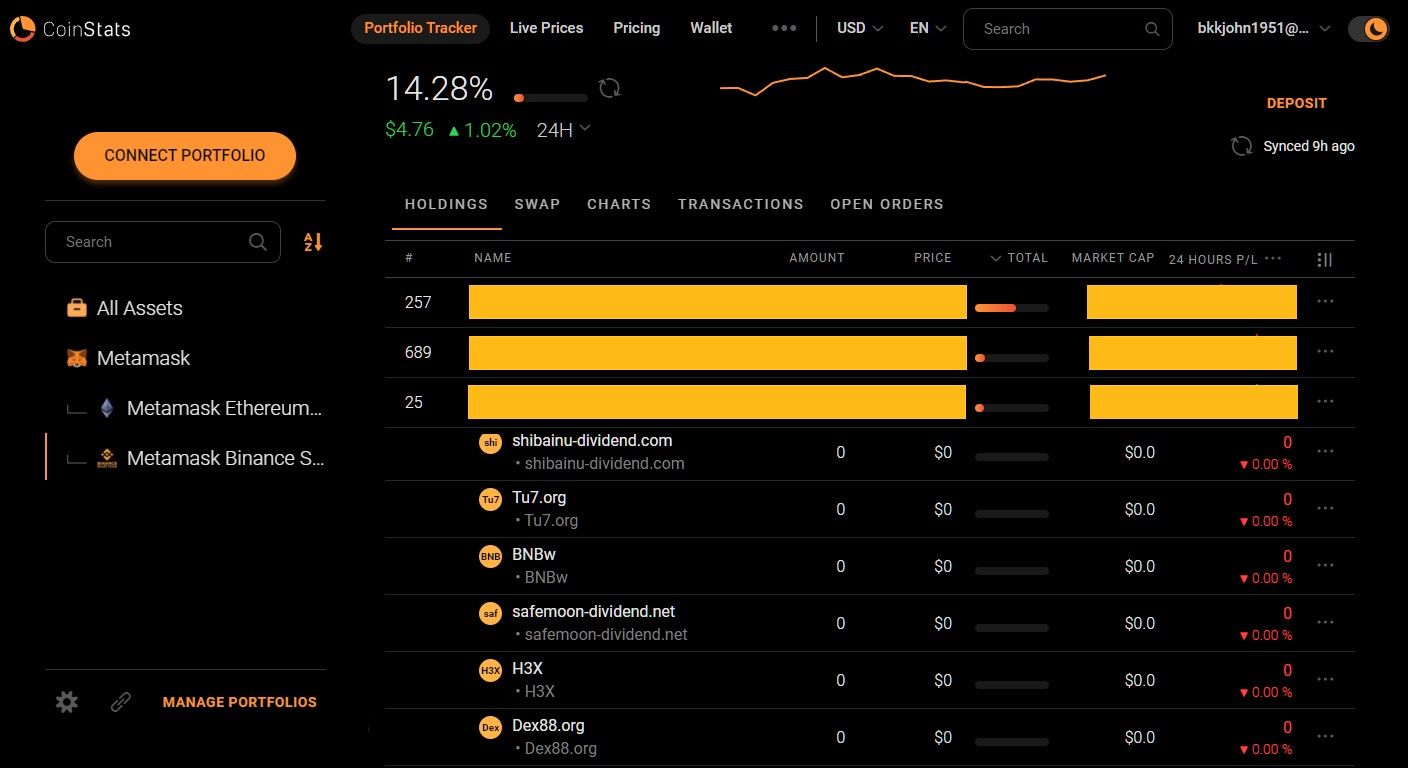 Online help is acceptable, with a clickable widget in the corner to search for answers to common questions or chat with a human.
The Free version tracks only 100 transactions. Leveling up to Pro allows 1,000 transactions and more exchanges for just $3.49/month. Monthly payment requires a credit card, although you can purchase a lifetime account with BTC, ETH or USDT.
I tried repeatedly to import an Exodus Safe Report, but only half of the coins showed up, plus several wallets with zero balances. And the CSV option, hidden a few layers deeper, failed with numerous read errors.
ZenLedger looked good at first. The Add Account window claimed to support my local exchange! However, after I selected it, the app said it doesn't support API for that exchange and to use CSV (which the exchange doesn't provide).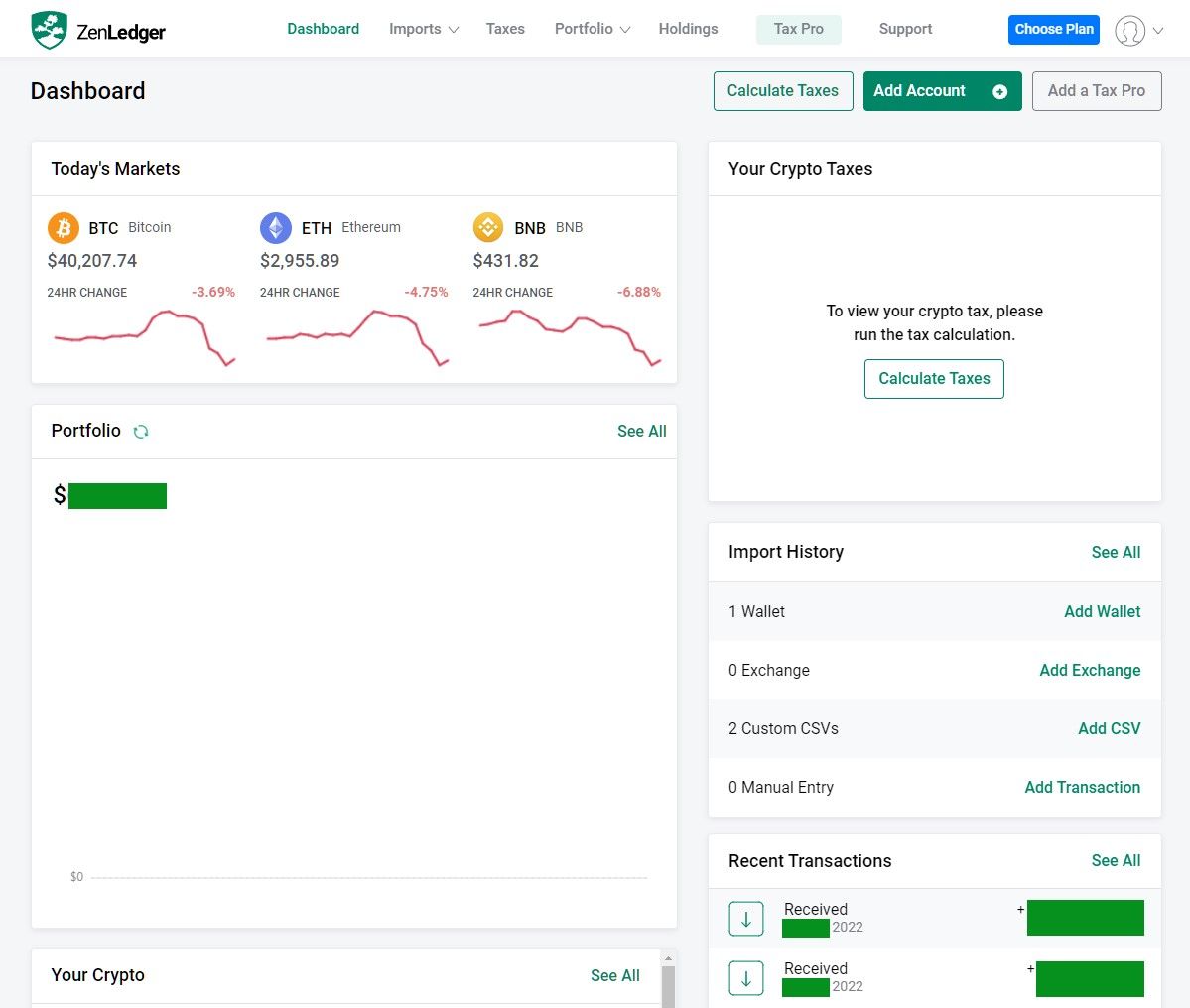 Our relationship went downhill fast from there. Importing wallets is confusing ("Is your Metamask in the USA?"), and I couldn't see the portfolio page with the free version. I really need at least the Premium Plan—$149/year, credit card only—to handle more than 100 transactions.
---
The Winner!
CoinTracking (not CoinTracker) was my eventual choice. As a web app, I can run multiple instances on different monitors, and it's also available for mobile devices. The interface is clean and well organized, offering four color schemes. All functions are quickly available from a series of drop-down menus.
Otherwise, it ticks most of my boxes. Though it doesn't support Exodus Safe reports, CSV import works fine. It also supports API keys from 40 exchanges (but not my local one, which also doesn't export CSV). For those, I used the Blockchain Inputs feature and tweaked the entries later, a straightforward process once I got the hang of it.


There's a prominent Support menu that's always visible, accessing FAQs, blogs, newsletters and real humans. I had trouble entering a couple of transactions, so I sent them my question and received an e-mailed solution within a couple of hours.
And, wow, does CoinTracking have all the reports I'll ever need!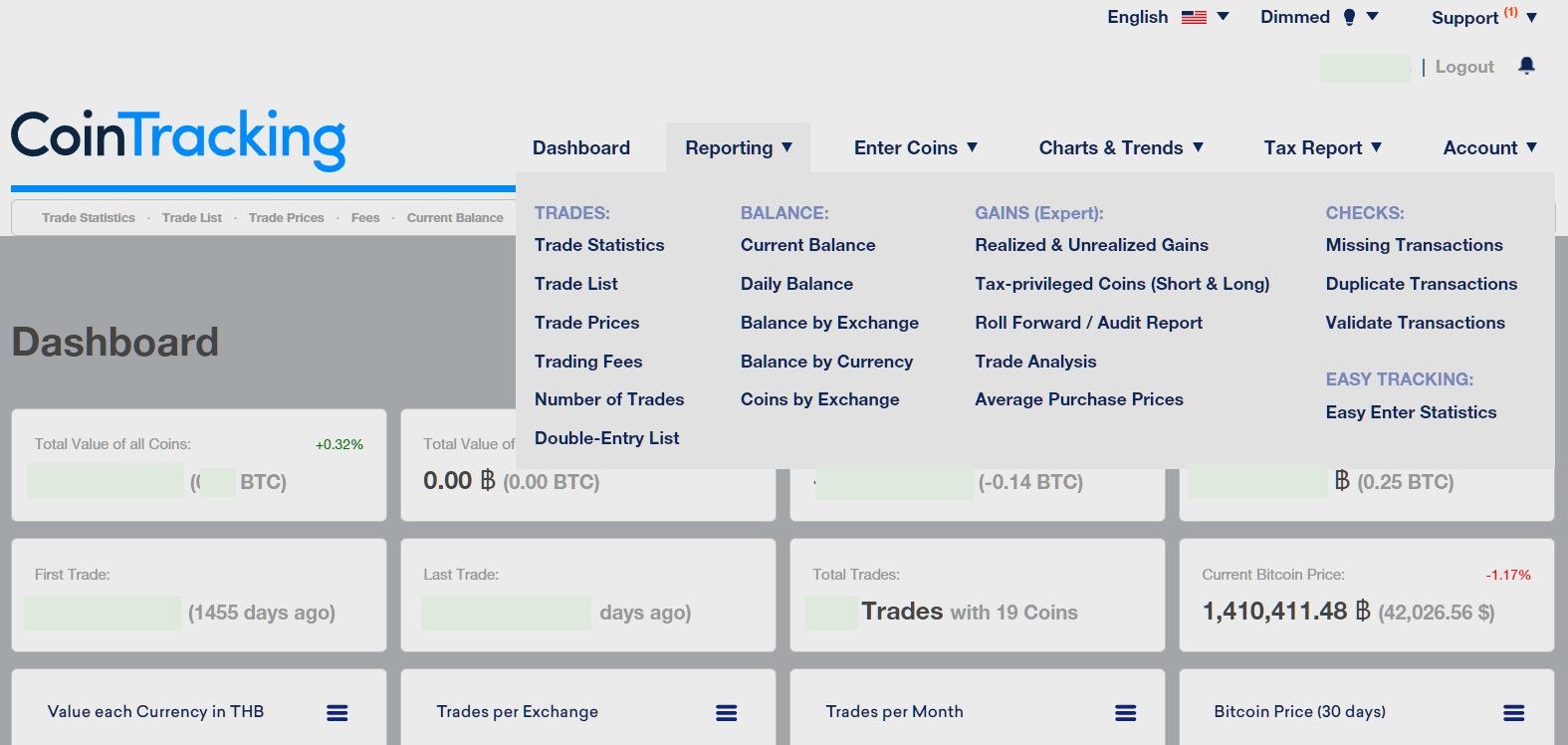 So far, I'm happy with CoinTracking. The Pro upgrade is $10.99/month, with a 5% discount for Bitcoin payment. It includes a tempting basket of promotional goodies, including free crypto from Kucoin, Coinbase and Gemini.
---
Final Thoughts
If you're okay tracking your crypto portfolio on a mobile device, also check out Blockfolio, Delta or KryptoGraphe.
I'm confident I made the best choice—for me. But your needs are probably different, so a different app might be a better fit.
But any portfolio tracker is better than trying to keep track of all your crypto transactions by hand. Get one now, even if you're just starting out.

This content is for informational purposes only and is not investment advice. You should consult a qualified licensed advisor before engaging in any transaction.