In this guide we'll explain what Bitcoin is, how to buy Bitcoin, and give you the best place to follow the price of Bitcoin live.

We'll also answer some common questions that people have when buying Bitcoin, such as the difference between Bitcoin and Bitcoin Cash, and what kind of things you can buy with Bitcoin once you have it in your wallet,
---
What is Bitcoin (BTC)?

Bitcoin is the world's first original cryptocurrency created by a pseudonymous person or entity called Satoshi Nakmoto.

Satoshi first released the Bitcoin whitepaper in 2008 as a response to the financial crisis. The whitepaper outlined the simple and elegant concept of Bitcoin as a secure and permissionless peer-to-peer digital currency.

Bitcoin was launched in 2009 with the aim of being completely decentralized, transparent and immutable, meaning that because of it's nodes being distributed all over the world, no single government or organization can stop people from using it.

Bitcoin runs on a proof-of-work consensus mechanism, meaning that the right to create new BTC is given to Bitcoin miners who use computer power to solve complex puzzles.
Proof-of-work is considered by some to be more secure than the proof-of-stake consensus because the cost of mining equipment and energy makes it impossibly expensive to take over 51% of the entire global network.

---
How to buy Bitcoin with crypto
One of the quickest and easiest ways to buy BTC is using any crypto that you already own!

The Exodus desktop or mobile applications host over 230 different crypto assets, with more being available to add as custom tokens. This means that you can buy Bitcoins fast with USDT, ETH and hundreds of other crypto tokens, by either using the built-in exchange app, or by linking your Exodus wallet with the FTX exchange.

---
Where to buy Bitcoin with credit card
Probably the best way to buy Bitcoin is with a credit card, and with Exodus this process is made super quick and easy. You can also buy Bitcoin with debit card, and for Exodus customers in the U.S, with Apply Pay.

You can buy BTC in Exodus using a credit / debit card, bank account, or Apple Pay. Our quick and easy buy crypto feature supports USD, GBP and EUR, and is available in over 160 countries and 47 U.S states.


Just click on the Buy Crypto icon in either your Exodus mobile or Exodus desktop application, and you'll automatically be redirected to either Ramp Network or MoonPay, depending on which is the best option for your location.

---
Should I buy Bitcoin with Paypal?
Many people wonder how to buy Bitcoin with Paypal, because on the surface, it seems like a quick and easy solution. But there in fact a number of stages involved.
Beyond the need for a PayPal account, you'll also need to open an account with brokerage company eToro - so you'll have to submit your personal information for KYC controls. Even though Paypal is convenient, it is also a centralized company that could freeze your assets if requested, so it's not necessarily the best place to buy Bitcoin.

Exodus on the other hand is a self-custodial crypto app, meaning that nobody, not even the developers, can access or freeze your funds. The power of blockchain and Web3 is in your hands!
In the case of both eToro and Paypal, each company also adds their own additional service fees; another reason why Paypal may not to be the best site to buy Bitcoin.

---
Can I buy Bitcoin with my bank account?
Yes you can! If you're wondering how to buy BTC with your bank account, this is possible in Exodus, thanks once again to partnerships with Ramp Network and MoonPay.

If your bank account is denominated in USD, EUR or GBP,  then in most jurisdictions Exodus enables you to buy Bitcoin.
Just like with the options above that sets out how to buy BTC with a credit card, the bank transfer option appears once you click on the 'buy crypto' icon within the application.


Many people who are new to crypto wonder things like "can I buy 1 Bitcoin" and "how much Bitcoin a beginner should buy", but that's entirely up to you and how much of your personal wealth you're willing to hold in a volatile crypto asset.

But whether you buy 100 dollars of BTC or 100,000, your crypto will be safe in the Exodus self-custodial wallet, as it remains entirely within your own control.

---
What can you buy with Bitcoin?
As Bitcoin gains further adoption across the globe, the list of things you can buy with Bitcoin is growing by the day.

Car companies like BMW will accept Bitcoin payments, you can pay BTC for flights with Expedia, and the Virgin Galactic transport group will even allow you to pay BTC for a flight to the moon!


Elsewhere, you can use Bitcoin on online shopping sites like Shopify, or purchase pretty much anything with BTC-bought gift cards from Bitrefill. And many charities like Save the Children, the African Wildlife Foundation and Ukraine's defence NGO Come back alive will happily accept cryptocurrency donations.

---
What's the difference between Bitcoin and Bitcoin Cash?
Bitcoin (BTC) and Bitcoin Cash (BCH) are two different crypto assets. If you buy Bitcoin Cash, you are not buying real Bitcoin!

On August 1st, 2017, there was a hard fork, or split, in the Bitcoin blockchain. As a result of the fork, a tale of two competing cryptocurrencies emerged; Bitcoin vs. Bitcoin Cash - the split from the original Bitcoin.

Bitcoin (BTC) has a smaller block size, which means less transactions are able to go through at once, but also makes the network more secure and easier to attack. Bitcoin Cash (BCH) created bigger blocks, so that transactions were faster and cheaper, but it made the network more susceptible to coordinated attacks.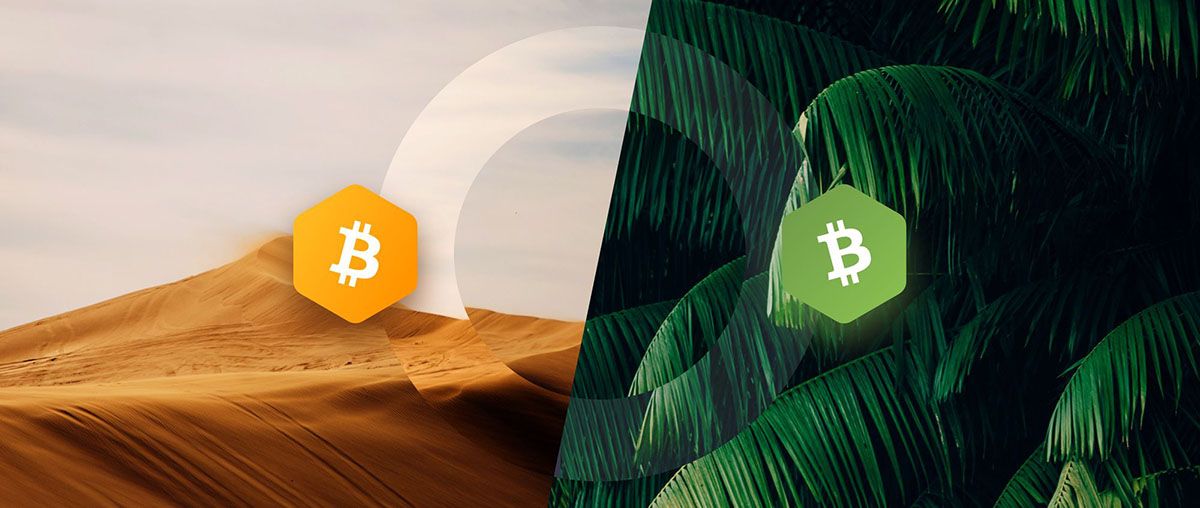 Just a few years after it was founded, the Bitcoin Cash (BCH) community slowly began losing developers, whereas Bitcoin (BTC) is still the number one coin in the crypto space!
---
What's the price of Bitcoin?
You can get live updates on cryptocurrency prices, including the day's gainers and losers, on the Exodus Crypto Market page.  

You can also take advantage of our handy Bitcoin price dashboard to keep up to date with the price of BTC and other metrics in order to figure out when to buy Bitcoin, or to check out the success of your Bitcoin buy.

Generally sound investment is to make sure you are committed to the idea of holding Bitcoin before you buy it, then your risk of selling BTC at a lower price is reduced. Don't worry about "How long does it take to make money in Bitcoin",

Thank you for reading our guide on How to buy Bitcoin! For more simple crypto info, check out the Exodus News & Insights page.
This content is for informational purposes only and is not investment advice. You should consult a qualified licensed advisor before engaging in any transaction.