Even though Bitcoin is already 10 years old, we're really just at the beginning of the emergence of cryptocurrency as a viable, useful technology. Case in point, smart contract platforms.
Ethereum, the originator of the smart contract, was released in 2015, just five years ago. Were we to compare that to the internet, that would place crypto somewhere around the mid-1990s in terms of development. The first iPhone wasn't released until 2007.
That being the case, when we look at smart contract platforms, it's hard to say which protocol will ultimately be the winner. There is Ethereum, which has massive developer activity, but it's also slow and occasionally buggy. Cardano has great code but its development process, while methodical, is quite slow.
Then there is Tron (TRX), which promises high speeds and an easier UX. Tron smart contracts can be written in Java instead of only in a proprietary language like Solidity (used by Ethereum).
TRX prices are still low but crypto as a whole is growing fast. There is new interest from investors, and valuations may rise quickly in 2020 and beyond.
In this article, we'll explain how to buy Tron, whether you want to exchange other cryptocurrencies for it or buy it straight with government currencies like USD. Finally, if you want to learn more about the Tron platform itself you can read this useful guide that we've put together to explain all of the basics.
---
How to Buy Tron with Crypto (BTC, ETH, etc.)
While it's possible to use a large exchange to convert your crypto holdings into Tron, there are definitely a few benefits to using the Exodus wallet.
With Exodus the crypto stays right in your wallet, where it belongs. You don't have to send it to a large exchange and risk losing it to a hack
There is no KYC so you can effectively trade without giving up all of your personal information. That's a huge plus, especially given how often user information is stolen
You can use the Exodus mobile app, for Android or Apple, to exchange cryptocurrency directly from your phone
So if you'd like to get some Tron using the Exodus wallet, here is how you can do so (for Exodus mobile app instructions, see our mobile exchange guide).
Download and install the Exodus Tron wallet
Open Exodus and select the cryptocurrency that you'd like to deposit. If you don't see your cryptocurrency listed, you can click on Add More at the bottom of the wallet
Click on Receive. Exodus wallet will display an address that you can send your cryptocurrency to
Once the transaction finalizes you can click on the two arrows to the right of Receive. This will take you to the exchange page. Alternatively, you can also click on the exchange arrows at the top of the Exodus wallet app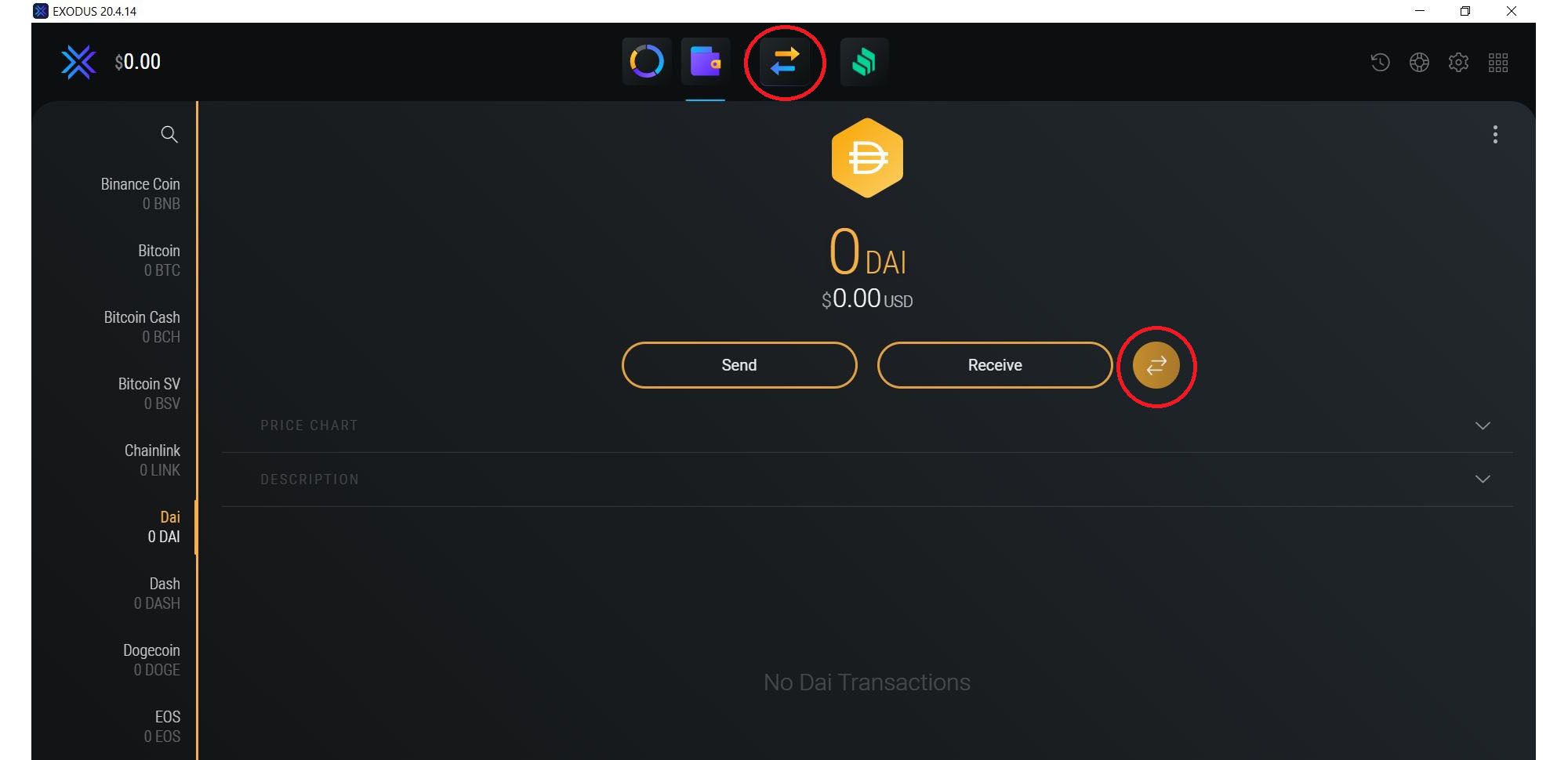 5. On the exchange page select Tron and then decide how much TRX you'd like to purchase. Once you've entered that information you can click on Exchange at the bottom of your wallet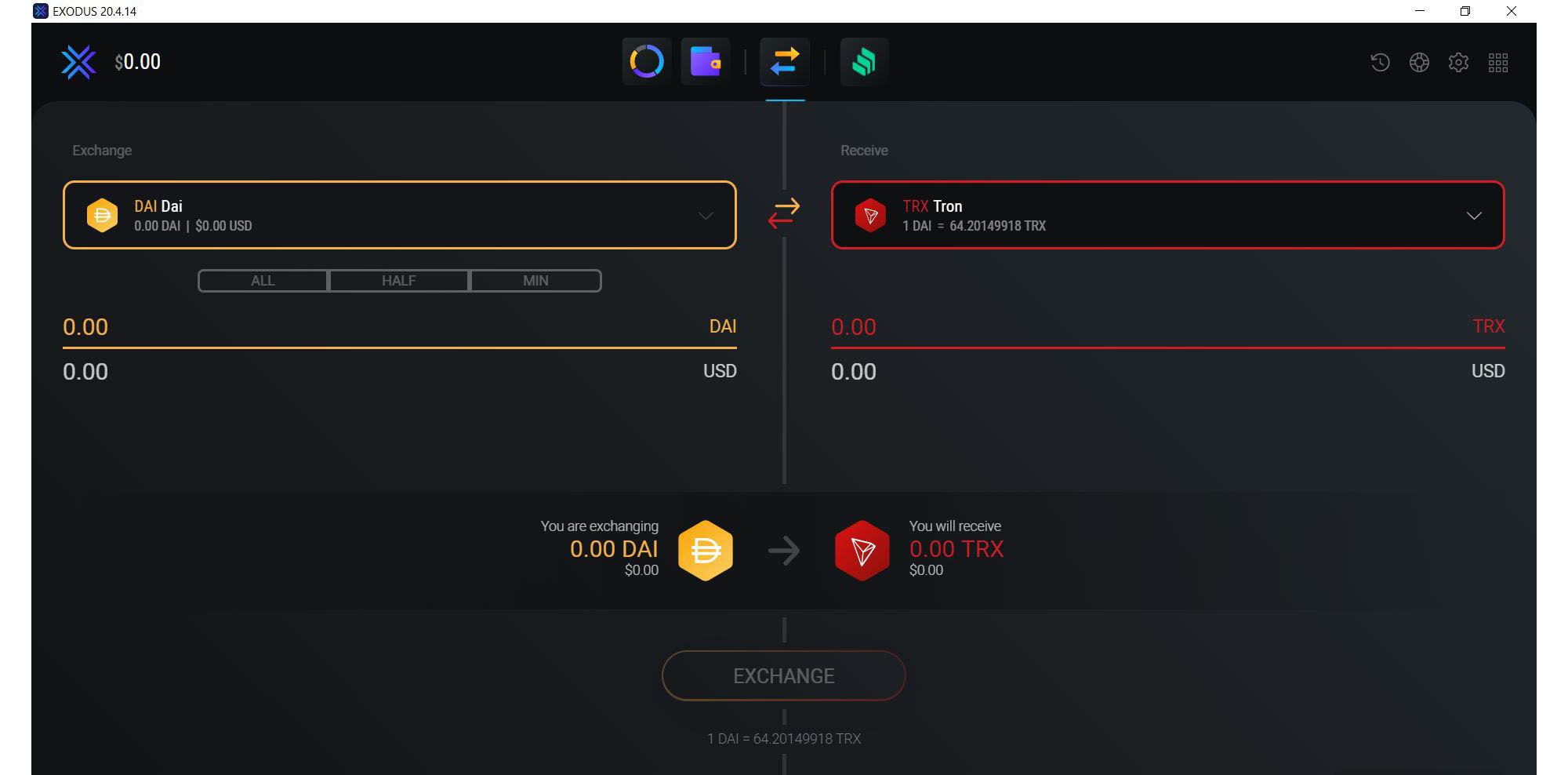 That's it! The exchange will begin and you'll have the Tron in your Exodus wallet soon. The exchange time will vary depending on which cryptocurrency you've exchanged. For instance, BTC and ETH are slower to exchange while XRP and XLM are faster.
---
How to Buy Tron with USD
If you don't have any crypto and would rather purchase Tron directly with dollars this is also a possibility. Kraken has a TRX/USD pairing that will allow you to invest in Tron with dollars.
Unfortunately, Kraken does not support debit or credit card purchases so you'll need to deposit dollars either using a FedWire or SWIFT payment. Kraken also doesn't allow residents of New York state, USA to use their platform due to burdensome regulations.
One downside of using USD to buy TRX directly is that liquidity is very low on Kraken, often less than $100,000 in trading volume a day. That's fine for small orders but for larger orders it's better to buy Bitcoin and then exchange it for TRX.
---
How to Buy Tron with Credit Card
Want to buy Tron using a credit card?
Coinswitch lets you do so with US dollars, euros, and Japanese yen!
---
Tron Price
Like many cryptocurrencies, the price of Tron has appreciated significantly over the years.
If you'd like to keep track of TRX prices Exodus has a great chart view. You can select different timeframes, discover what the trading volume is and check out the one year high and low prices for Tron.
---
Conclusion
If you're looking to buy Tron now might be a good time to do so. Crypto has just endured an extended bear market and is ready to test all time highs again. There is the Bitcoin halving, the massive increase in crypto users, the hundreds of millions of dollars that continue to flow into the blockchain space, and Tron 4.0!
This content is for informational purposes only and is not investment advice. You should consult a qualified licensed advisor before engaging in any transaction.