In this Litecoin mining hardware comparison, we'll let you know the best Litecoin mining devices to get started mining and earning LTC rewards.
Before you get excited about your mining rewards though, it's important to store it somewhere safe. While there are many wallets out there, Exodus might be a good option when it comes to keeping your LTC safe. Features like these make it a community favorite: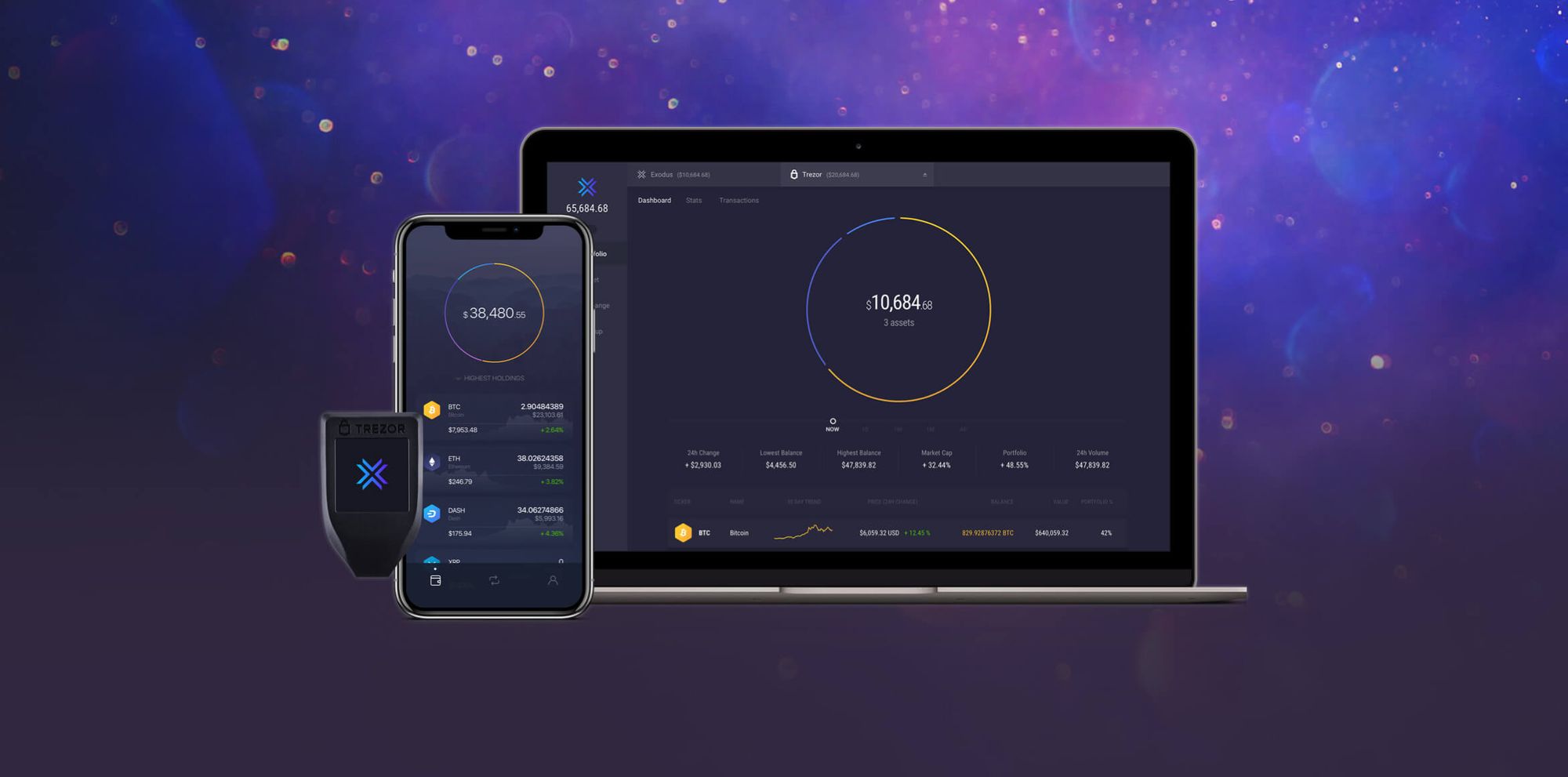 Having covered where to store your Litecoin, the next big question is: is Litecoin mining worth it?  
(If you know the answer to this question, feel free to skip to the next section)
---
Is Litecoin mining worth it?
The answer isn't black or white, there are a lot of factors that go into figuring out your own answer. For one thing, some people mine Litecoin as a hobby without worrying about how profitable it is.
If profit is your main focus then two factors will determine whether it's worth it or not, electricity and hardware costs.
If you live somewhere with especially cheap electricity then Litecoin mining could definitely be worth it. Electricity costs are one of the main reasons why so much mining happens in China, where there is an abundance of cheap hydropower.
Another reason that mining Litecoin could be worth it is if you have access to cheap mining rigs. It's important to factor in equipment costs since mining gear becomes outdated and inefficient so quickly.
---
The Best Litecoin Mining Hardware
There are three different types of Litecoin miners to choose from: CPUs, GPUs and ASICs. ASICs are the most efficient miners so we'll start with one of the most popular Litecoin ASICs of all time: the Antminer L3++.
Although the L3++ is now two years old it's still a good option for anyone just getting into Litecoin mining. A new model costs about $300 making it a good beginner purchase. The L3++ can perform 580 MH/s with an average power draw of about 1,200 Watts.
While it's possible to buy a used L3++ for about half the price, you should be wary of doing so. Used ASIC miners have a high tendency to fail, and sellers are not always willing to replace the defective unit.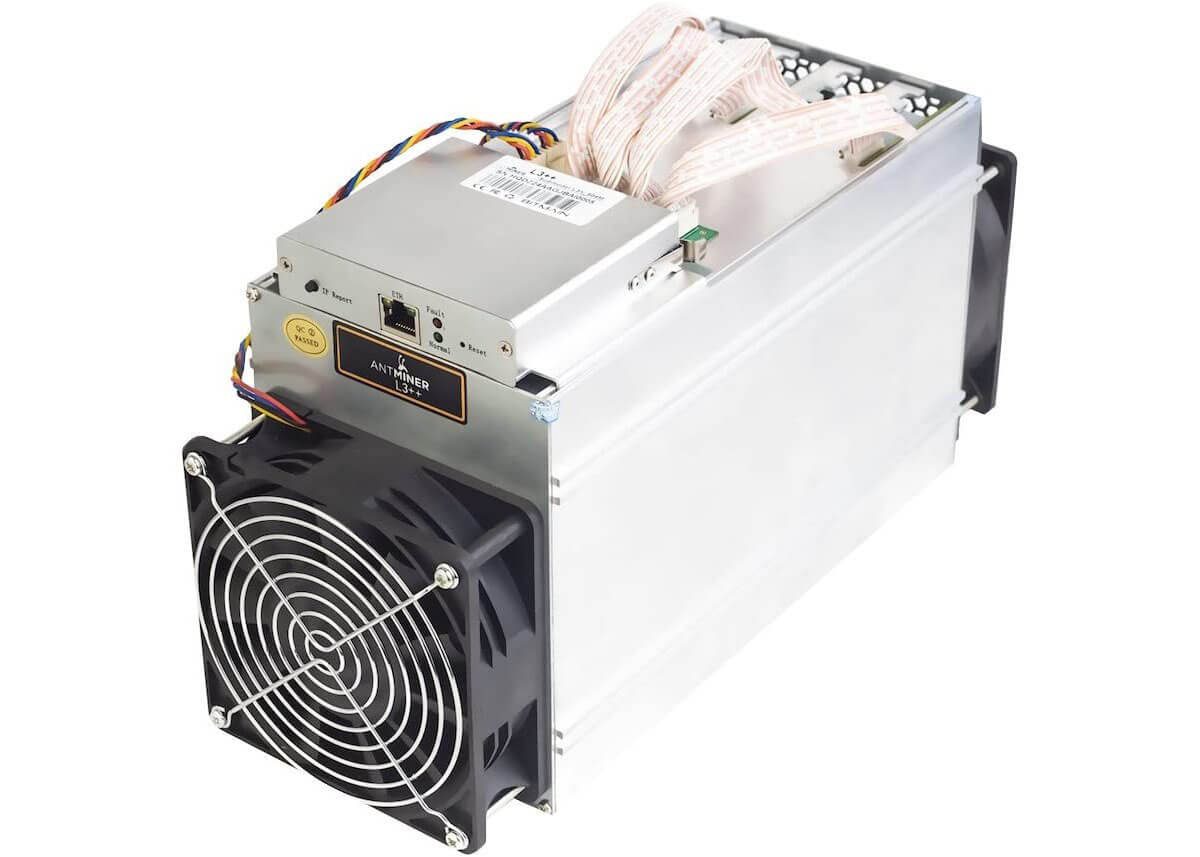 Another option is to go with something more modern like the FutureBit Apollo LTC Pod. The LTC Pod is capable of about 120 MH/s and costs $499 on Amazon (although prices for cryptocurrency mining rigs are always dropping).
While on the surface this might seem like a rip off, why pay more for the LTC Pod that only has about a quarter of the hash rate of the L3++, there are two advantages.
Firstly, the LTC Pod has a maximum power draw of 200 watts. Compare that to the power draw of 1,200 watts for the L3++. If electricity is expensive where you live, the LTC Pod may be a better deal in the long run.
Secondly, the LTC Pod is quiet and doesn't generate a lot of heat like a traditional ASIC. You can actually run it in your office or living room, something you can't do with an ASIC that makes as much noise as a hairdryer.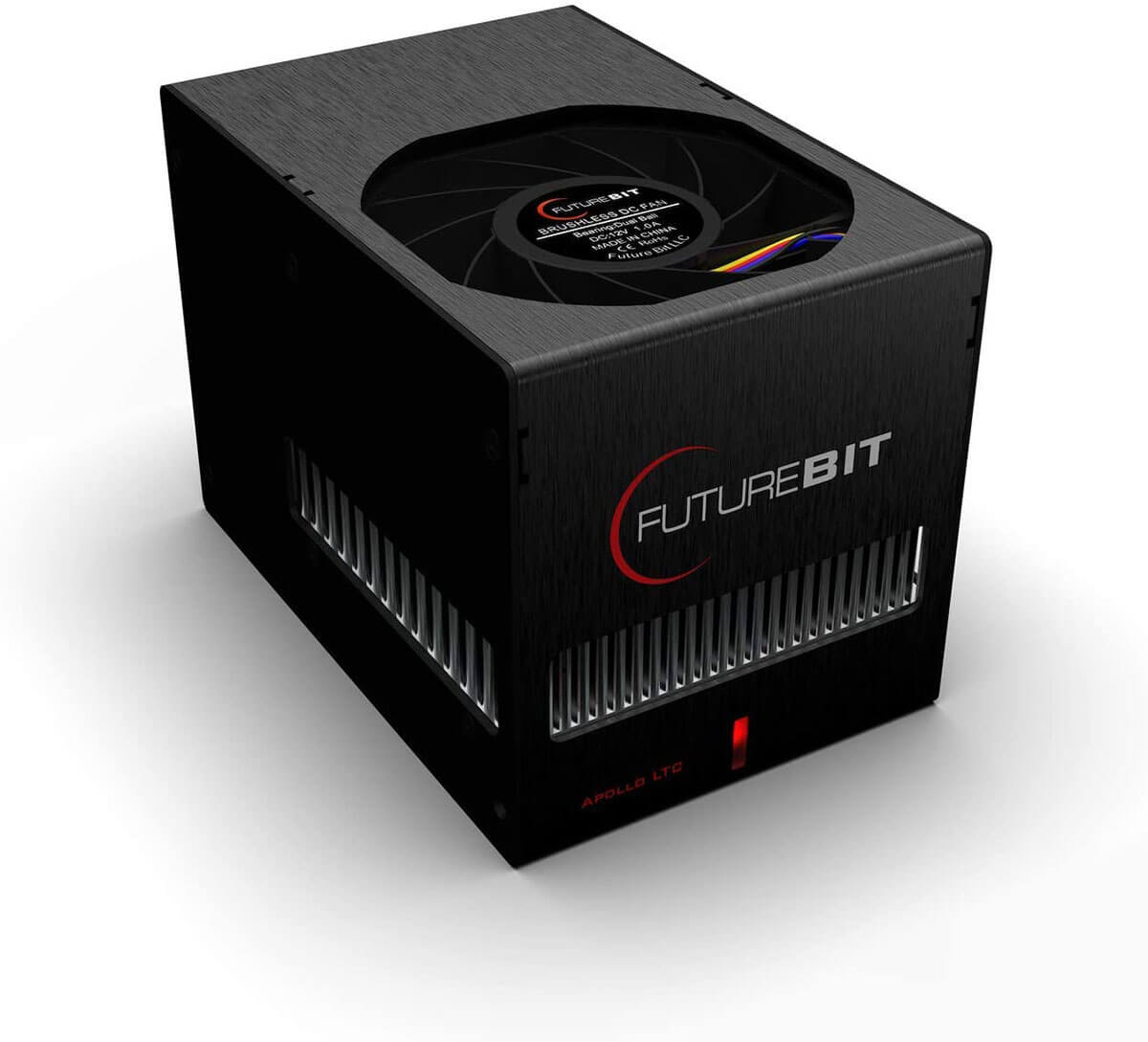 Get more insider crypto knowledge
from the world's leading crypto wallet.
Finally there is the cheapest option of them all, the Moonlander 2. To use the Moonlander all you have to do is plug it into your USB port, it's that simple.
While the Moonlander can only mine with 3 to 5 MH/s, its price tag of $65 (free shipping on Amazon) is very attractive, the perfect option if you just want to experiment with LTC mining before buying a more powerful miner.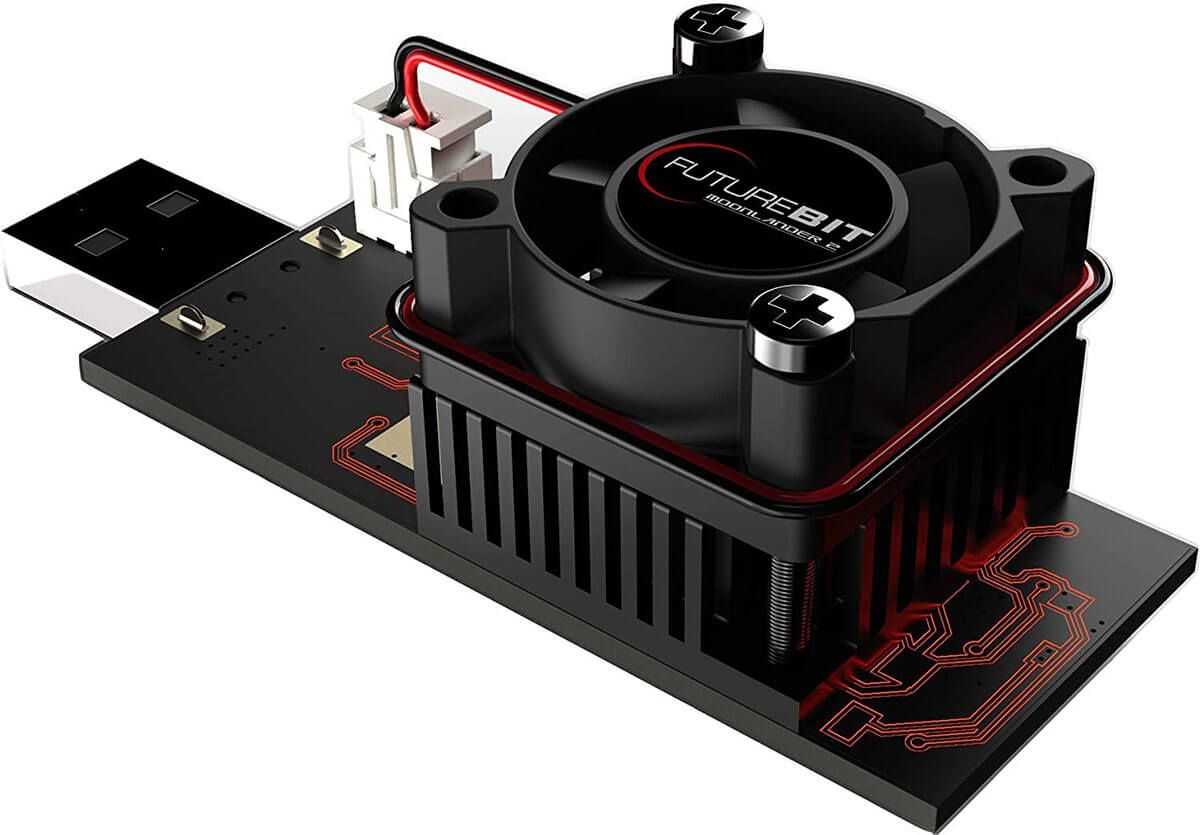 ---
Litecoin Hashrate
As we can see from the charts, the first time the Litecoin hashrate really gained traction was in mid-2017. The current hashrate is about 241 TH/s, still well below its peak of about 500 TH/s, which happened during the leadup to the LTC halving, when the creation rate of LTC gets cut in half every few years.
It's interesting to compare the Litecoin chart to the Bitcoin chart, where we can see that the BTC hashrate is near its all time high while Litecoin's hashrate is still stagnating.
---
Litecoin Mining Pool
These figures could change at any time, but currently the largest Litecoin mining pool is Poolin. They control about 23% of the hashrate for LTC mining.
Another option is the LitecoinPool which is one of the oldest Litecoin mining pools, having been founded in 2011. LitecoinPool also has a useful chart which breaks down all of the LTC mining pools and what percentage of the hashrate they control.
When choosing a mining pool you should consider at least two factors, how long it's been active and what the fee is. The longer the pool has been around the more reliable it is. And the lower the fee, the more of the profits you'll keep for yourself.
---
Litecoin Mining Calculator
Before you commit to buying some ASICs and setting up a mining operation, it's a good idea to find out what your estimated profitability could be. A mining calculator will allow you to plug in your electricity costs, the power usage of your mining devices as well as the LTC price that you'll sell at.
There are a couple of different Litecoin mining calculators. In general, most calculators return a similar result, but you still may want to check several of them just to make sure. Here is the CryptoCompare mining calculator, as well as the Litecoin Pool calculator.
When asked for the mining pool fee, most mining pools charge about 1%. If you find a mining pool trying to charge more, it's not a good deal.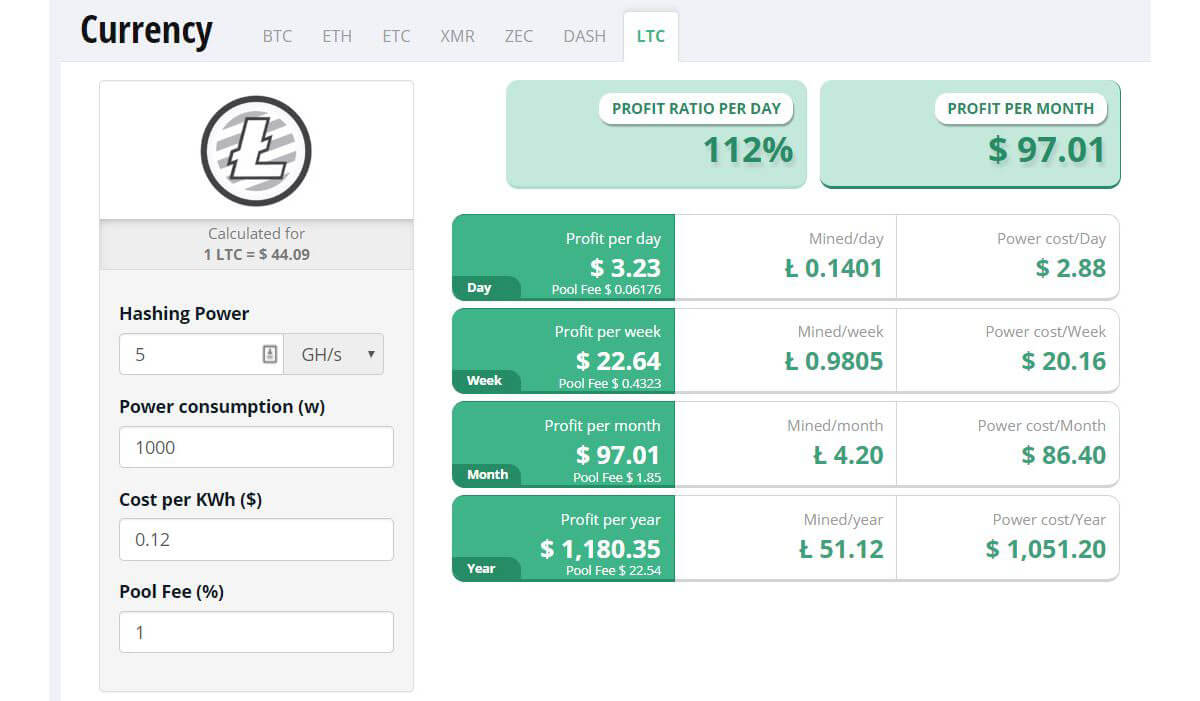 ---
Litecoin Price
Like most cryptocurrencies, the price of Litecoin can be volatile. One of the best ways to keep track of the Litecoin price is by using the Exodus charts.
With the Exodus charts, you can zoom in or out on just about any time frame so you can get a micro or macro level view of price action.
---
Litecoin's Long History
Litecoin might not be the newest, most groundbreaking cryptocurrency project but it has something really powerful going for it: a long history. In an ecosystem where projects fail or get hacked all the time, Litecoin's long record speaks volumes about how reliable it is.
Mining Litecoin is a great way to get involved with the project, earn some income and also secure the network. Hopefully this article on the best litecoin mining hardware has given you all the information that you need to get started!
This content is for informational purposes only and is not investment advice. You should consult a qualified licensed advisor before engaging in any transaction.