New York legislators passed a bill this morning that will ban Bitcoin mining operations that run on non-renewable power sources, with carbon-based emissions being singled out in particular.

The bill, which will enforce a moratorium on new mining permits being issued, now requires only a signature from Governor Kathy Hochul in order to make the state the first to effectively ban Bitcoin mining. Other politically-aligned states might be expected to follow, which may lead to a reduction of mining in the US, a country which currently represents approximately 37% of Bitcoin's total hash power.

Previous crackdowns on Bitcoin mining, such as the one implemented by the Chinese Communist Party who are keen to develop their own Central Bank Digital Currency, have simply seen miners move their rigs to other jurisdictions.

Although the world will welcome any measures aimed at combating climate change, it remains to be seen whether the state of New York will ban all usage of non-renewable energy, instead of only focusing on the energy used to mine Bitcoin, a nascent technology which presents an existential threat to the state's many banking and finance middlemen.

---
Presidential executive order in progress
In a recent interview released by Bloomberg Law, the principal assistant director for energy for the White House Office of Science and Technology Policy shared some updates that suggested the government is keen to frame the crypto conversation squarely within the debate of Bitcoin's energy usage.

Speaking about upcoming legislation, the Officer said: "It's important, if this is going to be part of our financial system in any meaningful way, that it's developed responsibly and minimizes total emissions. When we think about digital assets, it has to be a climate and energy conversation."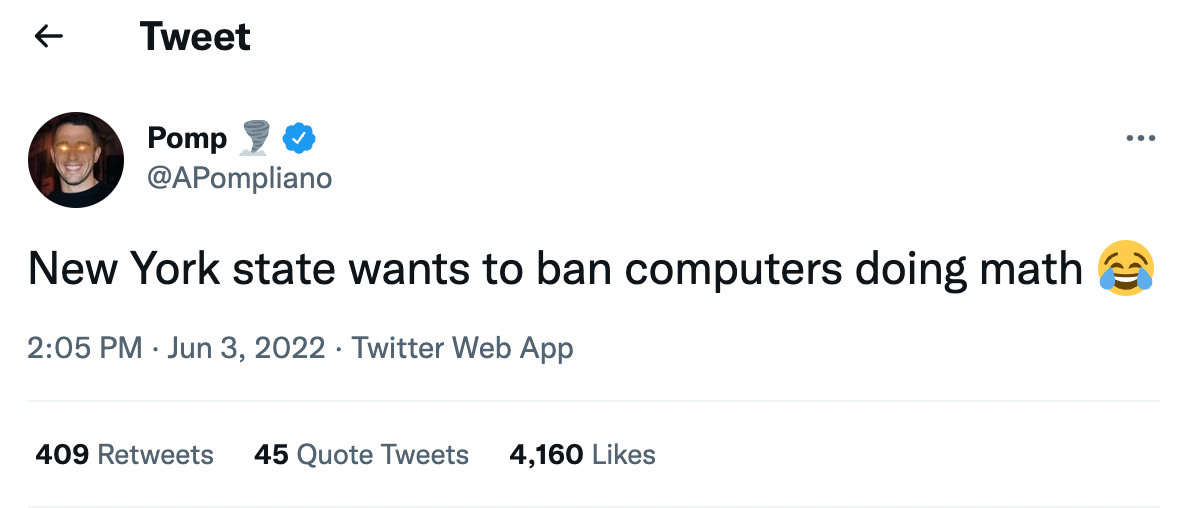 Although the final report is expected in August, we know that climate change is an urgent issue on a global scale and the US committed to cutting domestic greenhouse gas pollution by 50% by 2030.

Legislators appear to be assessing every kind of complaint, from the noise pollution of miners to the validity of crypto consensus mechanisms: "We need to think about what would be the appropriate policy responses under a world that shifted to proof-of-stake, or a world that has some continuous mix of proof-of-work and proof-of-stake [...] Proof-of-work is energy-intensive by design, but it also increases security", said Costantine Samaras, an engineering professor that had been contracted by the White House study.

A central point to clarify for Samaras is: how will miners abide by the needs of the electricity grid if they are not motivated to reduce their power consumption during peak hours?

---
Solutions
Similarly to Ethereum's shift to proof-of-stake in search of a greener way to reach consensus, Bitcoin miners have come up with a growing number of projects to provide a solid answer to climate concerns. These solutions were recognised in a report by the Bitcoin Mining Council, which suggested that Bitcoin had both improved its sustainable energy mix by 59%, whilst reducing its electricity consumption by 25%.

Natural gas (that would otherwise have to be "flared" into the environment as a by-product of oil drilling) is instead being converted to electricity to mine crypto at source. Colorado-based Crusoe Energy, for instance, is now expanding this operation on a global scale. After a $505 million funding round last April, the company will soon start renewable mining operations in the Middle East.

Elsewhere in the world, Kenya's largest producer of electricity wants to provide excess geothermal power to miners willing to move near their main power station to ensure stability and cost effectiveness.

These examples show that the crypto mining industry is already planning ahead for an a more environmentally-friendly dimension of its operations. Hopefully lawmakers will work with them, rather than against them.
This content is for informational purposes only and is not investment advice. You should consult a qualified licensed advisor before engaging in any transaction.