Ethereum is still the number one blockchain for NFT sales volume, but NFTs also proliferated on other chains in 2021, resulting in rising prices for many of the associated "Layer 1" tokens such as SOL, FTM and LUNA.

But did you know that you can also buy NFTs on Bitcoin?

Even though Bitcoin's mainchain is primarily built for payments and settlement, there is a thriving community of NFT builders and owners growing up around the world's most secure and widely-distributed blockchain.  

Read on to find out about some of these Bitcoin NFT projects, and why Bitcoin might be the next big destination for NFT hunters.
---
Stacks: bringing smart contracts to Bitcoin

The largest Bitcoin-based NFT community can be found on Stacks, a layer-1, open-source blockchain developed by the Hiro group of developers (formerly known as Blockstack). Stacks was the first cryptocurrency that formally received a green light for their initial token offering from the SEC, in summer 2019.

Stacks has since brought smart contracts to Bitcoin in a way that does not interfere with the blockchain's powerful and unrivalled security, or clog up the Bitcoin mainchain, as Stacks transactions are "rolled up" and processed away from the Bitcoin mainnet, in a similar way to how sidechains like Polygon work on Ethereum.

Stacks' native token, STX, is actually minted via the Bitcoin proof-of-transfer consensus mechanism, and STX holders can earn passive income in BTC by "stacking" their STX tokens in either custodial or non-custodial stacking pools.

---
Bitcoin-based NFT projects

The first NFT projects created on Stacks were Stackspunks (a parody of the Ethereum-based Cryptopunks) and Phases of Satoshi, an ode to the pseudonymous creator of Bitcoin.  

But arguably, the current "blue chip" of Bitcoin NFTs is Megapont.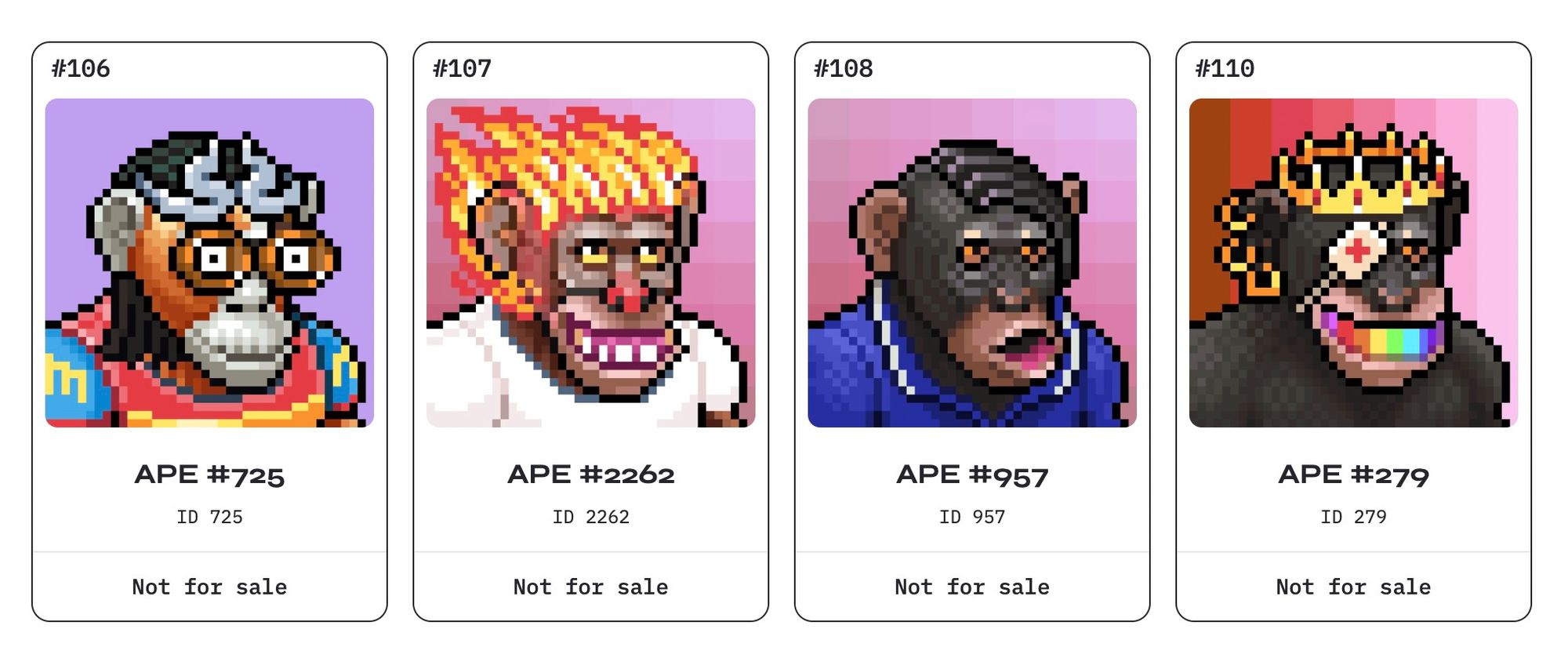 What started with the Megapont Ape Club (a collection of 2500 pixel art apes, including a handful of rare animated pieces) has expanded into a busy and creative ecosystem with the creation of the Megapont Robot Factory, where ape holders could mint a free "mainframe robot" with a box of mechanical components, and set to work creating their own bespoke robotic simian.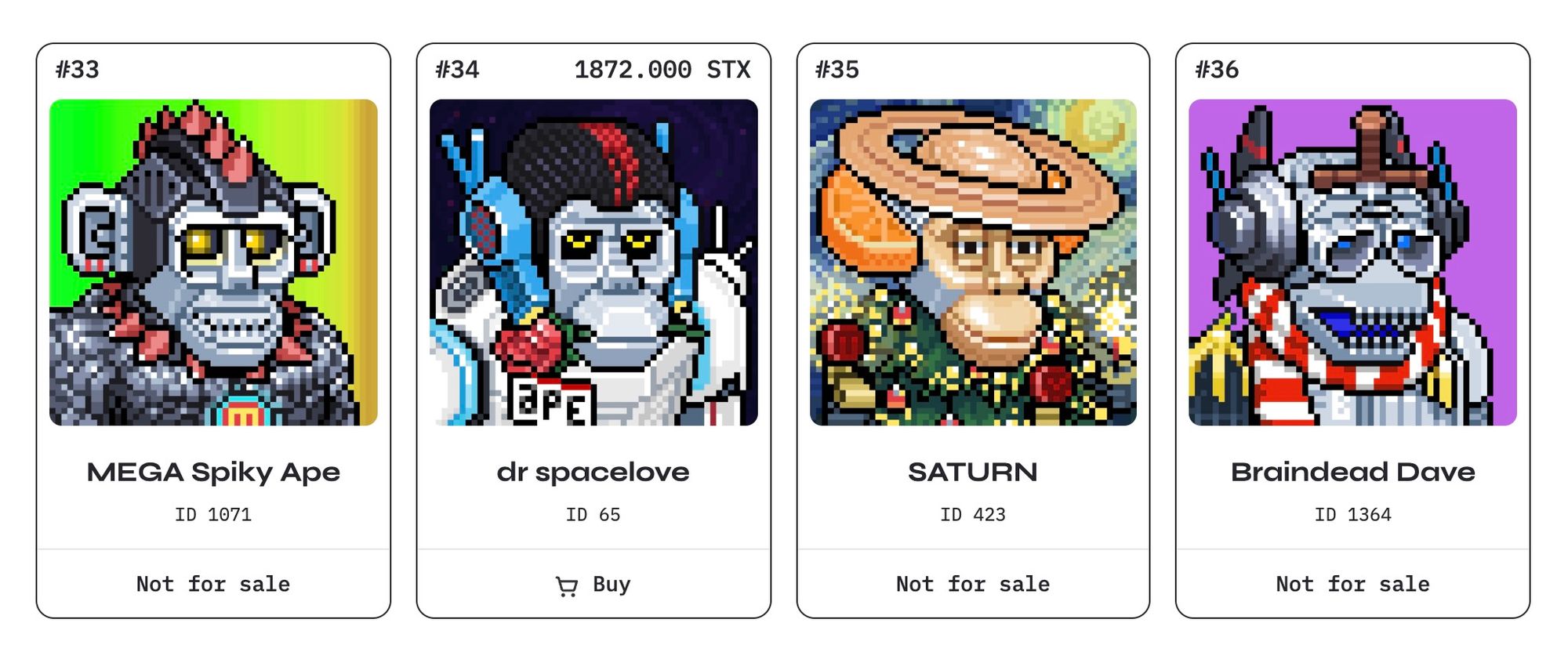 The Megapont team have created a thriving and engaged community of ape holders, and plan to continue this engagement with upcoming catalysts that include Megapont robot duels, the launch of a MEGA community token, and an NFT bridge to Ethereum, where ape holders will be able to generate ERC-721 compatible MegaKongs.

Megapont also teamed up with another Stacks-based NFT community, Project Indigo, that have created a series of post-apocalyptic wasteland NFTs, also in the pixel art style.

Project Indigo brings value to its community via interactive story and gaming mechanics, inspired by role-playing games and story-driven board games. The game will progress forwards in multiple acts (starting in February), with NFT holders able to earn the project's TOX token by interacting with the narrative. TOX tokens can then be spent on equipment, which will aid the players should they decide to raid other camps, or to protect their own team.

Traits held by the Indigo NFTs (such as tools, armour and charisma-based characteristics) will stimulate relevant story interactions, and Indigo holders can vote on the path they wish the story to take.

Across the cryptosphere, NFT holders are finding out that lasting utility, genuine community engagement and a thriving marketplace are vital to the long term success of NFT projects, and Bitcoin NFTs are no exception to this.

Other Stacks projects with interesting use cases include The Explorer Guild,  a collection of Jules Verne-inspired NFTs that give holders premium access to the Sigle Web 3.0 blogging platform, and Arties, which grant holders discounts in the open art source community, and the option to use the Artie NFT as collateral on selected DeFi projects.

The Stacks marketplace with the highest volume is currently stxnft, but Byzantion is also a popular open marketplace, and both sites interact well with the Stacks Hiro wallet.
---
Other NFTs on Bitcoin

Although Stacks is fast becoming the de facto destination for NFTs on Bitcoin, other iterations of the idea existed beforehand.  

The Counterparty protocol has for a few years allowed projects to build digital tokens and custom-named assets via nodes that communicate over the Bitcoin
blockchain.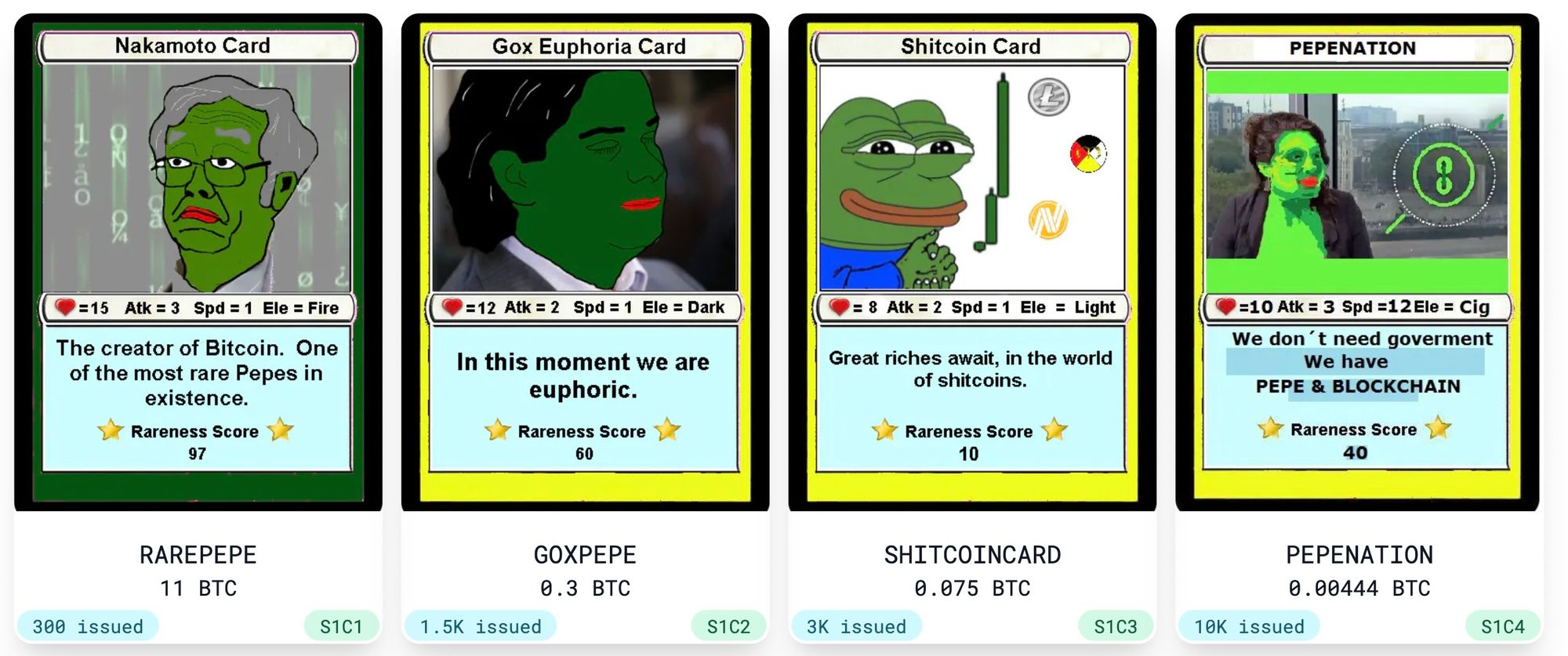 Similarly, art auction site Scarce City uses Bitcoin to secure its listed artworks, meaning that buyers and sellers of art on the platform can make their purchases in BTC, and can also benefit from the speed and low fees of Bitcoin's Lightning Network.

And the Liquid Network is a Bitcoin sidechain where users can convert their BTC to L-BTC and take advantage of faster and more private transactions. As well as building decentralized exchanges and lending platforms backed by Bitcoin, Liquid have moved into NFTs by partnering with the Elixir gaming platform, where they can offer play-to-earn gaming experiences with BTC rewards.

NFTs on Bitcoin are still in a nascent phase, but considering how Bitcoin is the world's most popular cryptocurrency, it seems only a matter of time before the crowds come over to explore these emerging marketplaces.

This content is for informational purposes only and is not investment advice. You should consult a qualified licensed advisor before engaging in any transaction.