---
What is Ontology Coin (ONT)?
Ontology Coin (ONT) is the cryptocurrency that powers Ontology, a high performance blockchain that focuses on solving issues related to identity security and data integrity (making sure data remains accurate and consistent). Ontology lets businesses enjoy blockchain benefits like smart contracts and tokenization while still retaining control of their sensitive data.
ONT ID lets you securely manage your digital identity by storing it on your phone or on trusted cloud storage with a private key that only grants you access.
When sharing your identity with third parties, you don't have to provide all of your credentials. All you do is provide the proof of your identity, which is similar to a notary signature for a notarized document. Though in this case, you just provide the "signature" and not the documents.
The proof or verification is provided by Ontology Trust Anchors who provide credential verification services for ONT ID users in return for ONT tokens.
This proof system is secure and free from tampering thanks to highly sophisticated cryptographic protocols, as opposed to something like a signature, which can be forged.
This is huge for applications and developers, who can use ONT ID to quickly and securely verify new users in the digital age without having to deal with sensitive documents like passports.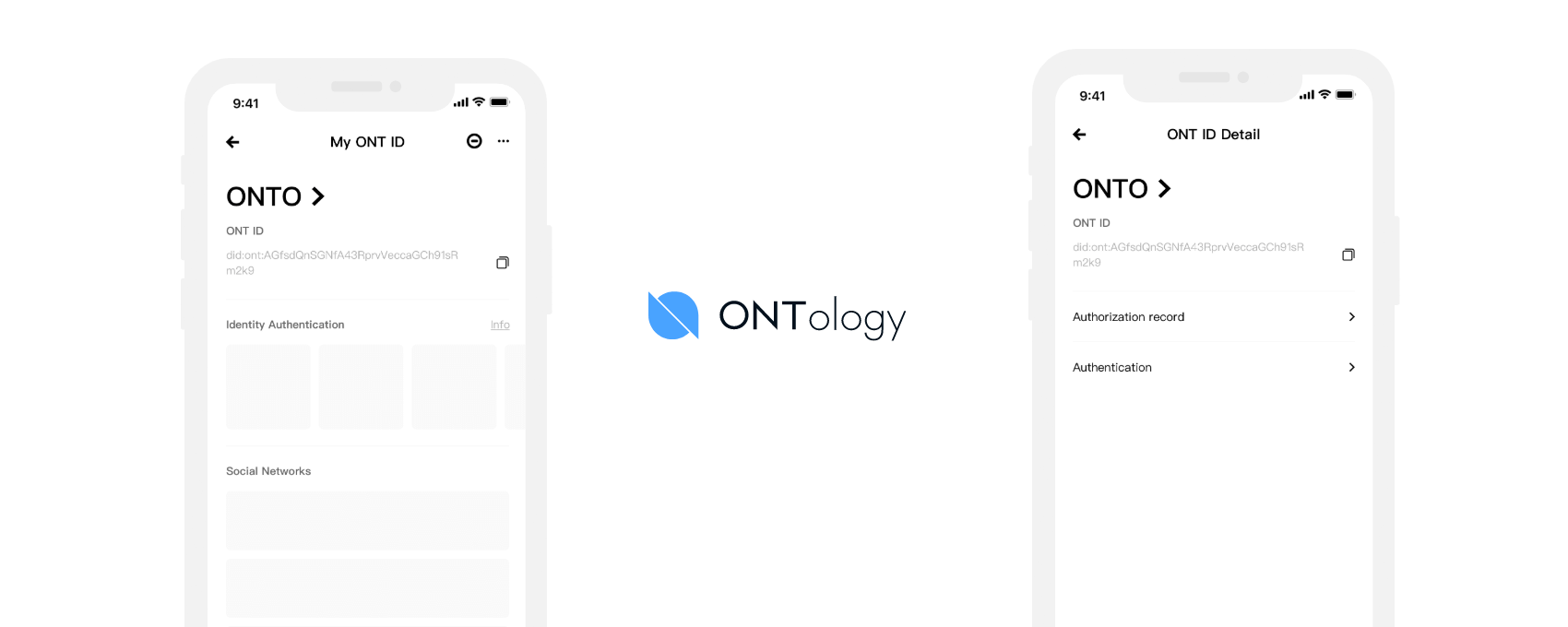 As for data integrity, DDXF is a decentralized data exchange and data collaboration framework. Unlike ONT ID, DDXF is still a work in progress but promises the tokenization of valuable data, which will make data traceable, processable, and transferable across multiple systems.
This could be useful in cases like copyright protection, data sharing, and anything else that would benefit from accurate and consistent data that works across various systems as opposed to those of a single company's.
---
Ontology Coin History
Ontology Coin originally started out as a NEP-5 token (NEP-5 is a type of NEO token) on the NEO blockchain. However, on June 30th, 2018, the Ontology mainnet was launched and NEP-5 ONT was swapped for native mainnet ONT.
The company behind the Ontology project, Onchain, is actually the same company behind NEO, which has quickly become one of the more well-known blockchain-related projects. At one point, NEO was regularly called the "Chinese Ethereum" in the crypto community, due to its roots in China and its focus on building a smart contract platform like Ethereum.
Interestingly enough, Ontology did not have an ICO, or initial coin offering, which is when a blockchain project sells tokens to the public in order to raise funds for their project. Though Ontology did have a private sale (they sold tokens to private investors).
Instead of a public sale of ONT, the Ontology team airdropped (distributed for free) ONT to NEO holders as well as people who signed up for their email list.
---
How Ontology Coin Works
Ontology allows for the creation of multiple blockchains built atop the main Ontology blockchain. This goes hand in hand with Ontology's focus on catering to businesses. Instead of forcing businesses to use a single public blockchain, with set rules and specifications, Ontology gives businesses that choose to build with Ontology's technology more flexibility in designing a blockchain that works for them.
Founder Jun Li said in a presentation to the Sydney NEO Meetup,
They [businesses] have a lot of requirements. They want their own blockchain with their governance model.
Privacy is another concern for businesses as well since businesses usually don't want to reveal all of their data publicly, especially data that's proprietary or has to be private to stay compliant with consumer protection laws. Indeed, this is a big reason that many businesses have shied away from Ethereum or even Onchain's NEO project, which are both fully public blockchains.
On the other hand, Ontology lets businesses benefit from things that blockchain technology can provide like:
Smart contracts (self-executing contracts of computer code), which can automate processes and increase business efficiency
Cryptographic identity proofs, such as those provided by ONT ID, without having to deal with sensitive documents like passports
Tokenization of data, as with Ontology's upcoming DDXF, which will make data trackable (the record of where data goes and what happens to it will be recorded on the blockchain) and transferrable across different systems or blockchains, such as those that are part of the Ontology ecosystem
Ontology makes all of the above possible while enabling businesses to selectively choose what information they want to share from their own blockchain to the main, public Ontology blockchain. This is a potential boon for businesses who don't want to get left behind in the blockchain revolution but fear that their data will fall into the wrong hands.
---
The Role of Ontology Coin (ONT) in Ontology
ONT's role in the Ontology ecosystem is pretty simple: it grants holders governance rights (have a say in Ontology network decisions like upgrades or changes) and staking rewards, which you can think of as crypto "passive income" or interest.
However, instead of interest in the form of something like dollars, staking ONT pays you in ONG. You can think of ONG like "gas" to use the Ontology network - ONG is consumed when doing things like executing smart contracts.
Even if you're not interested in participating in Ontology network governance, you can stake ONT to earn a healthy annual return on investment of ~2.75%, according to ONTCalc. For comparison, the average US bank savings account pays 0.09% per year, as we mentioned in our Definitive Guide to DeFi article. In other words, ONT pays you 30.5x more than an average American bank account.
---
How to Buy Ontology Coin
If you'd like to buy into a blockchain project with the potential to bridge the divide between businesses and blockchain while also making passive income via Ontology's staking rewards, you have a few options.
If you already have crypto
If you already have crypto like Bitcoin, you can download the Exodus Ontology wallet and exchange your crypto for ONT. For an easy tutorial on how to do that, check our support article on how to exchange (click here for the mobile tutorial).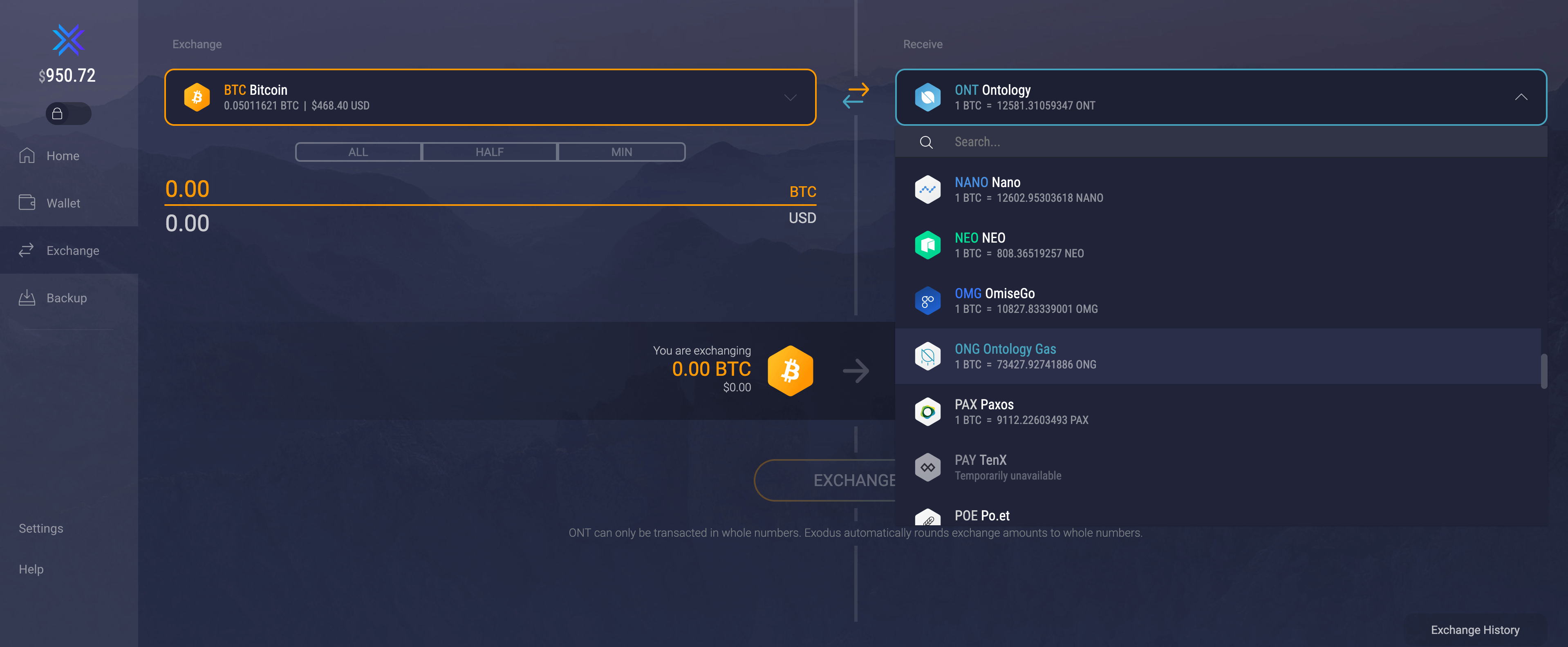 Of course, you don't have to use Exodus if you don't want to! We recommend Exodus for users who want to exchange in a few clicks/taps and not have to deal with typical exchange procedures like account creation, identity verification, and complex user interfaces.
If you don't have crypto
If you don't have any crypto and need to buy some using fiat currency like dollars or euros, popular centralized exchanges that let you buy crypto with fiat include Coinbase, Kraken, Bitfinex, and Bitstamp. For peer-to-peer options, LocalBitcoins, Paxful, and Bisq are some good options.
Once you have some crypto, such as Bitcoin, you can buy ONT with it on the same exchange you bought your initial crypto on (if they support ONT). Alternatively, you can send your crypto to another exchange. If you choose to send your crypto to your Exodus wallet and buy ONT with it, here's how to receive crypto using Exodus.
---
Where to Store Ontology Coin
When it comes to storing ONT, you have a few options.
If you want a wallet JUST for storing ONT, you can go with Ontology's official wallets ( OWallet - desktop, ONTO - mobile).
If you'd like something with a bit more functionality, Exodus supports 100+ crypto assets, has charts to visualize your crypto portfolio, and desktop/mobile sync so you can manage your cryptocurrency both on your computer as well as on the go. Also, if you ever have trouble with anything, our support team is here for you 24/7 :)
---
How to Mine Ontology Coin
As mentioned, holding ONT will passively generate ONG over time.
Here's what that looks like with Exodus: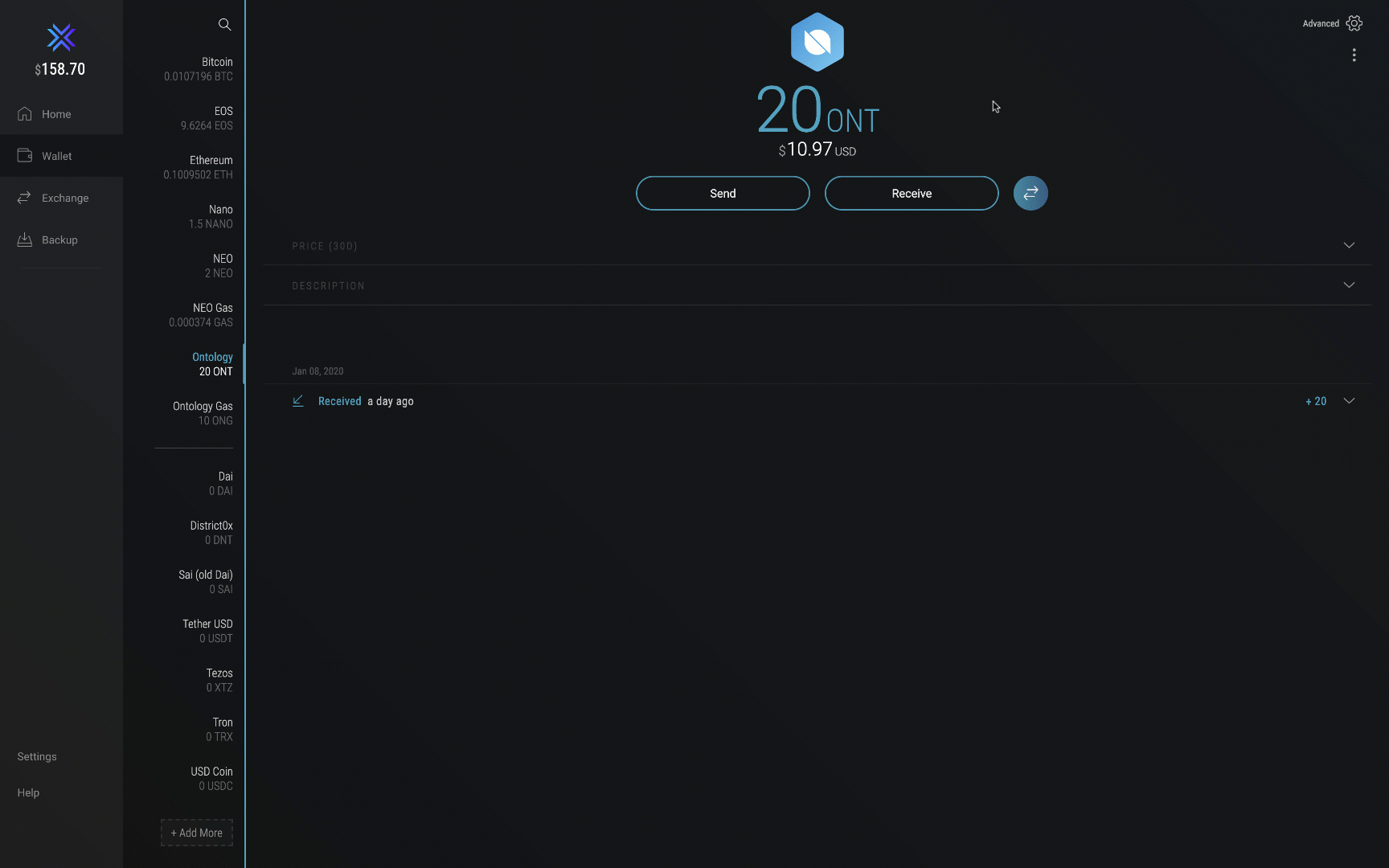 If you want to know how much ONG you can expect to generate, ONTCalc will give you an estimate.
---
How Many Total Coins Does Ontology Have?
In total, there are 1 billion ONT coins.
As with NEO, ONT is indivisible so you can only have 1, 2, 3, etc. ONT, as opposed to $0.50 or 0.5 Bitcoin. On the other hand, ONG is divisible and does not need to be a whole number. When performing any Ontology transaction, ONT or ONG, including claiming your ONG rewards from staking, the transaction fee is 0.01 ONG.
---
Ontology Coin News
Looking for the latest Ontology coin news? Our Ontology wallet page lists the latest ONT news towards the bottom of the page.
---
Ontology Coin Roadmap
Ontology, with its ambitious vision, has an equally ambitious roadmap.
Up until this point, Ontology has achieved things like the following:
Joined the DIF (Decentralized Identity Foundation - includes Microsoft, IBM, and Ethereum Enterprise Alliance among others) as the 1st Chinese blockchain project
Chosen to be part of Microsoft Accelerator
Ontology Development Platform added to Google Cloud Platform Marketplace
Launched the 1st cross-chain testnet
Had two of its proposed blockchain standards approved by the Institute of Electrical and Electronics Engineers
Grown to a global community covering 19 languages
So after all that, what's next?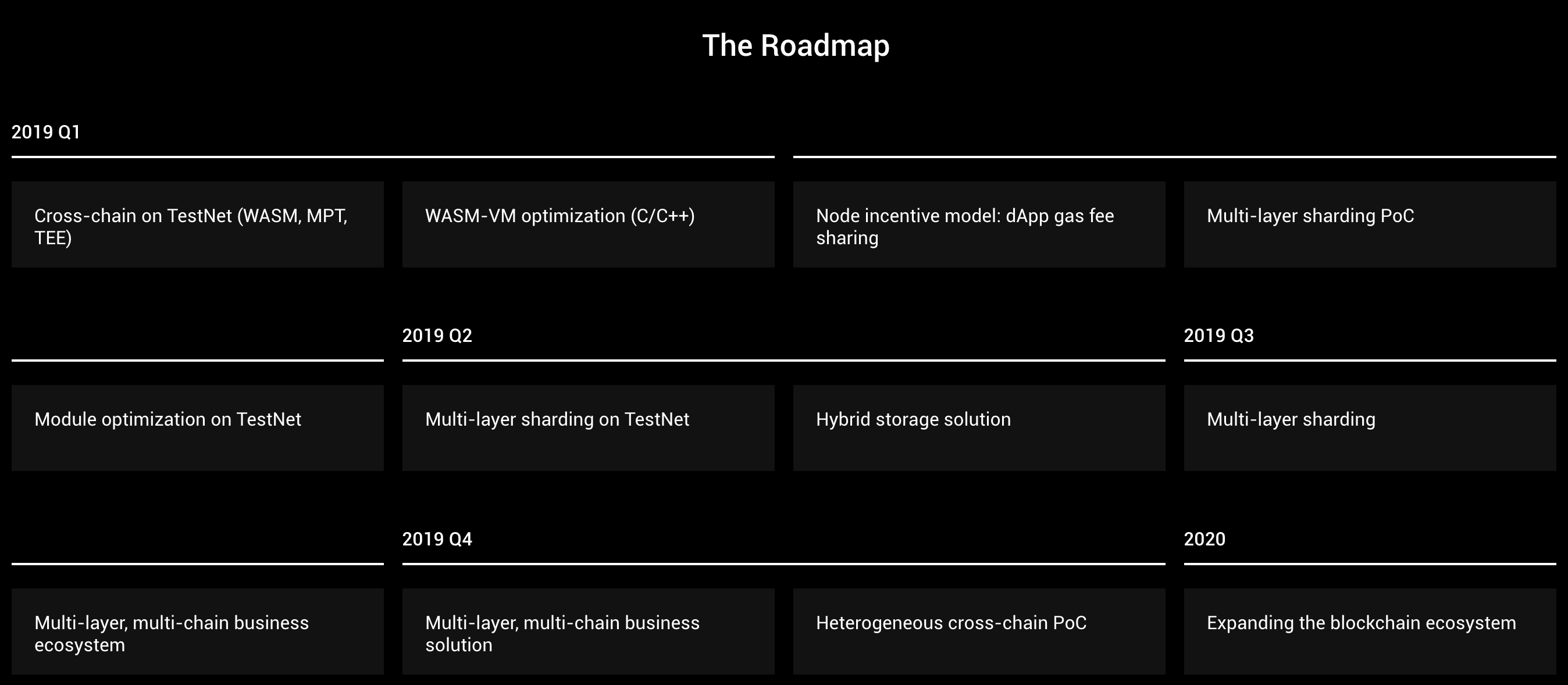 As you can see, the Ontology Coin team is pushing ahead with innovations like sharding (a popular scalability solution being explored by other projects like Ethereum to improve a blockchain's ability to scale or handle mass usage), as well as multi and cross-chain blockchain solutions to truly unlock new value for businesses around the world.
If you want to be part of the ONT movement, the Exodus ONT wallet can help you dive into this exciting ecosystem.

This content is for informational purposes only and is not investment advice. You should consult a qualified licensed advisor before engaging in any transaction.