Launched in 2020, Polkadot quickly became a major crypto player, usually ranked among the top ten by market capitalization. It provides an open environment enabling multiple blockchains to work together as parachains.
Polkadot recently began holding auctions to award parachain slots. Here, we'll look at some of the recent winners and promising candidates, and we'll explain how you can support your favorite project.
---
How Slot Auctions Work
We've previously discussed what Polkadot is, how its Kusama "canary network" fits in and how their slot auctions operate. In a nutshell, a series of permissionless candle auctions are now being held to assign the approximately 100 parachain slots available. The bidder staking the most DOT wins.
Projects can use their own coins, although most turn to the community for help–a process known as crowdloans. Participants agree to have their funds locked up until the end of the lease, which is usually 98 weeks.
By the end of January 2022, eight had been awarded, with more than 150 contenders hoping to be next in line.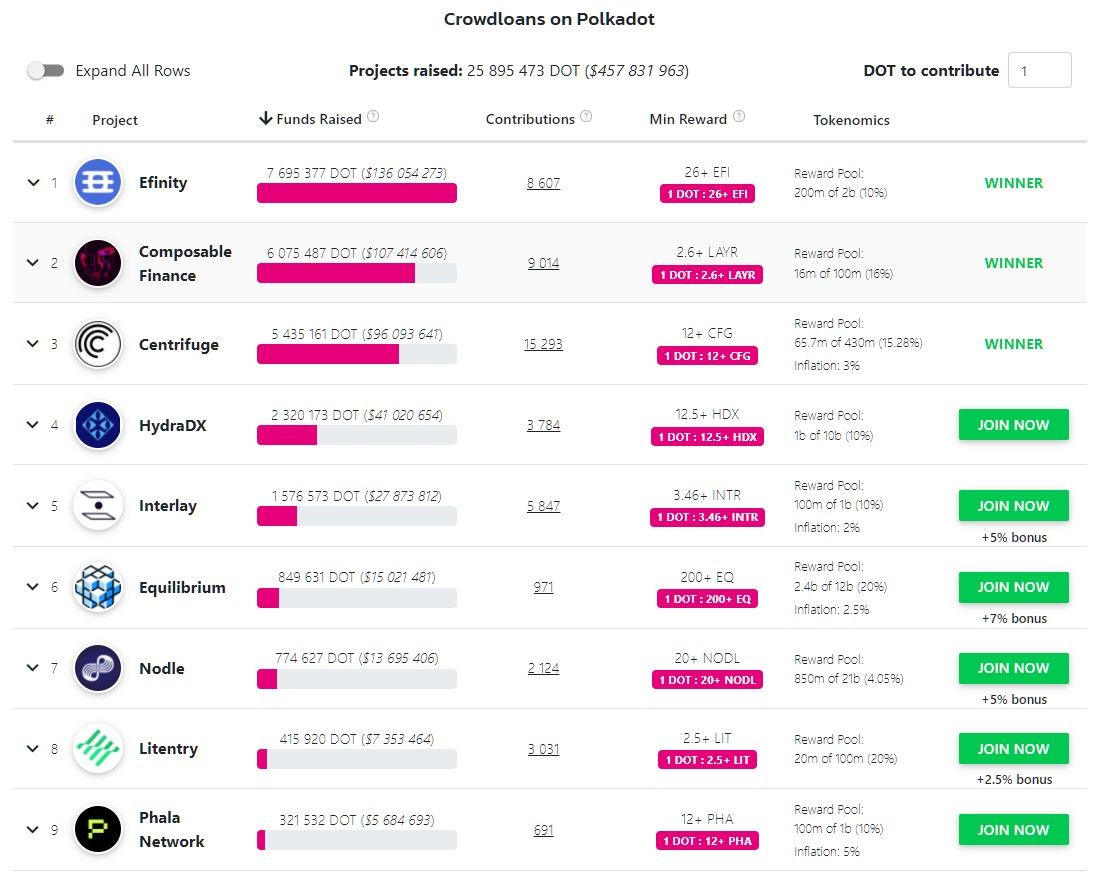 ---
Some of The Winners
The first batch of five parachain auctions began in November 2021, while the second batch extends through the end of February 2022. Here are a few notable winners:
Acala won the first auction (getting slot #2) with a high bid of 32.5 million DOT from nearly 25,000 contributors. The network went live in January with its ACA token.
The self-described "DeFi hub of Polkadot", Acala is a network comprising a suite of cross-chain financial apps. Users can trade on the Acala Swap DEX, issue self-serviced loans with the Acala Dollar (aUSD) stablecoin, provide liquidity, and stake DOT with the Homa staking pool.
Efinity was the winner of auction #6 (slot 7), raising 7.7 million DOT from over 8,500 investors. Its EFI token has been available since August 2021.
Efinity was developed by Enjin, creators of the ERC-1155 NFT standard, described as a "cross-chain superhighway bringing NFTs to Polkadot." It aims to solve problems of high fees, inflexible smart contracts, and poor interoperability.
Centrifuge, won the most recent auction #8 (slot 9) on January 25 with a bid of 5.4 million DOT from 15,000 participants, although its CFG token was launched in July 2021.
This DeFi lending protocol aims to make credit more easily available to small businesses, while offering a stable APY for investors. The associated Tinlake app is an open marketplace for real-world assets.
---
Who's Next
Many exciting projects are lurking among the many hopeful bidders. Here's a sample of those that have already raised enough funding to have a good shot at winning one of the two remaining Batch 2 auctions, or else in Batch 3 later in the year:
Interlay is a decentralized network dedicated to connecting cryptocurrencies such as Bitcoin with DeFi platforms like Polkadot and Ethereum. A test version, the cleverly-named Kintsugi, was launched on Polkadot's Kusama network last October. Interlay's flagship product, interBTC, is a 1:1 Bitcoin-backed, fully-collateralized asset using the INTR token.
Litentry is a Decentralized Identity (DID) protocol that works across multiple networks. Similar to Civic, it will provide a secure mechanism for users to manage their identities and dApps to obtain real-time credit and reputation data. Its LIT token has been trading since February 2021.
Nodle provides an Internet of Things network via the Bluetooth capability of smartphones, enabling devices to connect privately and securely to the internet at low cost. Its network comprises over 5 million smartphones and 30 million IoT devices in 100 countries. Users run the Nodle Cash app to provide connectivity and earn NODL. It's an alternative to the Helium network, which requires relatively expensive transceivers.
Phala Network is a privacy-enhanced Layer 2 protocol for Web3 that previously caught our attention. Reputedly one of Polkadot founder Gavin Wood's favorites, it has been running on the Kusama network, and its PHA token has been trading since September 2020.
---
How to Join an Auction
Most parachain projects rely heavily on crowdloans to win slots, offering native tokens to reward investors. The process is straightforward:
Set up Polkawallet on your mobile device or as a Chrome browser extension, and transfer some DOT to it.

Choose a project from the Polkadot parachains website, click "Join to Crowdloan" and follow the instructions to stake.
You'll need to stake at least 10 DOT. Some projects are closed to certain countries.
Crowdfunding entails significant risks to be aware of. All DOT is locked for about 2 years, so you can't sell it, and it earns no interest. Also, if the project fails, any tokens you earn could become worthless.
Even if it succeeds, most of the tokens earned will be vested until the end of the lease. Some projects also issue tokenized DOT equal to your investment that can, in theory, be traded or invested elsewhere.
This content is for informational purposes only and is not investment advice. You should consult a qualified licensed advisor before engaging in any transaction.