The intersection of games and cryptocurrencies is potentially one of the largest catalysts for change in the video game industry. In-game economies and items driven by coins and NFTs stand to revolutionize the way in which players own and interact with their digital goods. Currently, the largest and most active crypto gaming ecosystem is found on Ethereum, yet most projects face a massive challenge: excessively high gas fees.

The price of a contract interaction on Ethereum can reach $50 or higher during busy periods. In other words, the price of several pizzas for a single interaction, such as receiving an in-game item as an NFT after defeating a boss. Practically, this would never work, as most video games contain thousands of interactions.

Enter Solana, where a flourishing gaming ecosystem is being built and a smart contract interaction costs less than a cent. This article will explore the current play-to-earn and gaming ecosystem on Solana, and its future.

---
Overview of Solana Games
The following list shows the largest gaming projects being built on Solana, ordered by circulating market cap at the time of writing. The list includes only projects that have their own SPL tokens: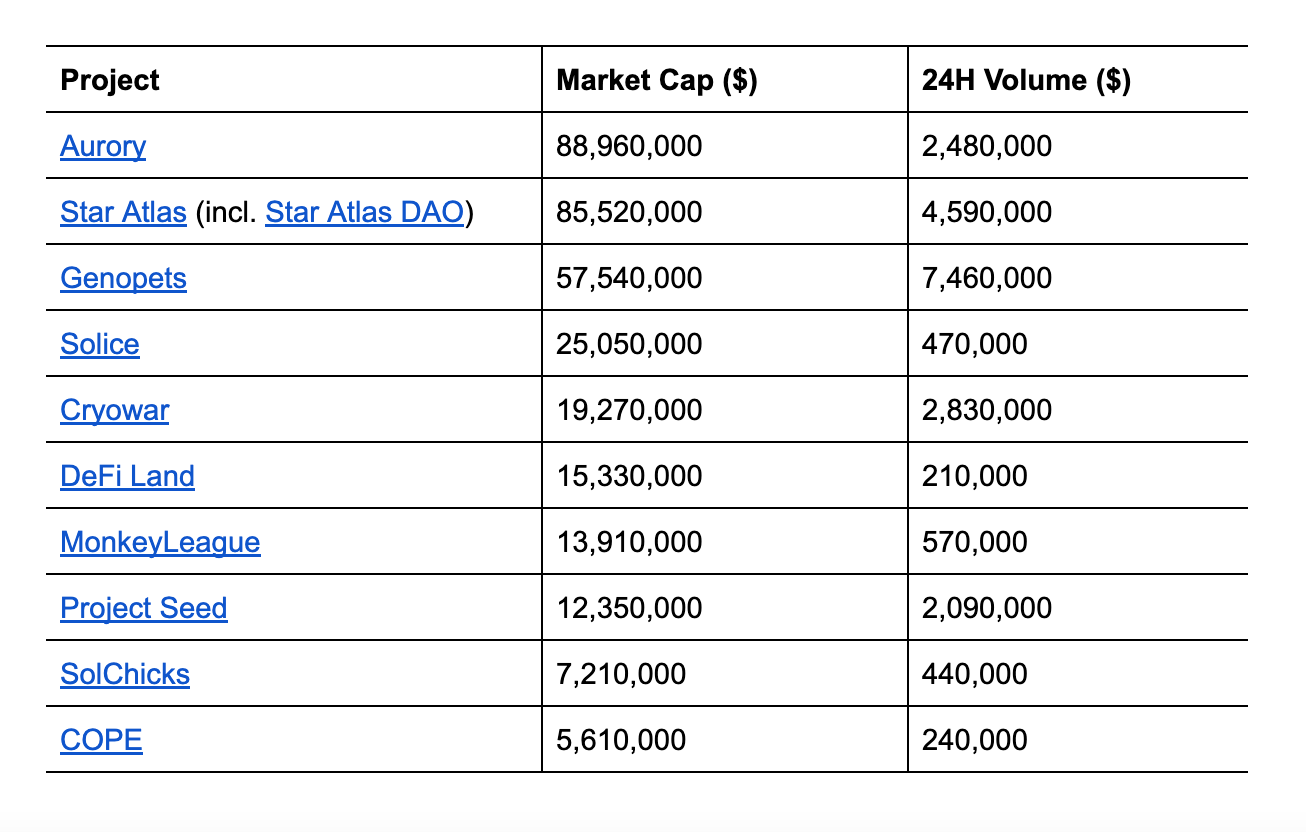 According to CoinGecko, the market cap of gaming projects on Ethereum is ~4% of the market cap of ETH, while the equivalent number on Solana is ~1%. This could mean that liquidity on Solana is not trickling down to its gaming projects, which presents a great opportunity for new and existing projects to innovate and capture more liquidity.

There are three projects that comprise the majority of the gaming market on Solana in terms of market cap:

---
Aurory
"Aurory is a play-to-earn desktop game where players are invited to explore a rich and diverse universe. Travel across the world of Antik and Tokané, two different areas and biomes, where you will meet a vast array of NPCs and Nefties. These magical creatures, which can be caught or traded, will accompany you through a variety of engaging game modes in this compelling JRPG."


Aurory is an upcoming top-down game set in a fantasy universe. They have launched their NFTs and $AURY coin already in August and October of 2021, respectively. Their NFTs have the highest overall volume of any play-to-earn project on Solana, and their beta is around the corner, with gameplay teasers already unveiled.

Their team consists of individuals with experience across various AAA gaming studios, such as EA, Ubisoft, and WB Games. As such, they carry over experience from the traditional gaming world, which arguably is one of the strongest assets for any crypto gaming project.

---
Star Atlas
"Star Atlas is a virtual gaming metaverse based in the year 2620. In this distant future, three major factions have emerged … These factions are in an ongoing struggle for resources, territorial conquest, and political domination. You, a faction citizen of Star Atlas, will have the ability to influence the outcome of this intergalactic conflict while creating the opportunity to earn rewards for your contributions."


Possibly one of the most ambitious crypto gaming projects, Star Atlas aims to become a massive metaverse set in space. They already have a marketplace running on which spaceships, structures, and other items are for sale, all of which can be used as NFTs in the final game.

Star Atlas falls into a space game theme already established by major non-crypto games such as Star Citizen, EVE Online, and Elite Dangerous. Their development approach resembles that of Star Citizen; they are releasing items and modules continuously as small parts of the final game.

Unlike Aurory, the leadership behind Star Atlas does not seem to be from a traditional gaming background, which could prove challenging in terms of delivering a project of this scale. Star Citizen, a comparable project, has been in development for over a decade and raised nearly half a billion dollars in funding, and they have yet to release their full game.

(Check out our article on Star Atlas here)

---
Genopets
"Genopets is the world's first Free-to-Play, Move-to-Earn NFT game that makes it fun and rewarding to live an active lifestyle. Built on Solana, Genopets integrates your daily activity in real life with blockchain Play-to-Earn economics so you can turn your real-life actions into expansive gameplay and earn crypto while doing it."


Different from the previous two projects, Genopets is an upcoming mobile game that requires the player to move physically to level up their Genopet NFT, which can be used to battle other players, similar to Pokémon. Their NFTs are live already with their private beta currently underway.

Genopets could be seen as a competitor to STEPN, a huge move-to-earn project on Solana. However, Genopets aims to innovate by injecting more motivation in the process of moving physically through its focus on gaming.

Like Star Atlas, their team does not seem to be from a traditional gaming background.

---
KRAFTON and the future of game development on Solana
On the surface, it might seem that games on Solana have little interest or involvement from the traditional gaming world. For example, the only gaming-related investor in Aurory is Animoca Brands, who themselves are developing The Sandbox, a major crypto game on Ethereum.

However, a recent piece of news could mean the beginning of a new era for gaming on Solana. KRAFTON, the company behind the massively successful Battlegrounds battle royale style video game, recently partnered with Solana Labs. As KRAFTON states:

"Through this agreement, KRAFTON and Solana Labs are poised to build a long-term cooperative relationship for the development and operation of blockchain- and NFT-based games and services. The two companies will cooperate in the marketing and design of blockchain games… as well as jointly cooperate on investment opportunities."

A billion-dollar company that develops non-crypto AAA games and released one of the most influential games of all time entering the Solana ecosystem might be the most significant event to occur in Solana gaming.

The gaming landscape on Solana has barely taken its first step. Many upcoming ambitious projects, such as Aurory and Star Atlas, aim to bring in players to the ecosystem once their games launch. Solana is a young blockchain, and the presence of gaming on it is even younger; all the top gaming projects in its ecosystem are yet to be released.

However, there are many upcoming catalysts to further increase the success of play-to-earn on Solana. With Solana Labs's recent partnership with KRAFTON, the future of games on Solana seems brighter than ever.
This content is for informational purposes only and is not investment advice. You should consult a qualified licensed advisor before engaging in any transaction.