---
Every day in the crypto world, we hear about hacks and people losing their recovery phrases or exposing their private keys. A recovery phrase or private key is what proves ownership and grants one access to their crypto assets stored on the blockchain.
Said another way, anyone with the recovery phrase or private key for an associated wallet or address can access the crypto held there and use it as they please.
While there are many ways to protect crypto, as we mention in our article on how to keep your cryptocurrency safe, the easiest way to achieve high levels of security for your crypto is to buy a hardware wallet.
---
---
What are the benefits of hardware wallets?
Your private keys are kept offline and off of computers eliminating the risk of being hacked or copied.
Hardware wallets are protected from malware and viruses.
Transactions are verified on the device itself, not the computer.
Hardware wallets are encrypted with a long pin you create, therefore, the device is useless to a thief.
With a hardware wallet, your private keys stay on the device, where you sign off on transactions. This means, your private keys never touch your computer or the online world. Hardware wallets are so secure that they technically could be used with computers infected with viruses or malware (though it's of course better not to do that).
This is in contrast to wallets, such as exchange wallets, web wallets, and software wallets (even Exodus!), which all have one key vulnerability - your private keys can come into contact with compromised devices and the Internet.
Software wallets like Exodus are only as secure as the computers they are installed on. While the private keys are encrypted locally, vulnerabilities due to poor online security practices and malware infections can still present real threats to your funds. Thus, your crypto is only as safe as your device.
Year: 2019
Number of Major Exchange hacks: 11
Total amount lost: At least $117 million

Don't let 2020 catch you without your private keys. Control your wealth now 👇#NotyourkeyNotyourcrypto #Proofofkeys https://t.co/FgQ4lSaIGE

— Exodus (@exodus_io) December 20, 2019
One of the ways people lose their crypto time and time again is by entrusting their hard-won assets to centralized exchanges, which often get hacked, run off with user funds, or just misplace vital information like private keys. To learn more about the pros and cons of storing your crypto on a centralized exchange, see our article on centralized exchanges vs. Exodus.
Therefore, with many seeing the value of their crypto wealth grow over time, investing in a hardware wallet is a no-brainer, since they aren't overly expensive.
When it comes to choosing the right hardware wallet, there are two titans of the industry that most tend to choose from: Trezor and Ledger.
In this Trezor vs Ledger wallet review, we'll compare these two popular hardware wallets in terms of security, price, asset support, ease of use, screen, durability, size, and app compatibility.
Also, note that both companies have a premium-priced wallet with more features and a standard-priced wallet with less features. Trezor has the Trezor Model T (premium) and Trezor One (standard). Ledger has the Ledger Nano X (premium) and Ledger Nano S (standard).
Where applicable, we'll compare the premium solutions against each other and likewise for the standard solutions.
---
Trezor vs. Ledger: Security
Since the main reason you probably would buy a hardware wallet is for enhanced security, it of course goes without saying that security is a primary factor to consider when comparing Trezor vs Ledger.
Aside from the basic hardware wallet design of private keys not leaving either the Trezor or Ledger, there are some other differences to consider when comparing the two brands.
To date, neither device has been hacked and any reports of users losing crypto with either hardware wallet has been the result of user error. For example, a common mistake is storing seed phrases digitally, which exposes seed phrases (and the crypto associated with them) to hackers and other malicious actors on the Internet.
That being said, both the Trezor and Ledger have been hacked by professional security researchers at a security conference, but the hacking methods were highly sophisticated and required physical access to the actual hardware wallet.
These methods have never been seen in real life and shouldn't be a cause of worry for most users if they don't allow others, such as professional hackers, to gain physical access to their devices.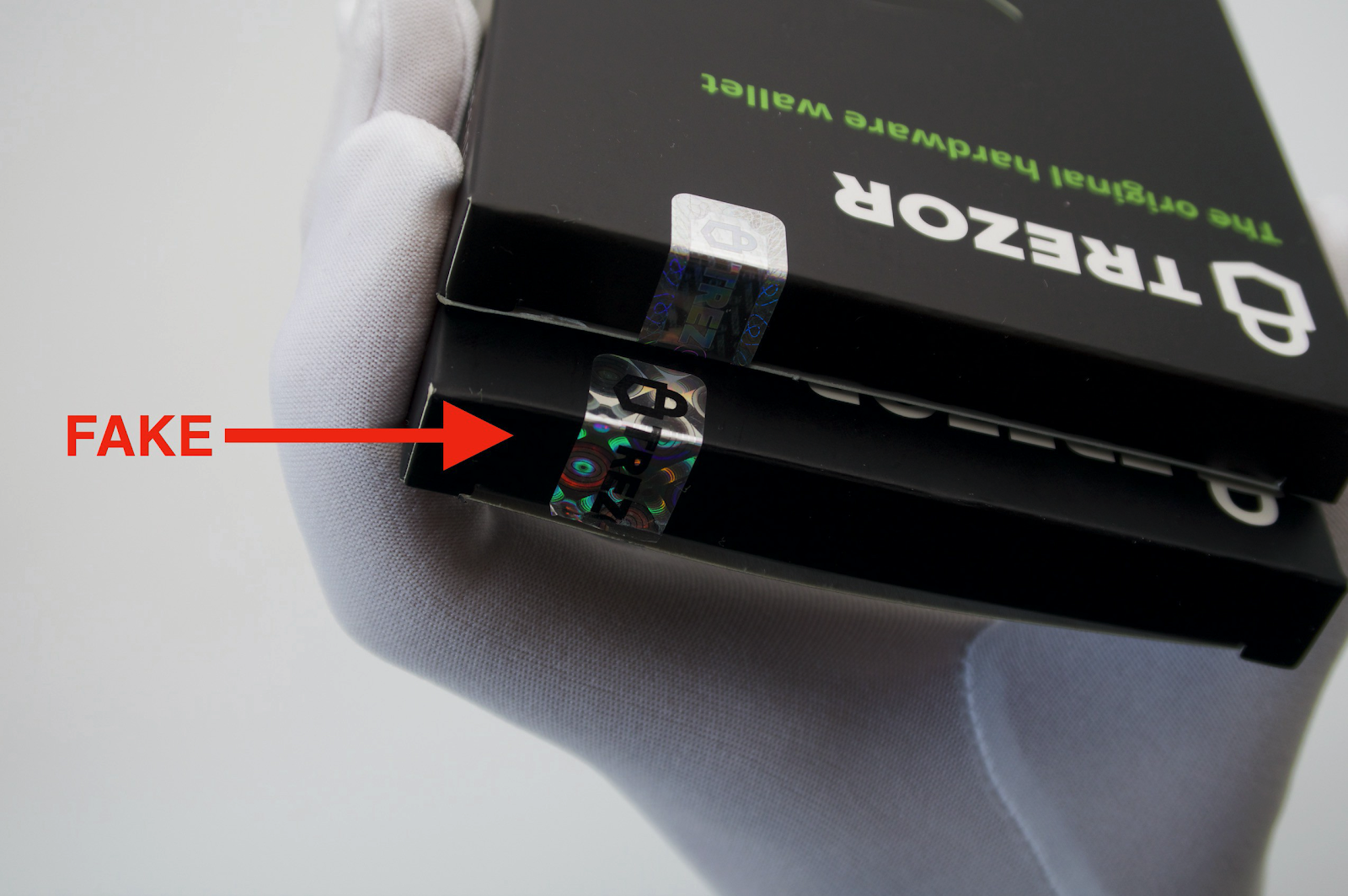 Nevertheless, while both Trezor and Ledger are highly secure, something to keep in mind is that Ledger is not fully open source. This means that you cannot see what code goes into the device and the firmware that it runs on.
Technically, the Ledger team could do something like inject malicious code into the device firmware that transfers all Ledger users' crypto to an address they control.
While this situation is highly unlikely, since the Ledger team would have a lot to lose like the collapse of a highly successful business and having to spend their entire lives on the run from the authorities, it is something to keep in mind.
Winner: Trezor
---
Trezor vs. Ledger: Price
Another important factor to consider when comparing the Ledger vs Trezor is price.
For the standard Ledger Nano S and Trezor One models, the price points are pretty similar. $59 for the Ledger Nano S and $55 for the Trezor One.
On the other hand, for the premium Ledger Nano X and Trezor Model T models, the price difference is a bit more noticeable. The Nano X goes for $119 while the Model T is $169.99.
Considering that the Nano X has features like being able to connect it to your mobile device using Bluetooth and manage your assets on the go, it can be hard justifying paying $50 more for the Model T.
Especially when you consider that the Model T doesn't offer a huge upgrade over the Trezor one (aside from more asset support, a color touchscreen, and Shamir backup - splitting the seed phrase into shares).
Winner: Ledger
---
Trezor vs. Ledger: Supported Assets
When it comes to total supported assets, the Trezor and Ledger are pretty similar. As of writing, the Trezor supports 1180 assets while the Ledger supports ~1250.
However, there are some clear distinctions which gives Ledger the edge:
Native Ethereum (ETH) support - Ledger provides native support for ETH while Trezor only does so in its beta wallet, as opposed to a finished release. While you can use Trezor third-party Ethereum wallets like MyEtherWallet, it can be nicer to have native support since sites like MyEtherWallet can be compromised.
Limited asset support on the Trezor One - the Ledger Nano S and Nano X support the same assets. On the other hand, the Trezor One lacks support for some popular assets like Ripple, EOS, Monero, ADA, Tezos, and Ontology. To use these assets with a Trezor, you'd have to get the Model T, which is $110 more than the Trezor One.

Winner: Ledger

---

Trezor vs. Ledger: Ease of Use

Both the Trezor and Ledger aren't too difficult to use once you get the hang of them. The lower-priced models (Trezor One, Ledger Nano S) are pretty similar in that they both rely on a two-button system. The Trezor and Ledger interfaces are also both well-designed and easy to use.

However, something you might appreciate about the Trezor Model T is its color touchscreen. It makes it easier to see and enter necessary information, especially important details like amounts and addresses you send crypto to as well as your pin-code.

In addition, using touchscreens can be more intuitive than using only two buttons to do things like enter passcodes (Ledger).

Trezor Model T touchscreen. Image credit: Trezor

If you're new to hardware wallets, using two buttons to do something like enter a PIN code can take some getting used to. Image credit: Ledger

Winner: Trezor

---

Trezor vs. Ledger: Screen

Aside from the Trezor Model T having a nice color touchscreen, the screen on both Trezor models is also bigger than the screens of their Ledger counterparts. This could be important to consider if you find it hard to read small text.

In the case of crypto, that can be the difference between sending your crypto to the right place or losing it completely (if you can't read the receiving address on your hardware wallet's screen and confirm a send to the wrong address).

From bottom left to right: Trezor One, Trezor Model T, Ledger Nano S, Ledger Nano X. You can clearly see that the Trezor Model T has the biggest screen. Top left is a KeepKey, another hardware wallet that's popular but not as popular as the Trezor or Ledger. Image credit: Boxmining

Winner: Trezor

---

Trezor vs. Ledger: Durability

Since hardware wallets aren't cheap, something to take into account when purchasing one is durability. The foldable stainless steel "casing" that the Ledger hardware wallets come with make them more durable and also give them more of a sleek look.

On the other hand, the Trezor hardware wallets are both made from plastic, including the premium price Model T.

Something that might balance out this difference in durability is buying a case with your Trezor. Trezor offers silicone and leather cases in different colors for the Trezor One, but it seems like they don't offer any cases for the Model T.

Regardless, the fact that you need to buy a case for added durability gives the durability award to Ledger.

Winner: Ledger

---

Trezor vs. Ledger: Size

Although neither the Trezor or Ledger hardware wallets are particularly big or hard to carry around, the Trezors are a bit chunkier than the Ledgers.

Winner: Ledger (if you prefer the small, flash drive style case).

---

Trezor vs. Ledger: App Compatibility

App compatibility isn't necessarily something you'd consider when deciding between a Trezor and a Ledger. If you just use the native apps to manage your crypto assets, this section is irrelevant.

However, if you're interested in squeezing out as much functionality from your hardware wallet as possible, app compatibility might be something to take into consideration for your hardware wallet search.

On top of working with other cryptocurrency services like wallets and exchanges, hardware wallets can also be used for two-factor authentication, managing passwords, and signing encrypted messages.

Another way you can get more from a Trezor is to use it with Exodus. Exodus offers an intuitive way to manage both your Exodus wallet and Trezor wallet from one beautifully designed, easy to use interface. Other features include exchanging cryptos from your Trezor in Exodus without having to create an account, and managing multiple Trezor wallets simultaneously. The fast and human Exodus support team is also on standby 24/7 to answer any questions.

While app compatibility for the Trezor and Ledger are different, it can be hard to pick a "winner" since it depends on what apps you need. For the latest updates on app compatibility, check the Trezor and Ledger sites.

Winner: Tie (It depends on what apps you need.)

---

Conclusion: And the Winner Is…

When it comes to price, asset support, durability, and size, Ledger wins.

For security, ease of use, and screen, Trezor is the winner.

The vital criterion for which Trezor takes the prize is security. And when money, especially money that you can't get back due to the irreversible nature of blockchain transactions, is on the line, this is of crucial importance.

And for that reason, Trezor earns the overall win.

Looking for an easy way to use your Trezor?

Exodus provides the easiest way to use Trezor and has the following features:

Support for over 90 crypto assets on Trezor, 100+ assets on Exodus Desktop and Mobile
Allows you to track your portfolio's performance with beautiful, real-time charts
Gives you the power to exchange cryptocurrencies without having to register an account
Lets you manage multiple Trezor portfolios at once, so you can separate your different holdings
Is the only wallet with desktop, mobile, and hardware wallet support
Lets you sync your desktop and mobile wallets
Offers 24/7, fast human support if you ever need help

From left to right: Exodus on Trezor, mobile, and desktop. Download Exodus for Trezor here

And for information on other hardware wallets, check out this hardware wallet review.






This content is for informational purposes only and is not investment advice. You should consult a qualified licensed advisor before engaging in any transaction.