Here's everything you need to know about Tron coin (TRX), one of the most popular crypto assets.
---
What is Tron Coin?
Tron coin, otherwise known as Tronix (TRX) is the crypto asset that powers Tron, a blockchain network similar to Ethereum. As with Ethereum, Tron allows developers to build decentralized applications (Dapps) that can run without intermediaries thanks to smart contracts, or self-executing contracts of computer code.
While Ethereum is more popular than Tron as a smart contract platform, Tron boasts some impressive features, such as high scalability (ability to handle many transactions at once) and the ability to code using familiar languages like Java instead of Ethereum's Solidity.
When it comes to scalability, the Tron team claims that TRX handles 2,000 transactions per second (tps) consistently. This is in contrast to Ethereum's 25 tps.
Indeed, according to Blocktivity, Tron is one of the busiest blockchain networks, yet its Capacity Utilization Index (CUI), or the ratio of daily blockchain activity to total blockchain activity is quite low. In other words, Tron is able to handle many transactions without them being a burden on the network.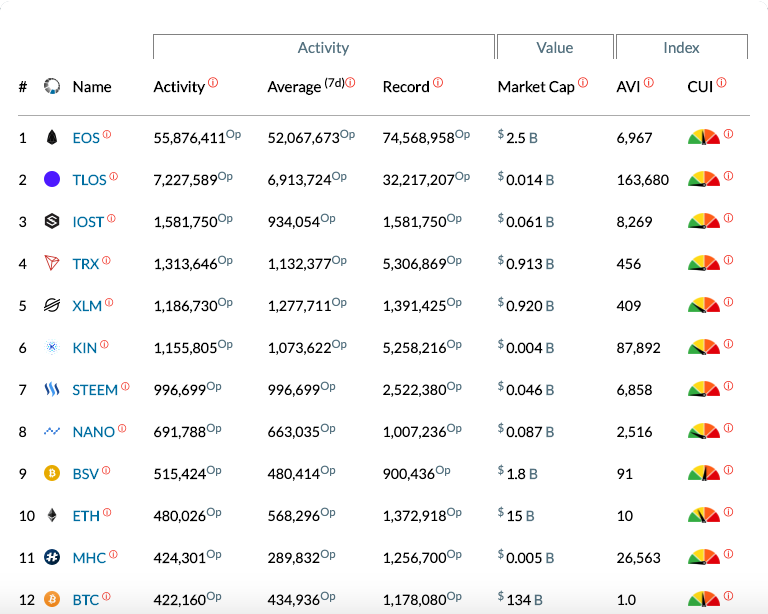 Other uses of TRX include but aren't limited to the following:
Receiving free Bittorrent Token for holding Tron in a wallet that supports it like Exodus Tron wallet
Obtaining voting rights for Tron network governance
Issuing TRC10 and TRC20 Tron-based tokens
Purchasing merchandise in WeChat stores
---
Tron Coin History
According to Tron, Tron was established in March 2014. In July 2017, the Tron Foundation was established in Singapore.
The project originally started out with a focus on the entertainment industry and aimed to connect content creators and content consumers directly, instead of going through a middleman, such as Youtube or Netflix.
Moreover, Tron (TRX) was originally an ERC20 token, since it was previously based on the Ethereum blockchain. However, in June 2018, in an event known as Tron Independence Day, Tron launched its own Tron coin mainnet. In other words, Tron created its own blockchain instead of using Ethereum's.
In July 2018, Tron made the news with the huge acquisition of BitTorrent, a peer-to-peer (p2p) file sharing protocol used for data and file distribution over the Internet. BitTorrent has over 100 million users and at one point accounted for ~43-70% of all Internet traffic, depending on location.
---
Tron Coin Burn
After switching from Ethereum to its own mainnet, Tron "burned" its ERC20 TRX tokens by sending them to an unusable address.
On top of burning its old ERC20 tokens, Tron also burned 1 billion TRX on Tron Independence Day. Moreover, every Tron transaction's transaction fees are burnt as well.
This coin burning by Tron is meant to help control inflation and reward token holders (their tokens become more valuable).
---
Tron Coin ICO
To fund initial development, Tron had an initial coin offering (ICO), where projects sell some of their tokens to raise funds. The ICO took place during the ICO and larger cryptocurrency craze of 2017 and resulted in the Tron team raising $70 million in September 2017.
During the ICO, one TRX token was priced at $0.00186, which resulted in some great gains for ICO investors. For example, in early January 2018 the price of one Tronix token hit $0.264190, meaning that within a few months, ICO investors saw a 14,203.76% return on investment.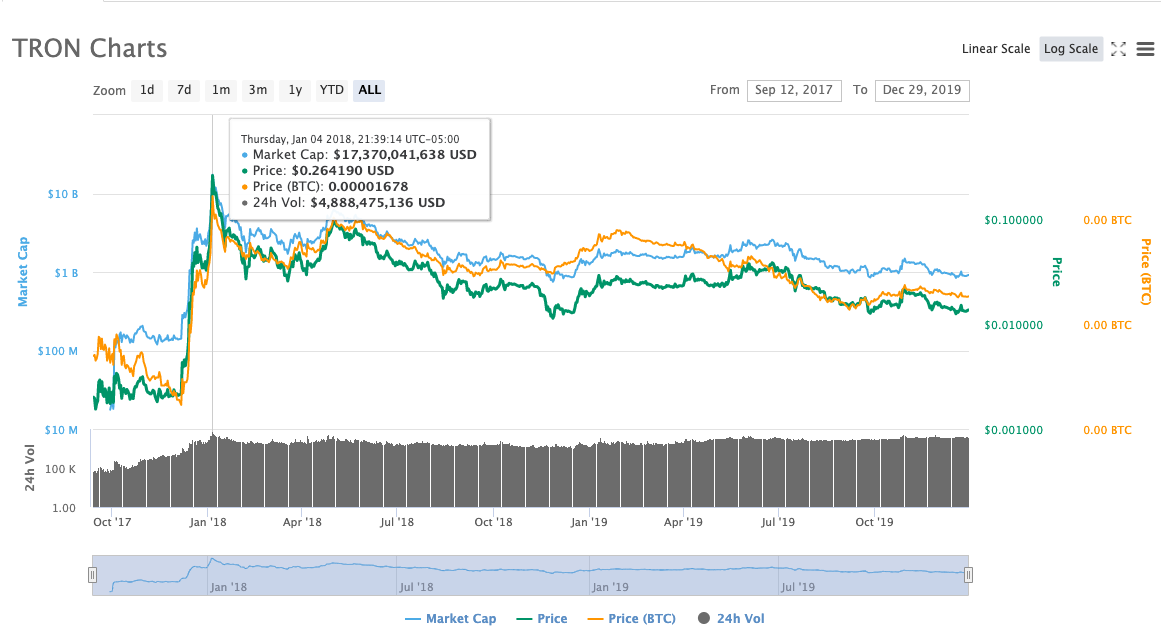 ---
Tron Coin Team
Having grown to become one of the most popular crypto assets, Tron also has a sizeable team with dual headquarters in Asia and the Americas.
Tron Justin Sun
No mention of Tron's team would be complete without Tron Founder and CEO Justin Sun. Sun has a very active presence on social media and is known for promoting Tron and its products, such as BitTorrent, heavily.
While some might find Sun's antics to be over the top, he has quite the background, which likely has helped him build Tron to what it is today. He graduated from Peking University (one of the elite universities in China) with a bachelor's degree before going to the University of Pennsylvania, where he got his master's.
Before founding Tron, he was the former Chief Representative of Greater China for Ripple, another wildly popular crypto asset. In addition, he's won other awards and recognition like being named a 2014 Davos Global Shaper at the World Economic Forum, being selected as the only millennial generation student in the first batch of entrepreneurs at Hupan University (by Jack Ma, Co-Founder of Alibaba and China's richest man), and being named one of Forbes Asia's 30 under 30 Entrepreneurs.
---
Tron Coin Partnership
Perhaps thanks to Justin Sun's business prowess, Tron also has many big name partnerships that should help to grow Tron moving forward.
One of Tron's partnerships is with oBike, the largest bike-sharing company in Southeast Asia. oBike used Tron to launch its own Tron-based token (oCoin). oBike users can use oCoin to pay for rides on the oBike platform. Moreover, users can earn oCoins just by choosing to ride oBikes. This kind of partnership only serves to grow the Tron ecosystem and make it more valuable.
Tron also has a well-known legal partner in ZAG-S&W, a leading international law firm that focuses on commercial and corporate law. ZAG-S&W is part of the Legal 500, which is recognized as a list of the best law firms in the world. Such a partner will be valuable as Tron expands worldwide and has a need for solid legal advice in different parts of the world.
In November 2019, Tron announced a partnership with Samsung, the Korean megacorporation that accounts for nearly 20% of South Korea's economy. As a result of the partnership, Samsung has added support for TRX to its Dapp store, Blockchain Keystore. The partnership should help distribute Tron-based Dapps and tokens to Samsung's worldwide user base.
---
How to Buy Tron Coin
Looking to buy some Tronix before it reaches its all-time high again? Luckily, buying TRX is easy, as it is a very popular asset.
If you already have crypto
If you already have crypto assets, you can use Exodus Tron wallet, which lets you exchange crypto assets like Bitcoin and Ethereum for Tronix right from your wallet.
For a step-by-step tutorial on how to do that, see our article on how to exchange assets in Exodus.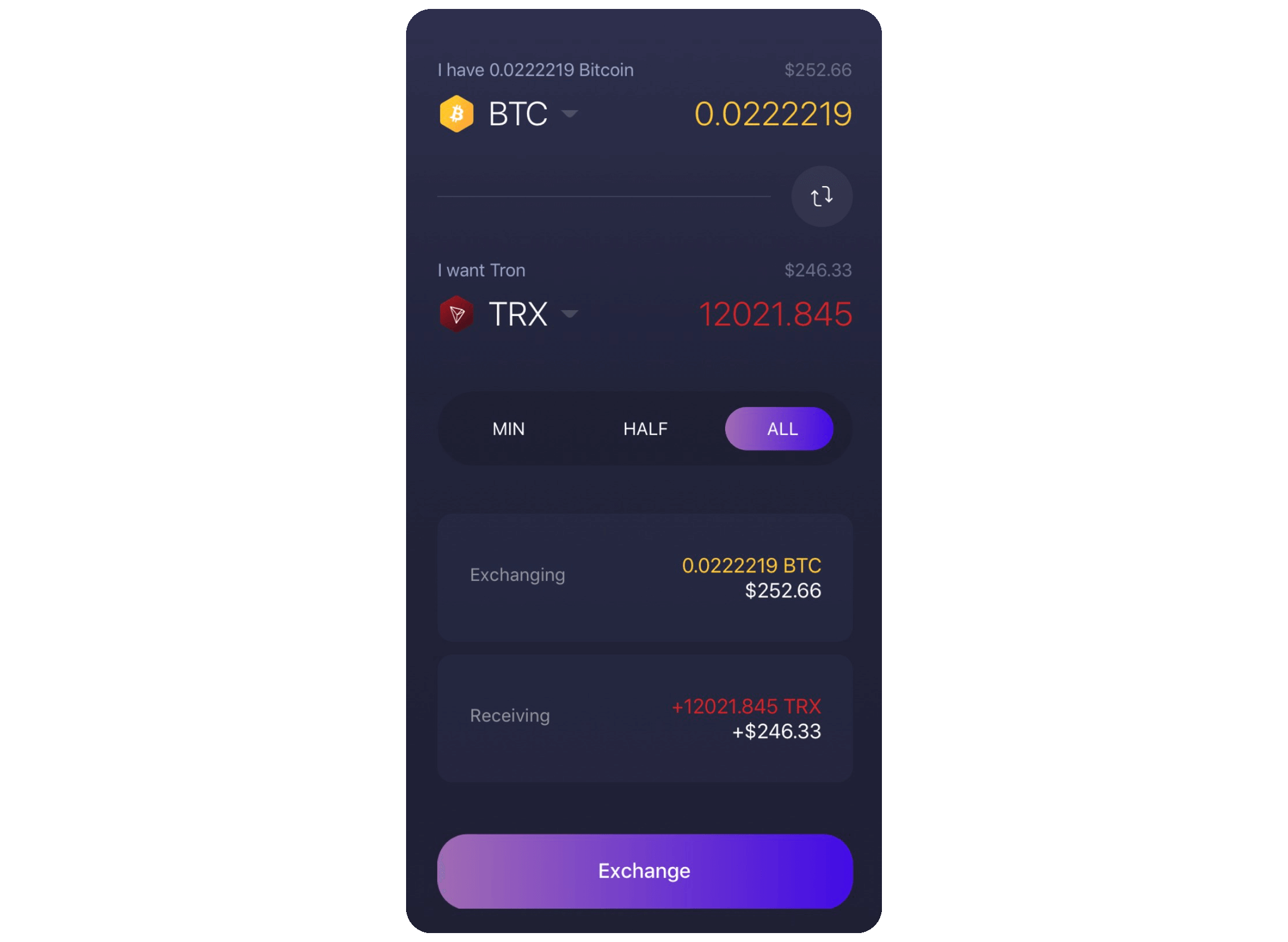 If you don't have crypto
If you don't have crypto, you can use centralized exchanges like Coinbase, Kraken, and Bitstamp to purchase crypto with government money, such as the US dollar or Euro. On some exchanges, you can buy Tronix directly with government currencies.
If not, you'll have to buy more popular crypto assets like BTC or ETH first before exchanging for Tronix in Exodus or elsewhere.
---
Tron Coin Faucet
Looking for a way to get started with some Tron coins but don't want to purchase them outright? A popular way to get some crypto for free is through faucets.
A good Tron faucet to try is The Crypto Faucet (also supports other crypto assets).
---
Tron Coin Wallet
Where to Store Tron Coin
Once you have some TRX, you're going to need a wallet to store it.
If you want a wallet that just supports Tron and Tron tokens, the official TronLink wallet is of course a great option.
If you want something with a bit more functionality, Exodus Tron wallet might be for you. Here's what you can expect:
1. Support for TRX and 100+ other crypto assets
2. Desktop and mobile support
3. Ability to exchange for other cryptos right from your wallet
4. Synchronization of your TRX across desktop and mobile so you can manage your Tronix both at home and on the go
5. 24/7, fast human support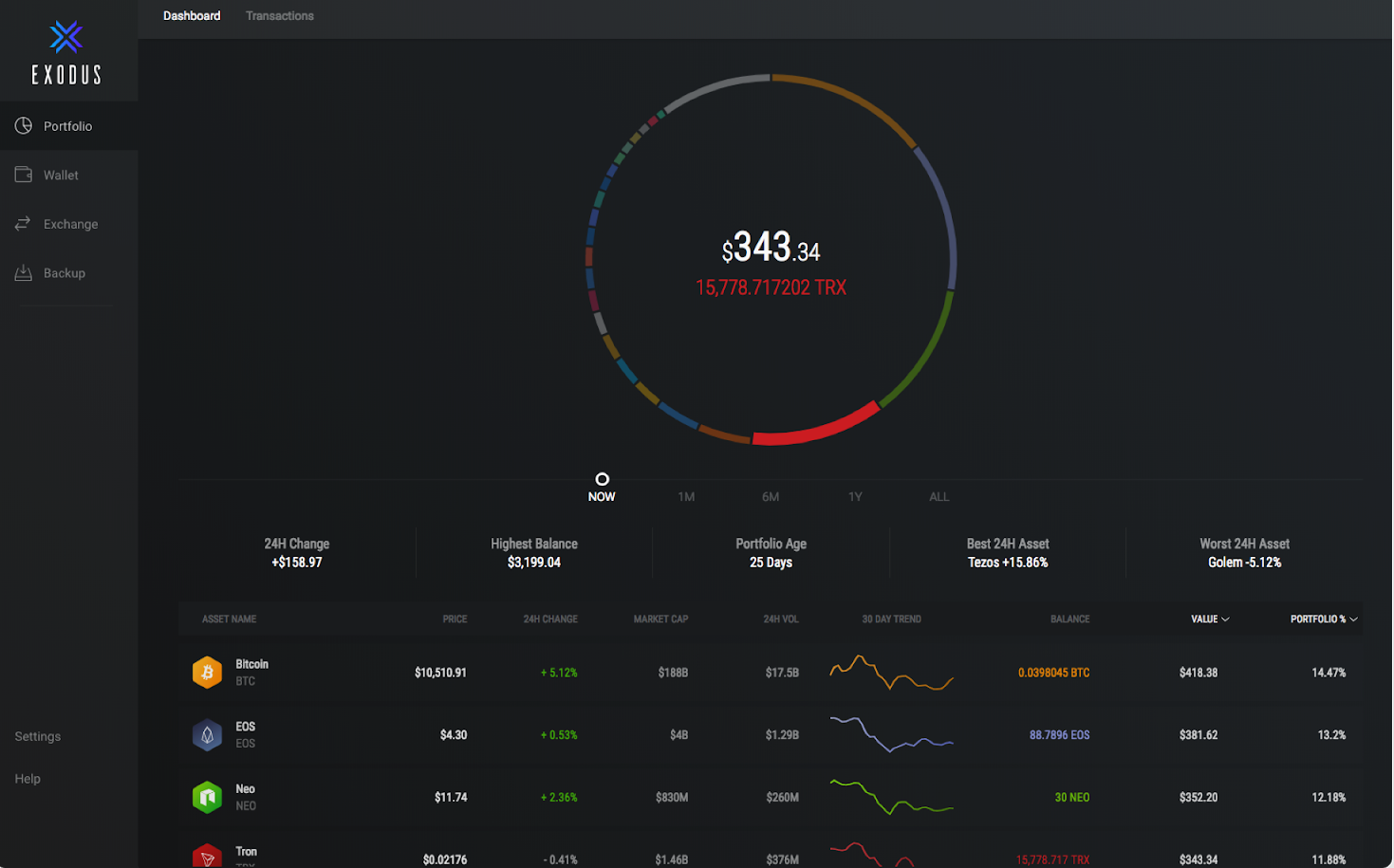 ---
Tron Coin Scam
Perhaps due to Justin Sun's knack for making lofty announcements and raising hype, some have called Tron a scam. However, if this was the case, Justin and the rest of the Tron team probably would have taken investor money and ran off a long time ago, as many ICO projects did. After all, they did raise $70 million in investor money!
Furthermore, Tron has been successful in meeting its roadmap milestones thus far and as mentioned earlier in the post, is one of the busiest blockchains in terms of daily transactions.
---
Tron Coin News
Looking to keep up with the latest Tron news? Check our TRX wallet page, which has the latest Tron news towards the bottom of the page.
---
Tron Coin Price
For the latest Tronix price and chart, check our crypto charts page.
---
How Many Tron Coins are There?
The total supply of TRX is 99,281,283,754 TRX, while the supply of TRX in circulation is 66,682,072,191 TRX.
Official Tron Channels
---
Tron Coin Website
Check the official Tron website for official Tron resources.
---
Tron Coin Reddit
Tron has quite an active community on Reddit r/Tronix if you want to discuss Tron there.
---
Tron Coin Twitter
Follow the Tron Foundation's official Twitter @Tronfoundation (non-English language accounts listed on Tron's website).
---
Tron Coin YouTube
Prefer video for your Tron-based content? Head over to Tron's Youtube channel.
---
Tron Coin Telegram
For the Telegram users, Tron's English Telegram channel can be found here (other language channels listed on Tron's website).
---
Tron Coin Github
Want to follow Tron's development progress to see what the Tron team is working on? Here's the link to their Github.
---
Future of Tron Coin
While Tron has come a very long way as it is, what could be next for the popular blockchain platform?
Although this is one person's opinion, Bitcoin developer Udi Wertheimer has come out and said that he thinks Tron will overtake Ethereum. This of course would have a very strong effect on the price of TRX, as Ethereum is currently the 2nd most valuable cryptocurrency after Bitcoin when ranked by market capitalization.
TRON:
✅more blocks
✅more transactions
✅fast development
✅business acumen
✅more usecases
✅proven to be censorship resistant so far

ETHEREUM:
❌slow
❌inefficient
❌inflexible
❌development hell
❌complete lack of business skills
❌tyrants censoring whatever they dislike

— Udi Wertheimer (@udiWertheimer) November 12, 2019
Only time will tell if Tron will overtake Ethereum as the dominant smart contracts platform or fade away like many other blockchain projects. Or is there room for both, perhaps?

This content is for informational purposes only and is not investment advice. You should consult a qualified licensed advisor before engaging in any transaction.