---
Introduction
VeChain (VET) is quickly emerging as one of the hottest crypto assets by providing blockchain capabilities for the global supply chain.
Its work with BMW, Walmart China, Deloitte (one of the Big Four accounting firms), and Penfolds, (one of Australia's oldest wineries), has shown that big names are willing to trust VeChain's technology to help them take advantage of the blockchain revolution.
Even if you're not part of any of those companies, you can benefit from VeChain's growth by not only buying VET (mobile guide) but also staking it to earn passive VeThor (VTHO) income!
Note: VeChain uses a two token model. VeChain (VET) is used as a payment method  in the VeChain ecosystem and allows stakers to earn VeThor (VTHO). Users use VTHO to pay transaction costs, such as sending VeChain-based tokens or sending data to a smart contract (self-executing, computer-coded contracts that automate many business activities).
Thanks to assets like VET, staking is rapidly emerging as one of the top ways to make money on your crypto, and allows you to effortlessly earn passive income.
This VeChain staking guide will teach you how to stake VeChain in 2 minutes or less!
---
VeChain Staking Guide: How to Stake VeChain in 2 Minutes or Less!
Now for the fun part - how to stake VeChain, and fast!
Prefer video? Watch our video guide below. Otherwise, read on!
VeChain Staking Wallet
First things first, you'll need a VeChain wallet that provides staking capabilities.
If you only use VET, VTHO, and other VeChain assets, the official VeChainThor Wallet for mobile (Android, iOS) is a good bet.
If you prefer something with more functionality, Exodus not only lets you manage and stake your VET but also has the following features:
Supports 100+ crypto assets
Focuses on premium design and ease of use
Lets you exchange cryptos for other cryptos right from your wallet - without creating an account
Gives you the ability to sync your wallet between desktop and mobile
Supports the best decentralized finance (DeFi) apps like Compound Finance
And has 24/7, fast human support if you ever need help
If you choose to use Exodus as your VeChain staking wallet, you can stake your VET in 2 minutes (maybe less, depending on how fast your computer or phone is).
Here's how:
1. Enable VET and VTHO in your settings (mobile tutorial)
2. Send VET to your Exodus wallet (mobile tutorial). If you don't have VET, you can buy some using other cryptos within Exodus (mobile tutorial)
3. Periodically check your wallet for VTHO rewards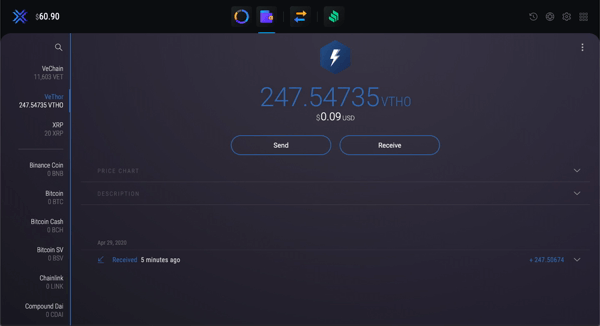 ...And that's it! We told you it'd be fast right? 😉 If you need help with anything, check our VET and VTHO FAQ or contact our support team!
---
VeChain Calculator
Want to know how much you'll earn by staking VeChain? Use this VeChain staking calculator to estimate your potential staking rewards.

---
VeChain Nodes
While we covered VeChain staking using an Exodus wallet, you can also set up a VeChain node for even greater staking rewards!
Though the catch is that you need a lot of VET (anywhere from 1 million - 25 million+ VET) and some technical know-how (if you run 1 of the 101 Authority Masternodes that validate VeChain network transactions).
For more information on VeChain nodes, check out this guide by VechainInsider.
---
Vechain Staking Pool
Unlike with other cryptos, there aren't any "pools" where you can combine VET stakes to earn more VTHO.
In networks like Bitcoin and Ethereum, your chances of receiving crypto via mining are reliant on how much computing power you have.
Therefore, it makes sense to pool with others to increase collective computing power and increase the chances of winning mining rewards (and then splitting the rewards among pool members).
However, with VET this is irrelevant, since receiving Vechain staking rewards isn't dependent on how much computing power you have. Thus, there's no reason to form staking pools.
Though if you want to earn VeChain node rewards, forming a staking pool with others might make more sense, given the high amounts of VET you need to run a node by yourself. However, as of writing, we have yet to see any VeChain node staking pools.
---
VeChain Stats
Looking for the latest VeChain network statistics? Check the site VeChain Stats.
---
Conclusion
Staking has quickly emerged as a great way for crypto users to make crypto passive income with minimal setup. While with many cryptos, the chance of your investment going to zero can be high, VET might be an outlier that not only provides investors strong returns but security as well.
As mentioned, VeChain's progress working with the likes of BMW and Walmart China has shown that VeChain, as well as VET and VTHO, have potential in being frontrunners in the blockchain revolution.
Given both VeChain's current position and potential future in the blockchain space, it might be a good idea to get started early with the VeChain staking opportunity.
Download Exodus for an easy to use, yet feature-rich VET staking experience.
And if you're looking for more information on staking, check our staking section for more staking opportunities!
This content is for informational purposes only and is not investment advice. You should consult a qualified licensed advisor before engaging in any transaction.