---
So What is Tezos Cryptocurrency?
What is Tezos (XTZ) and what makes Tezos different?
Put simply, Tezos (XTZ) is a smart contract platform that has a couple of unique features. Perhaps its most notable advantage is that Tezos has an on-chain governance model that allows the blockchain to implement changes automatically without a hard fork (split into two cryptos).
This is a pretty big deal as hard forks can sometimes be contentious and even, as happened with Ethereum and Ethereum Classic, lead to a split into two competing cryptocurrencies.
Another Tezos feature is their Proof of Stake (POS) consensus mechanism. POS allows users to confirm transactions (and get paid for doing so), without the hassles of mining, which requires expensive hardware and technical expertise.
POS has been gaining a lot of ground over Proof of Work recently, and Tezos is the most popular cryptocurrency to offer staking. What makes staking on Tezos so user friendly is that it's possible to do so directly using Exodus and other services in just a few taps or clicks.
The popularity of staking is definitely one of the reasons why the price of Tezos appreciated so significantly in 2019 and 2020 compared to the rest of the market.
For those who would like to learn more about Tezos, we've put together a short video covering all of the basics. You can watch that below:
Otherwise, let's begin by diving deeper into the Tezos staking model and how much you can earn by staking your coins.
---
What is Tezos Staking (Tezos Baking)
Tezos is a Proof of Stake (POS) coin. On the Tezos network, staking is actually referred to as "baking" (confirming transactions yourself - technical knowledge required) or "delegating" (getting someone else to confirm transactions for you - no technical knowledge required).
That's important to know but for the purposes of this article, we'll just use the word "staking" to refer to "delegating", as staking is the term used for most POS cryptocurrencies.
Arguably, Tezos was the first major coin to popularize staking. Some other coins have had a staking reward before Tezos, but XTZ was really the first coin to attract investors with its promise of a return.
As of publication, it's possible to earn a 5.61% annual return on staked Tezos (you can check the current Tezos staking award here).
Historically, the Tezos staking award has been higher, around 7 to 8%, and it may go higher again if a meaningful number of stakers drop off the network, which allows the smaller pool of stakers to each earn more XTZ.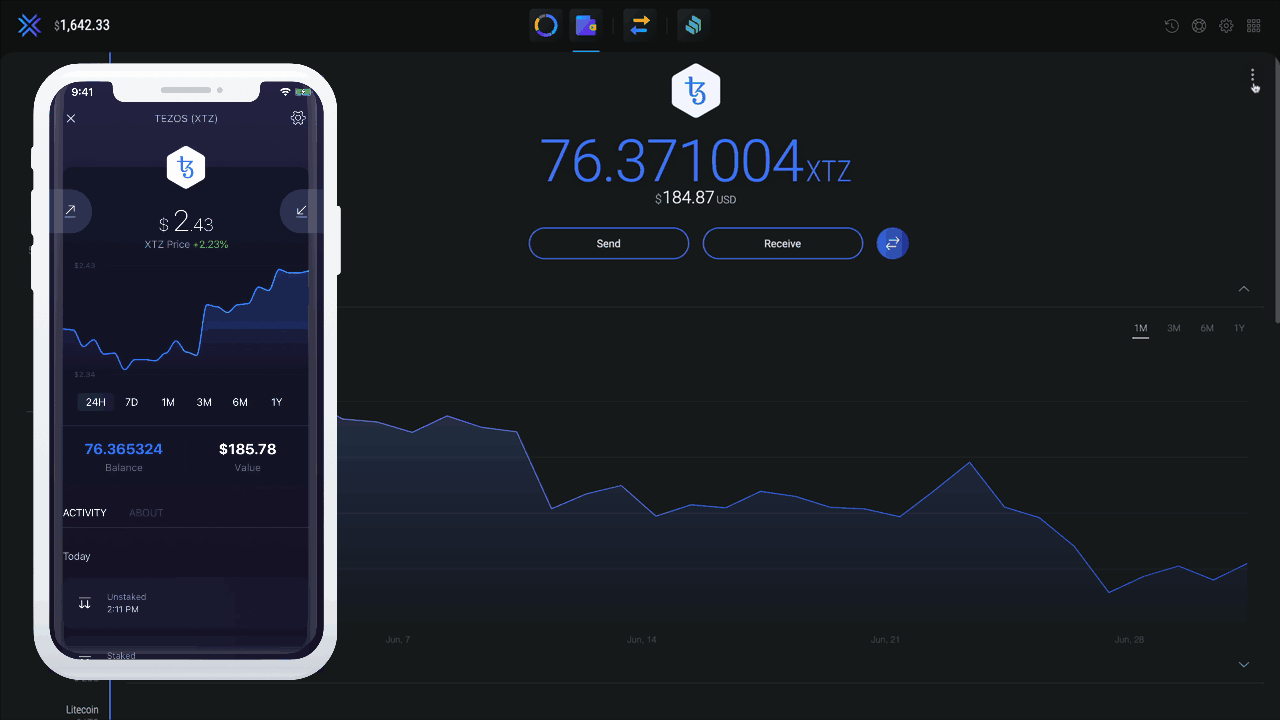 Now back to staking!
Staking earns an investor an award, but its main purpose is to secure the network. In its simplest form, staking is actually pretty easy to explain.
An investor "stakes" their coins by delegating them to a baker (transaction validator). This happens through a special smart contract on the Tezos network.
Bakers vote to approve transactions. By voting to approve valid transactions, bakers earn rewards, which are shared with delegators ("stakers").
If bakers vote for bad transactions, they don't earn a reward (and neither do their delegators). Also, the bakers may have their coins confiscated. Therefore, it's important to choose the right baker to delegate your XTZ to. On platforms like Exodus, this is done automatically for you
Staking is seen by some as a better alternative to Proof of Work because it doesn't require massive amounts of electricity. Also, staking is easier for retail investors to participate in as they don't have to buy expensive ASICs, which are specialized mining devices built for cryptocurrency mining.
---
The Tezos Team
Arthur and Kathleen Breitman, husband and wife, are the two most important people on the Tezos team. It was Arthur who first proposed the idea for Tezos, all the way back in 2014.
He began by releasing a white paper that laid out the foundation for the Tezos cryptocurrency. Soon after, his wife Kathleen joined the project and together, they created Tezos as we know it today.  
Though today, it's not the team developing Tezos that matters so much as the Tezos Foundation.
The Tezos Foundation is responsible for controlling the significant amount of capital that Tezos raised during their ICO. The Tezos Foundation is currently under the leadership of Hubertus Thonhauser, Alexis Bonte, and Lars Haussmann among others.
One reason that the "official" development team for Tezos isn't as important as it may be for other coins is that Tezos has a feature that allows anyone to contribute to the blockchain.
Once a change is proposed, community members can vote on whether to implement it or not. If the idea is approved by the community, it's automatically implemented using the on-chain governance model we mentioned earlier.
In this way, it's the merit and advantage of the ideas themselves that matter, not so much who submitted them.
---
Tezos Partnerships
Tezos has already partnered with a number of institutions including the Taurus Group, Anda Capital, the Korea University Blockchain Research Institute, and others. A Full list of their partnerships is available here.
Arguably, their most noteworthy partnership is with Coinbase, where Coinbase users can stake their Tezos. Although if users go down this route, they have to be ok with trusting Coinbase, a centralized exchange, with their XTZ.
---
Tezos ICO
2017 was the heyday of the ICO and few projects fared better than Tezos. Thanks to the promise of a smart contract platform that could outperform Ethereum, Tezos was able to raise a total of $232 million. That quarter-billion dollar fundraise was enough to make Tezos one of the 10 biggest ICOs of all time.
However, there was some controversy in the beginning surrounding the ICO, as the Tezos foundation continually delayed the release of the token. There were also a couple of high profile defections from the project, and investor anxiety was unusually high.
Thankfully, the tokens were eventually released and that initial controversy seems to have been mostly forgotten. It helps, of course, that since its release Tezos has done very, very well in terms of price appreciation.
---
How to Buy Tezos
So is Tezos worth buying?
Well, we can't answer that question since we don't give financial advice 😉...
HOWEVER, one of the fastest ways to buy Tezos if you already have crypto is by using Exodus. (See below for how to buy with fiat currencies like US dollars and euros).
The major advantage of Exodus is that you can trade without registering on an exchange or having to submit any KYC information. It's not just the KYC is inconvenient, it can also be dangerous if your personal information gets leaked online as happened with BlockFi and numerous other services.
So, ready to buy XTZ on Exodus? Here's how to do it.
Note: these are instructions for Exodus Desktop. If you're on mobile, check the mobile instructions on how to exchange.
Download and install the Exodus Tezos wallet.
After you install the wallet, you should open it and select the asset that you want to deposit and exchange for Tezos. If you don't see your asset listed on the front page, you can search for it by clicking on Add More at the bottom of the homescreen.
3. Once you find the wallet for the cryptocurrency that you want to deposit, you can click on Receive
4. Your Exodus wallet will display an address that you can send your funds to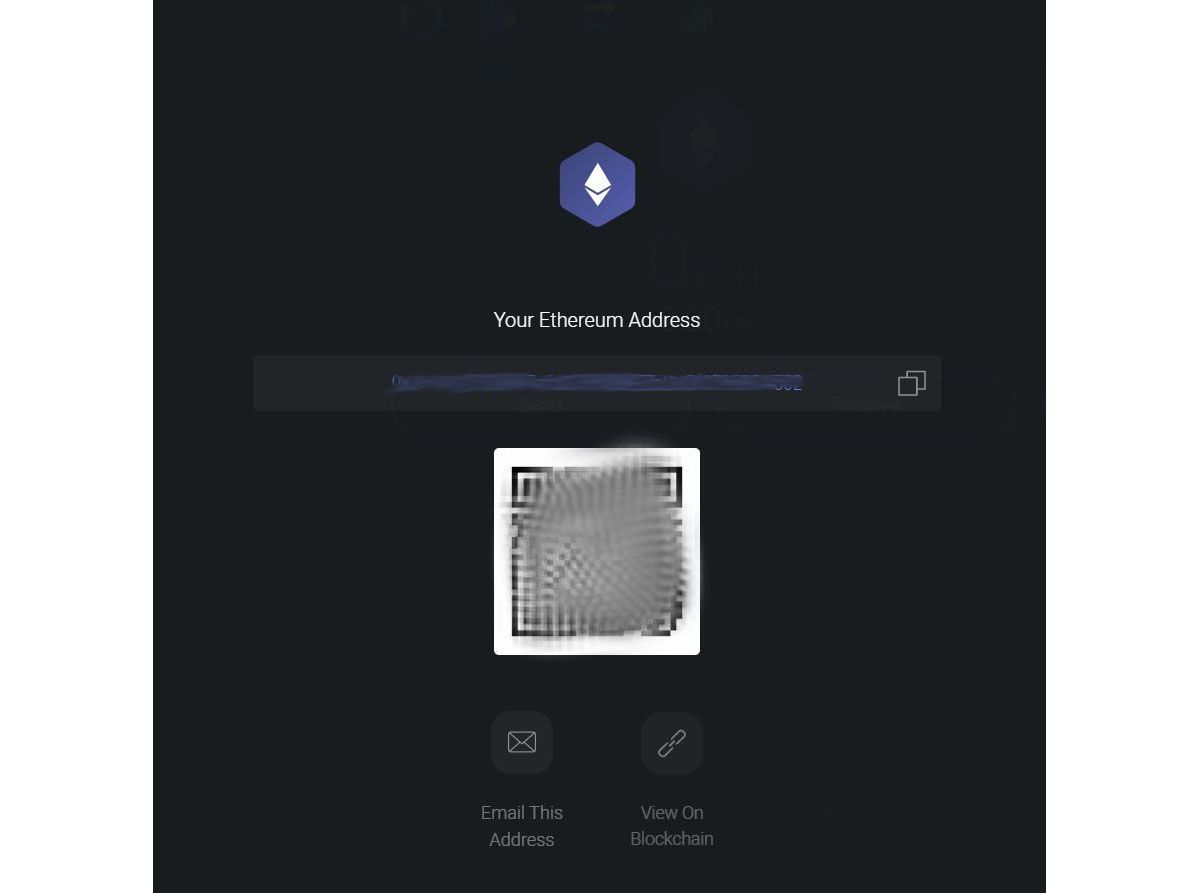 5. Depending on which cryptocurrency you're sending, it may take anywhere from a few seconds to ten or twenty minutes for the transaction to clear. Once the funds appear in your wallet, you can click on the two arrows to begin the exchange
6. On the exchange screen, you can select the asset you want to trade for Tezos as well as how much Tezos you want to buy. Once you've inputted all of the details, you can click Exchange. The XTZ will show up in your wallet shortly.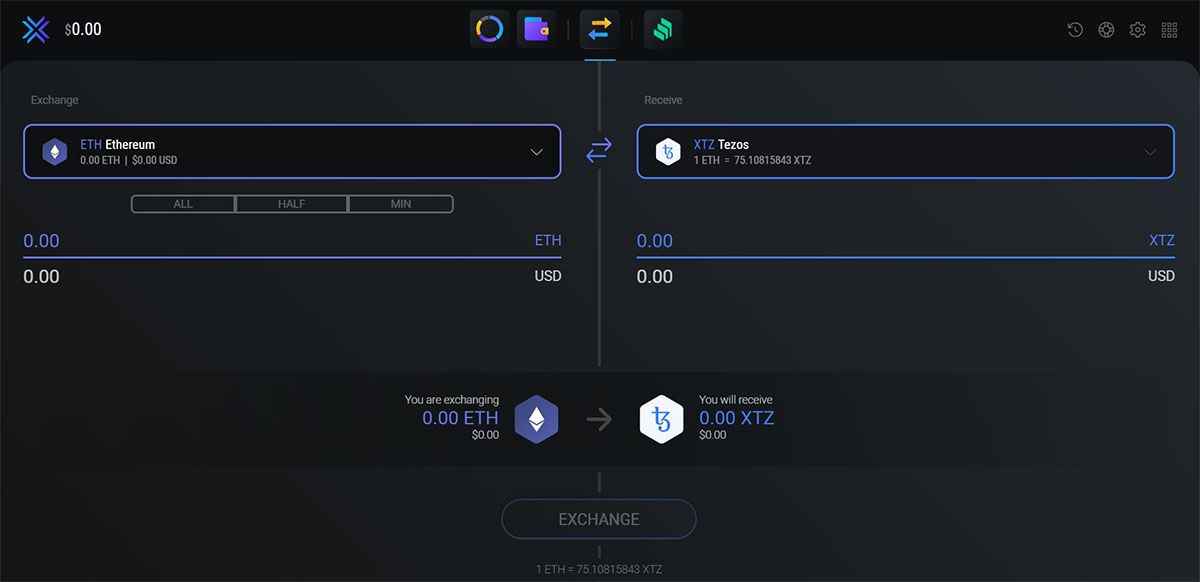 For fiat purchases, the best option is definitely Coinbase, if they support your country. Coinbase will let you buy XTZ with your banking information or a debit card.
Besides Coinbase, it's also possible to buy Tezos with fiat on platforms like Kraken, Anycoindirect.eu, or Binance US. There are a few downsides though. For example, Kraken does not support debit card purchases and Binance US is not available in more than a dozen US states.
---
Tezos Wallet
Tezos lists several wallets on their website, but options are limited. There is only one wallet for macOS and Windows. All the rest are either web wallets or mobile wallets.
Given this lack of choice, another option to consider is the Exodus Tezos wallet, which is available for both desktop and mobile. The Exodus wallet is designed to be as simple to use as possible, perfect for beginners and advanced users alike.
A few of the best features of the Exodus wallet include:
Anyway, we hope you now know the answer to "what is Tezos?" and why it might be important in the coming years!
This content is for informational purposes only and is not investment advice. You should consult a qualified licensed advisor before engaging in any transaction.